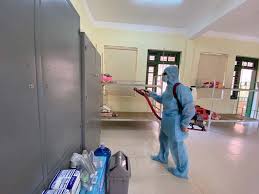 (HBO) – The Standing Board of the Party Committee of Hoa Binh province on March 26 issued Conclusion No.296-KL/TU on COVID-19 prevention and control in the new situation.
According to the conclusion, over the recent past, the provincial steering committee for COVID-19 prevention and control, departments, agencies, organisations, Hoa Binh city and districts, especially health workers, officers and soldiers of armed forces and communication staff have seriously and promptly performed their assigned tasks.
People of ethnic groups in the province have stayed calm and actively coordinated with Party committees and authorities at all levels in the disease combat. Hoa Binh province and Vietnam have initially contained the epidemic.
However, amidst the complex developments of the pandemic, the Standing Board of the provincial Party Committee has asked Party committees and administrations at all levels, the Fatherland Front and organisations to concentrate on the disease fight with the highest sense of responsibility, and determine to prevent the epidemic from breaking out.
They were also urged to implement urgent tasks, support the business community, maintain production and business, take care of people's lives, and work together with people nationwide to materialise economic recovery measures.
The concrete tasks include stepping up the communication work to raise public awareness of COVID-19 prevention and control, conduct social distancing and promoting the role played by leaders of agencies and forces directly involved in the fight.
The Standing Board also called for spiritual, material and financial support to concerned forces, as well as timely assistance to needy people and labourers who are rendered jobless by the pandemic and those in the epidemic-hit areas.
The Party Civil Affairs Committee of the provincial People's Committee will order the steering committee for COVID-19 prevention and control to stay ready in case of the worsening situation, and ensure materials, equipment and workforce for the severe battle.
The conclusion also urged stronger countermeasures, and stricter punishments of violations of health declaration and quarantine regulations, as well as individuals and organisations that spread false information, hindering the epidemic combat.
It is a must to monitor people entering the province and those returning from disease-hit countries and areas, and make a list of people who need to be quarantined and take tests. Negative pressure rooms should be set up at the provincial General Hospital to serve the treatment. The conclusion highlighted the preparedness of venues and material facilities for mass quarantine and field hospitals.
The board also asked agencies to reform working methods in order to adapt to the new situation, step up remote work and reduce meetings and large gatherings./.