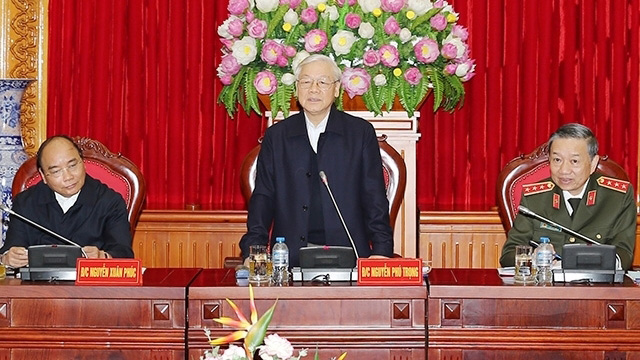 Party General Secretary Nguyen Phu Trong speaks at the meeting. (Photo: VNA)
The session was attended by Party General Secretary Nguyen Phu Trong, and Prime Minister Nguyen Xuan Phuc who are also members of the PPCC.
Senior Lieutenant General To Lam, Politburo member, Secretary of the PPCC, Minister of the Public Security chaired the meeting.
After being briefed on the situation and results of the work related to national security protection, ensuring social order and safety and building the People's Police force, delegates attending the meeting pointed out the direction of the work in the coming time.
The Standing Committee of the PPCC discussed and agreed on the contents of the work, in which continues to demonstrate the leading role in the implementation of the resolution which was adopted at the fourth plenum of the twelfth Party Central Committee on enhancing the building and rectification of the Party; and resolutions adopted at the sixth plenum of the twelfth Party Central Committee on continuing renovation and the rearrangement of the apparatus of political systems, and public non-business agency reform.
At the meeting, the Standing Committee of the PPCC lauded the police force for recording significant achievements over the past time, saying that their success in performing their tasks has made an important contribution to protecting the country's sovereignty and maintaining political stability.
The force was also asked to focus on building up a strong People's Police force to serve the nation's socio-economic development, as well as continue working closely with the military, ministries, other sectors and localities to fulfil the tasks of protecting the nation and maintaining social order and safety.