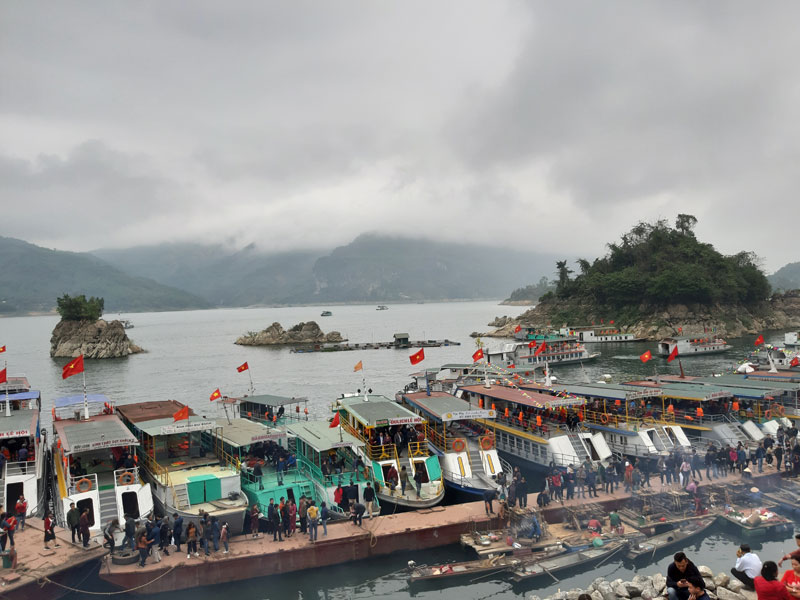 (HBO) - On August 1, 2016, the Prime Minister approved a master plan on the development of the Hoa Binh Lake National Tourism Site which serves as an important lever for disadvantaged areas along the lake to boost socio-economic development. After a long sleep, now Ngoi village in Suoi Hoa commune (Tan Lac district), Ke village in Hien Luong commune, Da Bia community tourism site in Tien Phong commune, and Sung village in Cao Son commune (Da Bac district) have became famous places on Vietnam's tourism map.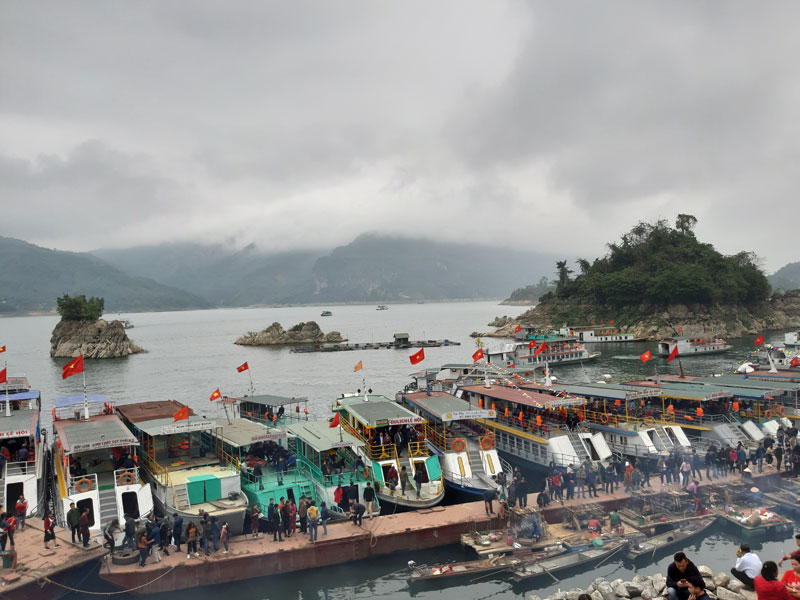 A corner of Hoa Binh lake.
Hoa Binh lake has a surface area of about 9,000 ha and a capacity of about 9.45 billion cu.m, spreading over the districts of Cao Phong, Da Bac, Tan Lac and Mai Chau and Hoa Binh city. It is home to 47 islands, including 11 limestone ones covering an area of ​​about 116 hectares, and 36 mountainous land ones with a total area of 157.5 hectares. In addition, on Hoa Binh lake, there is a pristine and mysterious karst cave system with multicolored stalactites like Thac Bo cave and Hoa Tien cave. During all the four seasons, the lake water is clear and green. Lying along the two banks are immense forests with rich flora.
Hamlets of Muong, Thai and Dao ethnic groups dot Hoa Binh lake, where their diverse cultural identities are being preserved. Ancient customs and traditions are expressed through Muong folk songs, Mo Muong or special Muong gong performance. In addition, the cuisine of the people here is rich, diverse and unique; and the craft of weaving is passed down from generations to generations.
The natural landscape mingled with the cultural identities of locals has created a charming picture that can attract any visitor.
Bui Thi Hieu, Vice Chairwoman of Da Bac District People's Committee, said that since 2014, the Australian Foundation for the Peoples of Asia and the Pacific (AFAP) has supported four households in Ke village (Hien Luong commune) and Duc Phong village (Tien Phong commune) in building and repairing houses, buying blankets, pillows and cushions, and in training human resources, community tourism skills for locals.
Before 2016, to support local people in developing their economy and improving their living standards, the province had conducted a survey on potential of lakeside communes to develop a tourism development project. The provincial Department of Culture, Sports and Tourism had cooperated with other departments and agencies to restore relic sites on Hoa Binh lake such as Bo temple in Cao Phong and Da Bac districts, and Hoa Tien cave in Tan Lac district./.