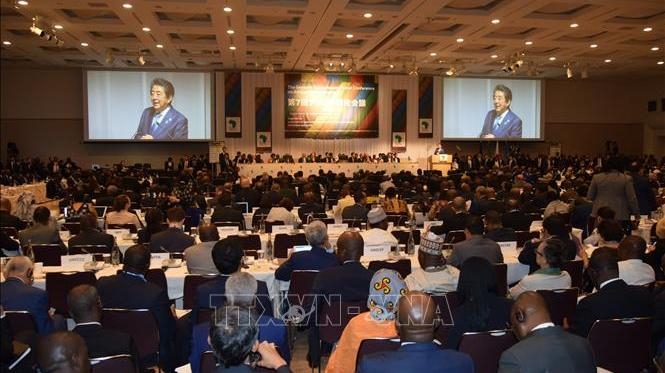 A Vietnamese delegation, led by Deputy Foreign Minister Nguyen Quoc Cuong, joined the 7th Tokyo International Conference on African Development (TICAD7), which opened in Yokohama, Japan on August 28.
Japanese Prime Minister Shinzo Abe speaks at the 7th Tokyo International Conference on African Development in Yokohama, Japan on August 28, 2019.
Under the theme "Advancing Africa's Development through People, Technology and Innovation," the 2019 TICAD draw the participation of heads of state and leaders from Japan, African countries, partner countries, and representatives from international organisations and businesses.
As reported by the Vietnam News Agency correspondents in Japan, during the three-day conference, participants will discuss measures to accelerate economic transitions and improve the business environment in Africa through innovation and private sector participation. Solutions to enhance peace and stability on the continent through the promotion of initiatives built by African countries are also to be discussed.
On the sidelines of TICAD 7, hundreds of conferences and seminars will be held by related agencies, organisations and businesses from Japan and Africa together with international organisations.
Japanese Prime Minister Shinzo Abe is expected to announce a package of support programmes to boost African development and increase Japanese investment in the continent.
As scheduled, the participants will adopt a joint statement, which will likely call for increased private sector investment to spur growth in the region, along with action plans.
TICAD was initiated by Japanese in 1993, with an aim of promoting policy dialogue between leaders of African countries and development partners on urgent issues that the continent is facing, including economic development and poverty reduction.
The event is co-organised by the Government of Japan, the United Nations (UN), the UN Development Programme (UNDP) and the African Union Commission (AUC). Until 2013, the TICAD was held every five years, but since 2016, the hosting period has been shortened to every three years.
Source: NDO