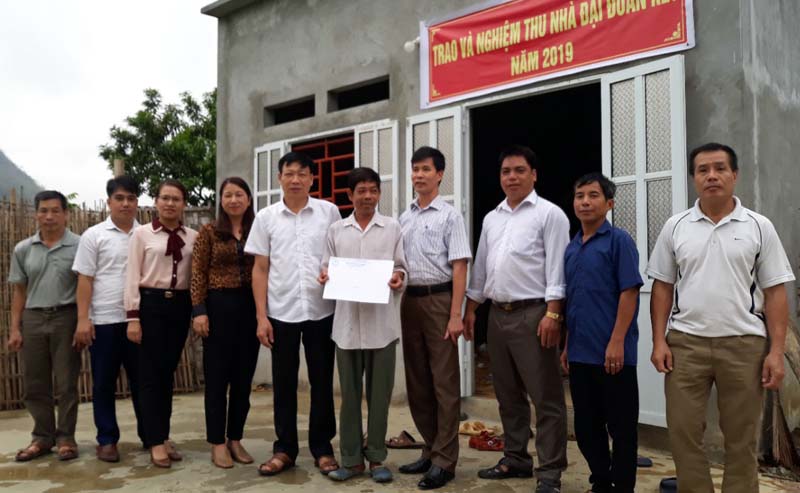 (HBO) - Mr. Dang Thi Bich Ngoc, the Vice Chairman of the provincial Fatherland Front Committee says: There are still 31,792 poor households and 30,512 poverty threshold households needing the community's help in the province. Therefore, the provincial Fatherland Front Committee has always well maintained the support of the fund "For the Poor".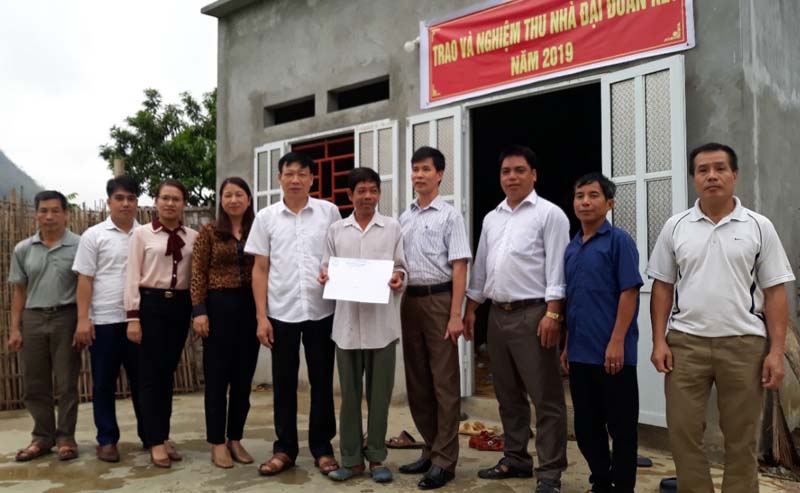 The representatives of the Fatherland Front Committee and other appropriate authorities in Mai Chau district are handing over the house of "Great unity" to Mr. Ha Van Sanh's family in Vang hamlet, Mai Chau town.
The launching ceremony of the peak month to support the fund in 2019 was held on October 11. The provincial management board of the fund "For the Poor" continues to call on all cadres, civil servants, officials and employees in agencies, and enterprises, businessmen, officials and soldiers in the armed force and the whole people continue to support and help the poor through the fund "For the poor" with the spirit of "joining hands for the poor - No one is left behind." Right at the launching ceremony, 115 groups and individuals have supported and registered to support the provincial fund "For the Poor" with the amount of over 13.7 billion VND. In particular, they have directly supported over 3.2 billion VND and have registered to support over 10.5 billion VND
The selection of the supported subjects is clearly defined by the Standing Committee of the Fatherland Front and the provincial management board of the fund in order to ensure the proper implementation of the guidance of Vietnam Fatherland Front Committee. The support contents include supporting the production materials, tools and seedlings, supporting production development models to help poor households and poor communities sustainably reduce poverty, supporting the construction of the essential projects to serve the community...
However, based the actual situation in the locality, the province has given the most priority to the list of support for building and repairing houses for poor households in recent years. According to the Standing Committee of the Provincial Fatherland Front, after finishing the peak month of mobilization for the fund "For the Poor" fund this year, the funds of all levels will spend over 50% of the total mobilized funds to support the new construction and repairing the houses of great unity. The supporting amount is 30 million VND every household.
For the houses need repairing, the appropriate support norm depends on the extent and items that need to be repaired, (around VND 15 - 20 million a house) for the beneficiaries according to the regulations. Based on the specific situation of the locality, the Management Boards of the Fund at all levels may pay for other contents as prescribed, ensuring the right assistance to the beneficiaries and achieving most effective and highest results, contributing to the good implementation of social security and sustainable poverty reduction in the province.