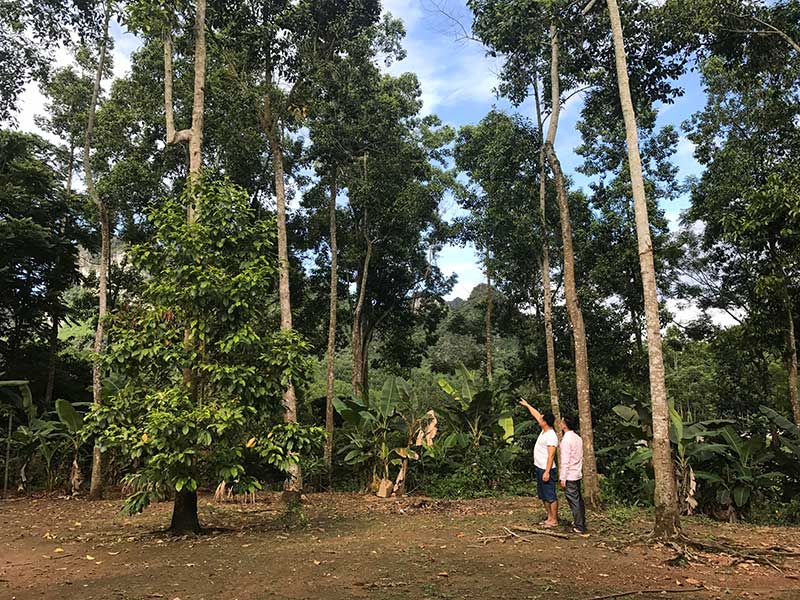 (HBO) - Visiting Mr. Bui Van Ty's house in Ba Lam hamlet, Nuong Dam commune (Kim Boi) was also the time when his family was happy as they just bought a motor-scooter. Thanks to this year's crop of michelia tonkinensis, the price was up to 2.5 million VND a kilo. In addition to buying a new motorbike, he also had conditions to renovate his house and buy a computer for his daughter to serve her learning.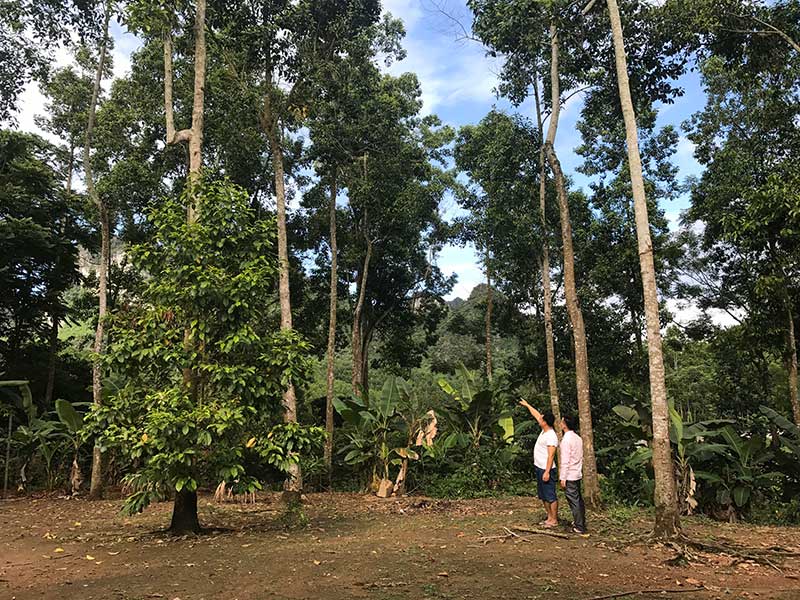 A garden of michelia tonkinensis of Mr. Bui Van Ty's household in Ba Lam hamlet, Nuong Dam commune (Kim Boi) earns 150 million dong a year.
Currently, there are 100 trees of michelia tonkinensis in Mr. Ty's garden. They include those left by his great-grandparents and newly planted ones. For him, these are the "golden trees" helping his family in term of income. There was another high-yielding crop of michelia tonkinensis, Mr. Ty excitedly said: "This year, the weather has been favourable, the whole garden obtained 100 kilos of michelia tonkinensis seeds with stable quality and delicious taste.
There was a time when the price of seeds was up to 2.5 million VND a kg. The customers were constantly calling and asking to buy even if they were not ready to collect and dry. We earned more than 150 million dongs for the whole crop, so that we could afford to buy many facilities."
There is a shady of michelia tonkinensis everywhere in Ba Lam hamlet. A tree of michelia tonkinensis has been considered as "black gold". It is a kind of a tall timber tree, which is less damaged by pests and diseases, and it does not take much care. They only need to improve the soil and take care of the tree for the first few years when it is planted.
Normally, michelia tonkinensis can be harvested after nearly 10 years, but by transplanting, it can be harvested only after 3 years. A new planted young tree can give only a few, but later it can give more output and the income is also higher. There are trees giving several dozen kilos of seeds. Currently, the price of fresh seeds of michelia tonkinensis is from 800 thousand to 1 million dongs a kg, that of the dried one is from 2 to 2.5 million dongs a kilo. Every 9 or 10 months, the people of Ba Lam hamlet are cheerfully to collect the seeds of michelia tonkinensis. They use a pole to drop it to the ground or use a ladder to collect them.
Michelia tonkinensis seeds are one of the indispensable spices in the traditional dishes of Northwestern people. In cuisine, michelia tonkinensis seeds are mixed with salt for pork, chicken or to flavour. In terms of medicine, michelia tonkinensis seeds actively support the treatment of the digestive diseases, the diseases of osteoarthritis, arthritis, herniated disc, and help strengthen the bones. A lot of the households in the commune have expanded their nursery gardens, the growing area of michelia tonkinensis in the whole commune is expected to increase, becoming a significant source of income for many families.
In order to promote the potential and strengths of the locality in economic development, the Party Committee and the authorities of the commune have sent many households to visit and study the models in Lac Son district and learn the experiences from seedling care, processing and preserving the seeds after harvesting.
They have encouraged people to develop, expand the growing area of michelia tonkinensis and intercrop this kind of trees with other crops to create the revenue, develop economy, eradicate hunger and reduce poverty in the locality. In 2019, the average income of the whole commune reached 18 million VND a person and the poverty rate was 24.4%.