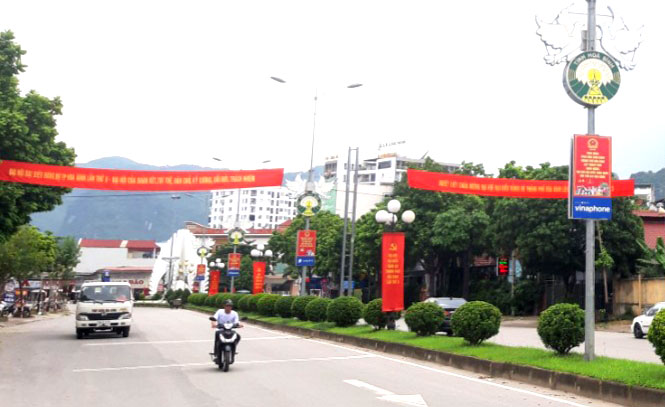 (HBO) - joining the whole nation, people of all ethnic groups in northern Hoa Binh province are celebrating 75 years since the August Revolution and the 75th National Day (September 2).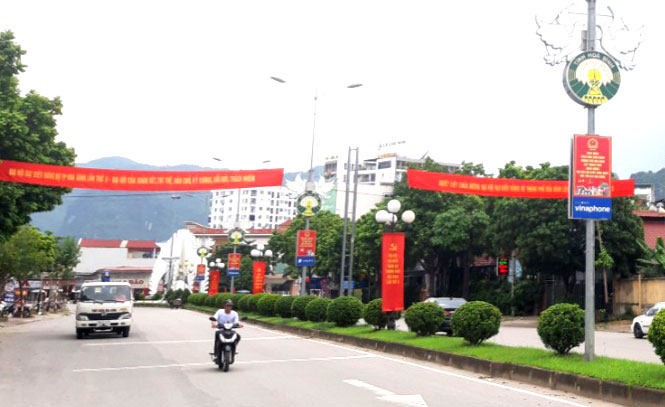 Tran Hung Dao Road in Hoa Binh city is decorated to mark the National Day.
Seventy-five years ago, in response to the Party and President Ho Chi Minh's appeal, local residents joined people nationwide to drive off foreign rulers to seize and return power to the people. With only rudimentary weapons, mostly canes and spears, people in Hoa Binh rose up to help liberate the country from colonialism and feudalism and turn the Vietnamese people from slaves to masters of the country.
Since that 1945 autumn, many local communities have chosen the National Day as their Independence Festival. The desire for freedom helped the Vietnamese army and people to weather hardships to win the two protracted resistance wars and gain successes in national development and defence. The traditional patriotism and revolutionary steadfastness have been giving more strength to Hoa Binh to overcome difficulties and obtain important achievements.
From a very low starting point, the province has been engaging in nationwide reform efforts. Used to be small town, Hoa Binh city is currently home to civilised and modern residential areas with continually improved living standards. Meanwhile, remote villages in Da Bac, Mai Chau and Tan Lac districts are now accessible thanks to roads built and internet connection. The power grid has also been expanded to all rural hamlets.
Hoa Binh is no longer a poor mountainous province but confidently working towards prosperity. It now has famous farm produce like oranges and pomelos of Cao Phong, Tan Lac and Lac Thuy, fish in Da River, and many other specialities. A number of villages around Hoa Binh Reservoir have been equipped with roads, electricity and welfare facilities. The development of fishery, community-based tourism and local specialities has helped raise local per capita income strongly to 63.8 million VND (over 2,700 USD), higher than the average of the northern midland and mountainous region and equivalent to 92 percent of the national average.
Local infrastructure has been developed while many projects and facilities have been put into use, giving Hoa Binh a competitive edge in attracting investment and tapping into tourism, service and industrial potential. Over the last few years, the province has attracted billions of USD worth of investment into tourism, eco-urban area and industrial projects. It has also topped northwestern provinces in new-style countryside building.
This year's Independence Festival is more meaningful than ever as it marks a new stage of reforms to achieve higher targets, including turning Hoa Binh into a province of integration and development towards prosperity and happiness./.