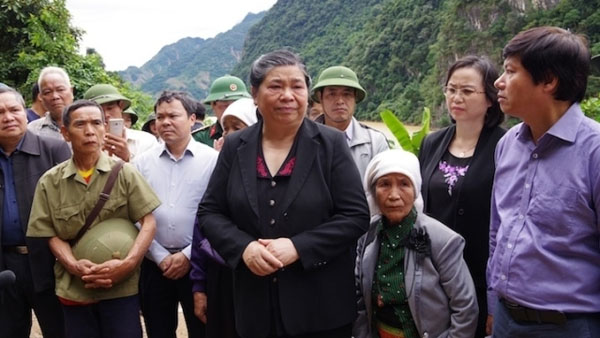 NA Vice Chairwoman Tong Thi Phong conveys the regards and sympathy from Party and State leaders to local officials and residents over great losses in humans and property. (Credit: NDO)
In Dong Nghe and Dong Ruong communes, Phong conveyed the regards and sympathy from Party and State leaders to local officials and residents over great losses in humans and property.
Speaking highly of the support and assistance provided by administrations at all levels, sectors and people for affected residents, she asked the provincial authorities to continue supplying food, water and clothes to flood victims in Da Bac district.
Phong handed over VND5 million to each of three bereaved families and VND2 million to each of 18 households whose homes were swept away during the floods. The money was contributed by the NA Office.
In addition, NA Vice Chairwoman Tong Thi Phong, Head of the Party Central Committee's Organisation Commission Pham Minh Chinh and Minister of Public Security To Lam also donated VND150 million in total to Da Bac district.
According to the province's steering board for disaster prevention, search and rescue, total damage caused by prolong downpours and floods in Hoa Binh has exceeded VND800 billion (US$35.2 million).
By 4pm on October 16, floods had killed 24 people, injured 12 others and left ten missing in Hoa Binh. Up to 19 dead and missing people were in Tan Lac district while 11 others were reported in Da Bac district. Mai Chau and Kim Boi districts recorded two deaths each.
While more than 1,000 houses were inundated and damaged, all rice and other crop areas in the province were affected by heavy rains and floods with over 10,000ha completely inundated.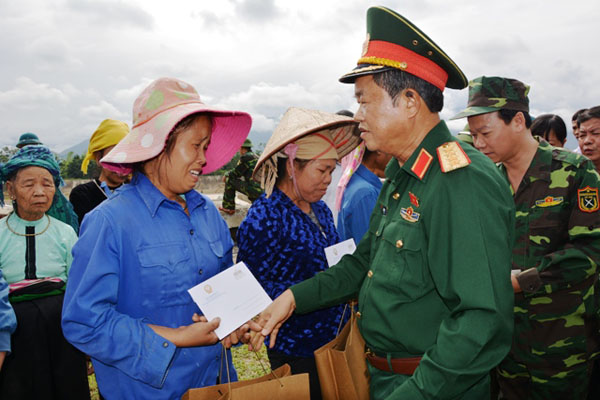 NA Vice Chairman Do Ba Ty encourages Yen Bai locals to overcome losses after the floods. (Credit: NDO)
* The same day, NA Vice Chairman Do Ba Ty inspected the settlement of flood and landslide consequences and visited flood victims in the northern mountainous province of Yen Bai.
Ty and his entourage visited some bereaved families and households whose property was washed away by floods in Van Chan district and Nghia Lo town.
He appreciated the local military and militia forces and youths who have helped residents to address flood consequences. He asked them to continue efforts to assist local people swiftly deal with disaster impacts and stabilise their lives.
At a working session with the delegation, provincial leaders proposed the NA and Government send teams to the province to assess loses, find out causes and provide technical support to rebuild damaged roads and irrigation works.
They called on the Government to give urgent financial assistance to repair 78 important traffic and irrigation works with estimated costs of around VND400 billion (US$17.6 million).
The NA leader requested Yen Bai authorities to focus on efforts to help residents stabilise their lives, solve environmental problems to prevent diseases, and proactively repair damaged traffic, irrigation and other infrastructure works. He also asked the province to use aid in an effective, fair, transparent and timely manner.
Yen Bai has reported 18 deaths, ten people missing and nine others injured in the recent downpours and floods. Nearly 2,000 houses were damaged while more than 140 households were evacuated due to landslides and flash floods.
Floods also devastated more than 900ha of crops, tens of thousands of livestock and poultry, and over 42ha of aquaculture area. Total damage was estimated at over VND700 billion (US$30.8 million).