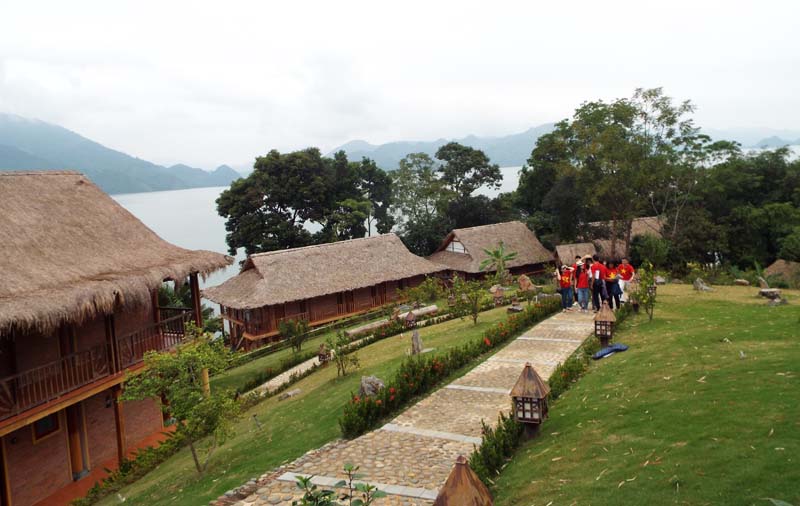 (HBO) - With the tourism and human resources and the particular advantages, Hoa Binh province has defined Hoa Binh lake as a key tourism development of the province.
On August 1, 2016, the Prime Minister issued the Decision No. 1528/QD-TTg approving the Master Plan for the development of the national tourism area of Hoa Binh lake by 2030. To implement the Prime Minister's plan, the Party Committee of the province issued the Thematic Resolution No. 14-NQ/TU dated June 22, 2017 on the development of the tourist area of Hoa Binh lake to become a national tourist area.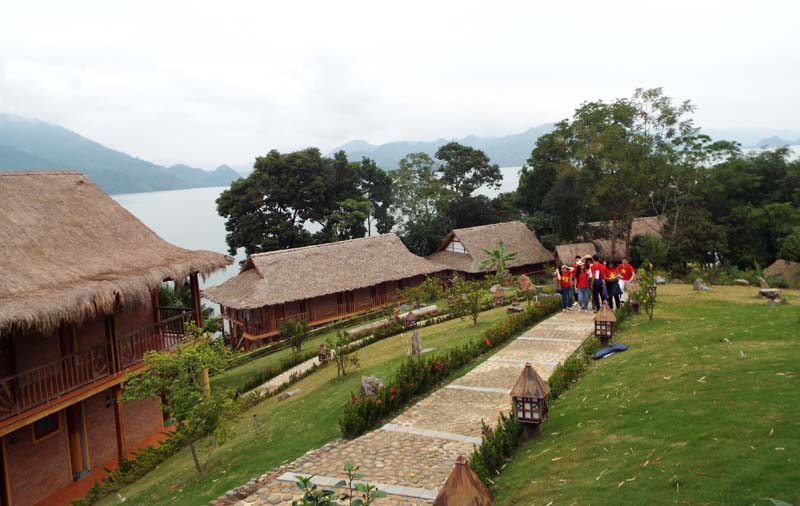 Mai Chau Hideaway tourist destination in Suoi Lon hamlet, Tan Mai commune (Mai Chau) has attracted domestic and foreign tourists to relax and experience.
The goal of the Resolution is trying to meet the basic conditions to become a national tourist area in 2025. By 2030 the tourist area of Hoa Binh lake is trying to become a national tourist area with a relatively synchronous and modern system of technical and material facilities. The tourism products will be of high quality and they will be diversified, rich, branded, bearing bold cultural identities of Hoa Binh ethnic groups. It will become the largest tourist center of Hoa Binh province, which is one of 12 key tourist areas of the Northern Midlands and Mountains region with the typical tourist products, the tourism to learn and experience Muong ethnic culture associated with ecosystem of Hoa Binh lake.
Currently, the People's Committee of the province is directing the appropriate authorities to implement the specific solutions, prioritizing the resources from the budget to invest in electrical, transport, port and wharf infrastructure and to support the enterprises investing in Hoa Binh lake tourism. In the immediate future, the investment resources are mobilized into the central area of Hoa Binh lake with an area of about 1,200 ha. The priority should be given to the development of the eco-tourism, the convalescence and the tourism learning the culture of ethnic groups. At the same time, it is necessary to pay attention to developing the supporting tourism products.
Exploiting the waterway travel from Tuan Chau tourist port, Quang Ninh province to Hoa Binh connecting Hoa Binh lake is being continued. They will continue developing the programs and the routes of waterway tourism on Da river connecting the tourist spots of Hoa Binh lake tourist area with the hydroelectric plants in Son La, Dien Bien and Lai Chau provinces. It is important to develop various types of food services, exploiting the traditional dishes and specialties of Muong ethnic minorities and other ethnic minorities in the region.
Currently, a lot of projects are being investigated to be invested and deploying the investment in the tourism area of Hoa Binh lake has a total registered investment capital of 1,453 billion VND, concentrating in the core zone of Hoa Binh lake tourist area.