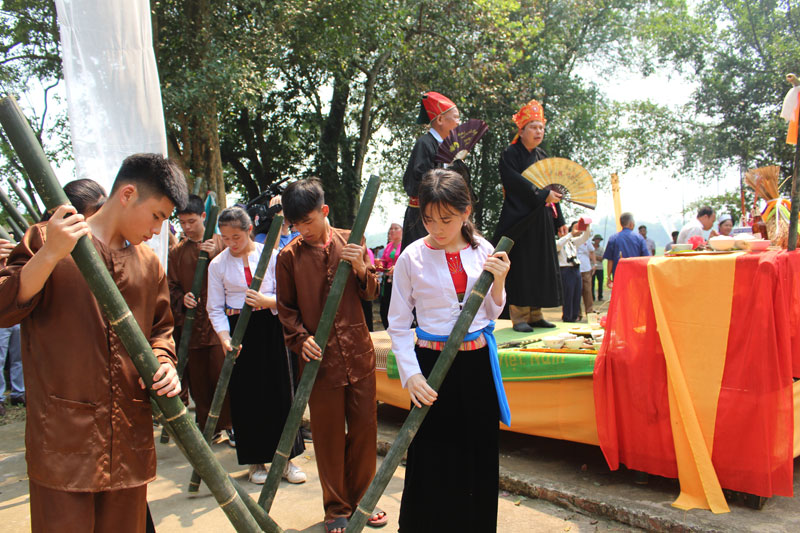 (HBO) - The People's Committee of Lac Son district, the northern mountainous province of Hoa Binh, has held a ceremony to receive a certificate recognising the festival at Truong Kha temple, in Lien Vu commune, as a provincial cultural and historical relic site, and reenact the festival. The reenactment of the festival aims to satisfy spiritual and cultural demands of local people and contribute to preserving and upholding cultural values of the festival.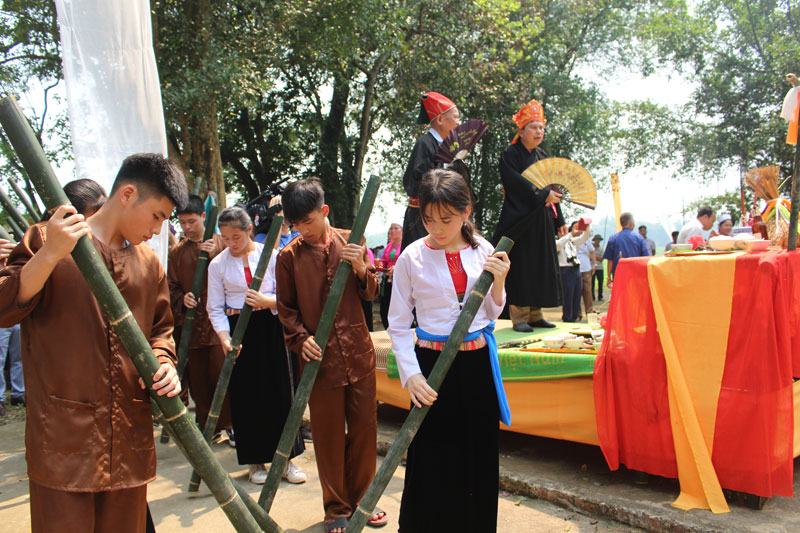 A ritual at the Truong Kha temple festival to pray for favourable weather conditions and bumper crops.
The Truong Kha temple in Chieng hamlet, Lien Vu commune was built in the 15th century. It was restored in 1997 and rebuilt in 2013 by local people, using capital mobilised from individuals and organisations.
The elderly in the commune said the temple is dedicated to three Kun Dol Gods who protect crops of the Muong ethnic minority group, and are worshipped by locals in the ancient Voi-Trao area as tutelary gods.
Legend has it that long time ago, the locality was hit by a drought that made the water level of Buoi River shrink to a puddle in its bottom located in Khoang Kha. The drought chapped fields and hampered rice growth. Muong people suffered hunger and most of them had to leave their home to earn their daily bread. At that time, the ancestor of Bui Van Xuom in Muong Trao could not go because of his dog's disobedience. One night when he was hesitating over whether to leave or not, he heard sounds made by a small bird from an egg-plant under which the dog often lay down. In the next morning, he found that the rice fields were ripe, and asked other families in the hamlet to harvest.
Recalling the bird sounds, he considered them a good signal from the three Kun Dol Gods. He sacrificed a white buffalo as an offering to the Gods to pray for rain. Three days later, the rain finally came. To show their gratitude towards the Gods, local people built a temple to worship them and honoured them as tutelary Gods.
Since then, local Muong people opened a festival at the temple on the 15th day of the third lunar month triennially to pray for rain. This is an important religious and cultural event, drawing the participation of all residents in the ancient Voi-Trao area. It features various rituals, including the procession of the Gods, buffalo sacrifice, rain praying and fishing.
It also includes traditional games of Muong people like wrestling, swimming, diving and rowing, along with other sport and cultural activities.
Through these rituals and games, festival-goers show their gratitude and respect to the Gods.
The re-enactment aims to satisfy cultural and spiritual demands of people in Lac Son district and Lien Vu commune in particular, contributing to preserving and upholding heritage values in the locality./.