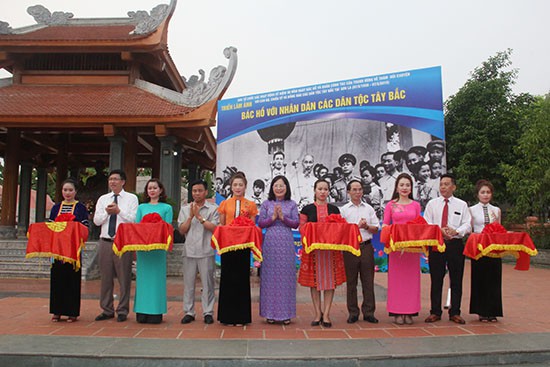 As many of 100 photos of Uncle Ho and northwestern ethnic people are on display at an exhibition which opened in Yen Chau district, the northwestern province of Son La, on May 8th.
The event was held by the Management Board of President Ho Chi Minh at the Presidential Place, Son La provincial Department of Culture, Sports and Tourism, and Yen Chau district People's Committee, as part of a series of activities to celebrate the 60th anniversary of Uncle Ho's visit to the Northwest region (May 7th, 1959-2019).
Exhibits were chosen from different sources on Uncle Ho's visit and talks with cadres, soldiers and compatriots in Son La province. They deeply reflected Uncle Ho's love and the Party and State's care for northwestern ethnic groups, and the achievements of 60 years' implementation of Uncle Ho's teachings in socio-economic and cultural fields in Yen Chau district.
The exhibition contributed to teach the national historical tradition, cultivate and uphold the spirit of patriotism, and arouse the creativity of party committees, authorities, officials, party members, soldiers of armed forces and ethnic people in Son La in general and Yen Chau in particular./.
Source: DCS