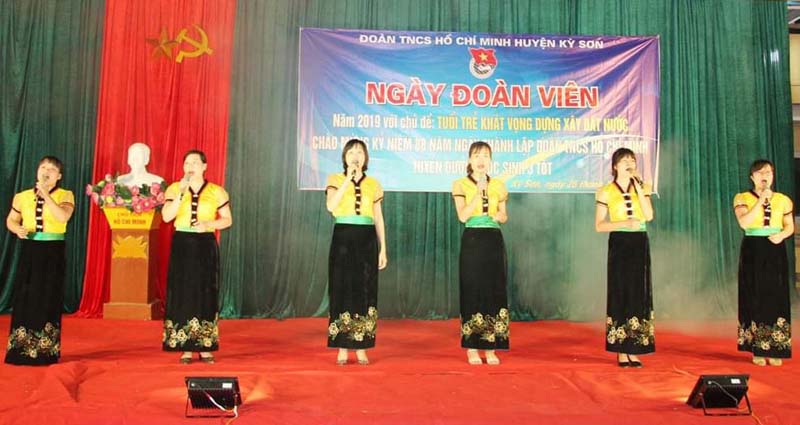 (HBO) - The artistic nucleus of Dan Hoa commune (Ky Son) is performing at the Program of the Youth Day organized by Ho Chi Minh Communist Youth Union of the district.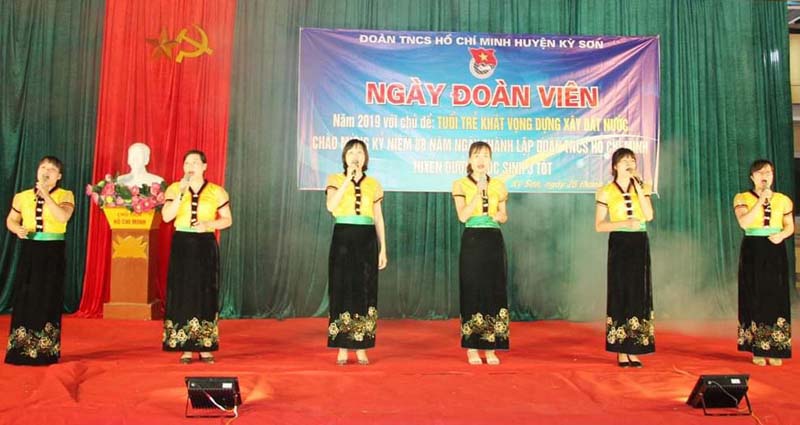 Women in Dan Hoa commune, Ky Son district performMuong cultural identity.
The mass cultural movement in Dan Hoa commune, Ky Son district has been developing evenly at 5 hamlets. All 5 hamlets have established a mass performance team. Each performance team has about 20 nucleuses. The Elderly Association in the hamlets have established the club "Live happily and well". In 2010, Dan Hoa commune established the club "Vien Nam Xanh Poetry – Song". Currently, the club consists of 34 members. The club is the place where the people loving poetry and songs in the whole district meet each other.
Mr. Nguyen Van Bo, the Vice Chairman of Dan Hoa People's Committee says that Muong ethnic group accounts for 85% of the commune's population. Therefore, the committee of Dan Hoa commune always pays special attention to preserving Muong cultural identity through singing and songs. First of all, the committee and commune authorities have been always paying attention to preserving the treasure of Muong gong. There are about 30 gongs in Dan Hoa commune. In which, four out of the five hamlets have established gong team. On the village festivals, the elderly people always instruct and tell their descendants how to beat the gongs so that they have the right rhythm, the correct sound matching with the content of the gong.
Besides, the folk songs such as Xac bua singing, Thuong rang singing, Bo meng singing, Vi dum singing and on are practiced by the performance teams and participated in the contests organized by the district and they have been given many high prizes.
The cultural performances are mainly composed by the members of the performance team of the residential areas with the various creative types. They have often integrated the propaganda of the Party's guidelines and policies and the State's laws, the contents of the movement of "All people unite to build a cultural life", building a new countryside ...
Thereby, they have been contributing to the successful implementation of local political tasks. On the holidays and lunar New Year, all the villages of Dan Hoa commune are full of lyrics and songs. The quality of the mass cultural movement has shown the rich spiritual life, the responsibility of each participant and the direction of the government in mobilizing people to respond to the movement. The development of the mass cultural movement is a premise to promote the movement of "All people unite to build a cultural life in the locality". In 2018, there were 477/564 households earning the title of the cultural family (reaching 84.57%) 5/5 villages achieved the cultural titles in the whole commune.