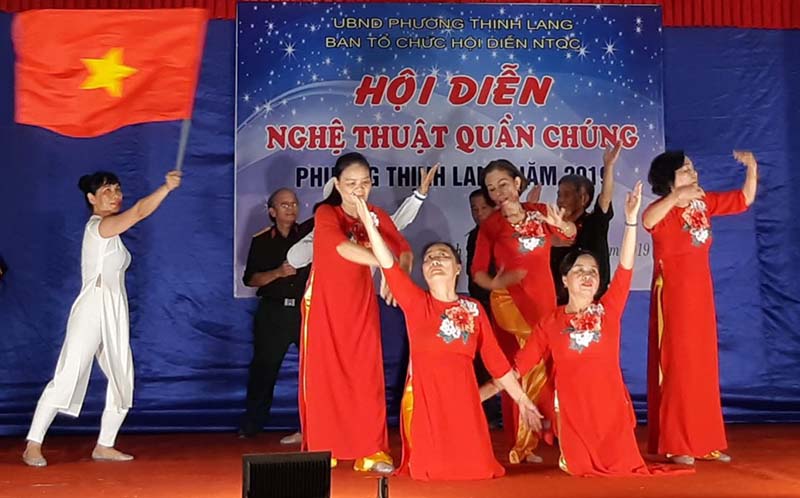 (HBO) - The Public Art Fair of Thinh Lang Ward (Hoa Binh City), which took place in early June 2019, attracted thousands of people to watch and cheer. Nearly 23h, the last performance was completed but everyone was still happy with the endless applause. Nearly 200 performers brought 31 performances of singing, dancing, instrumental performances, Muong gong.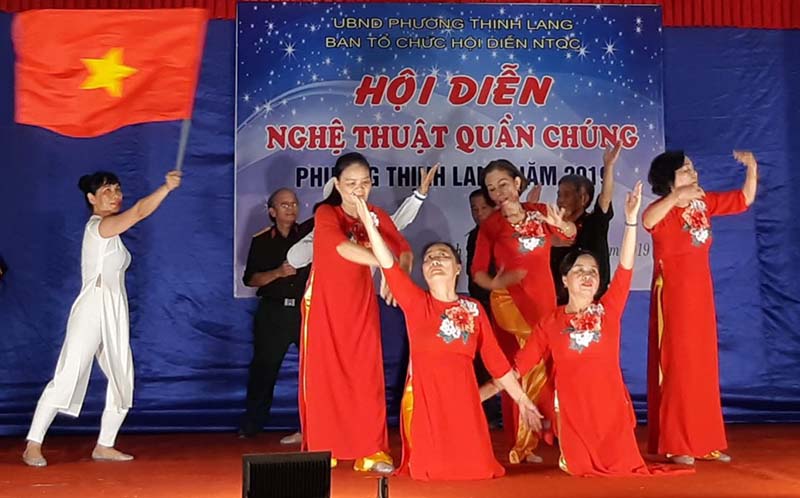 Performances at the Thinh Lang Ward's Public Art Festival (Hoa Binh City) in 2019.
The festival has the participation of all classes of people, from teenagers to women, veterans, elderly people, farmers, workers, officials ... There are silver-headed men and women but they still enthusiastically perform. Some leaders, deputy leaders of the neighborhood, cell secretary like Mr. Pham Huy Can, Dinh Cong Lap, Mrs. Nguyen Thi Khuyen... are also performers.
Chairman of the Fatherland Front of Thinh Lang Ward Nguyen Thi Ngoai commented: Interestingly, the audience saw the performances of their neighbors, grandfather, grandmother, mother, grandchildren, brother... Proudly, the masses are the people who preserve and promote the cultural identity in the heart of the city. The mass cultural movement in the ward is maintained and developed vigorously.
Mrs. Nguyen Thi My Binh, Chairman of the Ward People's Committee said: The mass culture has become a spiritual food, improving the cultural life for the people. All 9 groups of the ward have a performance team.
For the movement to maintain and develop, from the beginning of the year, the Ward People's Committee issued the operation plan for the whole year. On that basis, the performance teams perform. Thinh Lang Ward regularly organizes competitions. Conferences of the gruops and ward often have cultural shows.
Exciting from the facility, Thinh Lang ward participates in city-level competitions and achieve high prizes. At the Hoa Binh City Art Festival in 2017, Thinh Lang ward won the first prize. Every two years, performances are held again. The Ward will select and actively participate in the Hoa Binh City Art Festival in 2019, contributing to the development of the general movement in the area.