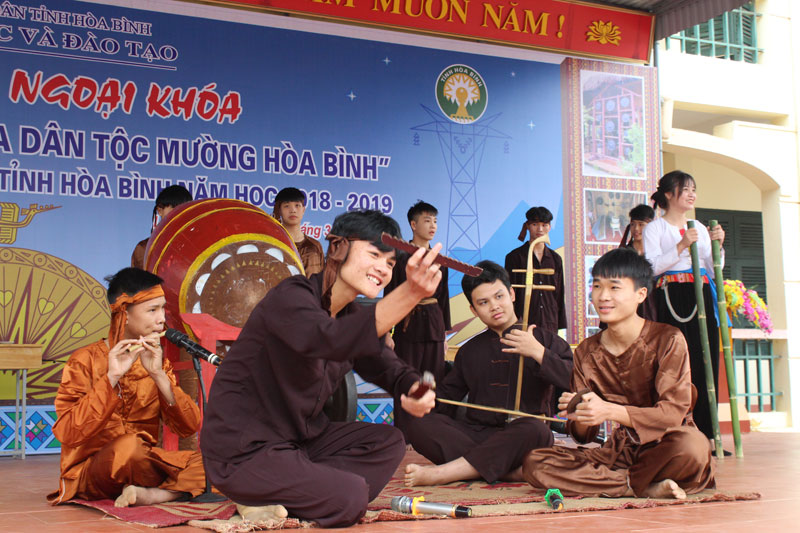 (HBO) – Over the past years, the Department of Education and Training of the northwestern mountainous province of Hoa Binh has always paid attention to educating students about patriotism. Local students have been equipped with how to preserve and uphold their traditional cultural values.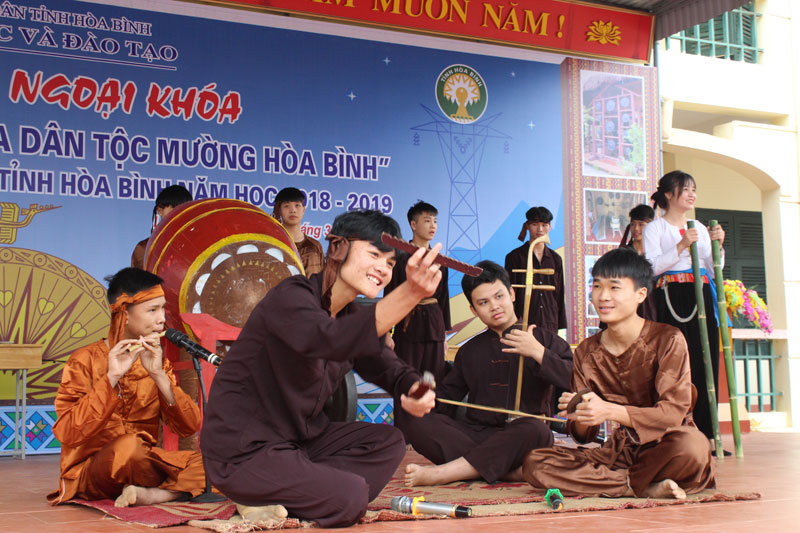 Student's performance of Lac Son High School.

Mrs Dinh Thi Thanh Tuoi, Headmaster of Lac Son High School said: To implement instructions of the education-training sector as well as the annual plan set for the sector, and given children's inadequate attention to traditional culture, Lac Son High School has set forth a plan to organise outdoor activities in an effort to preserve cultural values of the Muong ethnic group. Such activities must match the school's reality and cultural identities of ethnic groups in Lac Son district and Hoa Binh province at large.
The sector has also paid heed to raising responsibility of school officials and teachers for promoting traditional culture and love for and pride of traditional culture among students.
Lac Son High School's organisations and students have held outdoor activities to equip students with life skills and improve their awareness of preserving cultural values of the Muong ethnic group. These activities are practical and match reality of the school and physiology of students.
Ms Bui Mai Luong (Secretary of the Ho Chi Minh Communist Youth Union's chapter at Lac Son High School) said: Lac Son High School is located in the centre of Lac Son district, with the Muong ethnic community accounting for 96 percent of its population. Therefore, our school has held educational and cultural activities to preserve and promote the Muong ethnic cultural identity among the students. Particularly, the school has worked with the youth union of Lien Vu commune to organize a gong club, and with parents and head teachers to educate students about the Muong culture. Students have also practiced the community's cultural music to perform at events hosted by the school and Lac Son district.
In addition to asking ethnic students to wear their traditional costumes as regulated, local schools pay attention to organising various extra-curricular activities. In February and March, the provincial Department of Education and Training ran a quiz themed "Understanding the cultural identity of Muong ethnics in Hoa Binh" for high-school students in Lac Son and Tan Lac districts. The contest has been held regularly to promote comprehensive education and offer learning opportunities for students to expand knowledge and improve life skills and patriotism.
Mrs Bui Minh Hien (11th grade student, Quyet Thang High School, Lac Son district) said: I hope my school will organise more cultural and arts activities such as contests on ethnic costumes or the preservation of national identity. Through them, I can understand more about the Muong culture to introduce it to other people.
Meanwhile, a number of schools have built Muong exhibition spaces to display the group's signature cultural items such as costumes, jewelry, and gong, among others. As such, students have a chance to visit, learn about and use these items in related festivals. Spaces like this are a way to directly evoke students' awareness of preserving and promoting traditional cultural identities of the ethnic race./.