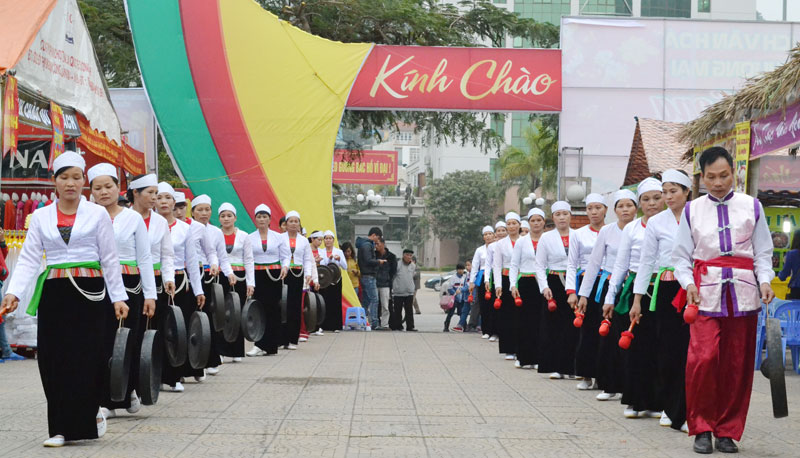 (HBO) - Following the introduction of the Department of Culture, Sports and Tourism, we have the opportunity to learn about gongs in the life of Muong people in Thai Binh ward (Hoa Binh city). Every village in Thai Binh ward has its own artisans and descendants, who always highly appriciate the tunes of gong and consider them as the treasure and sacred soul of their community.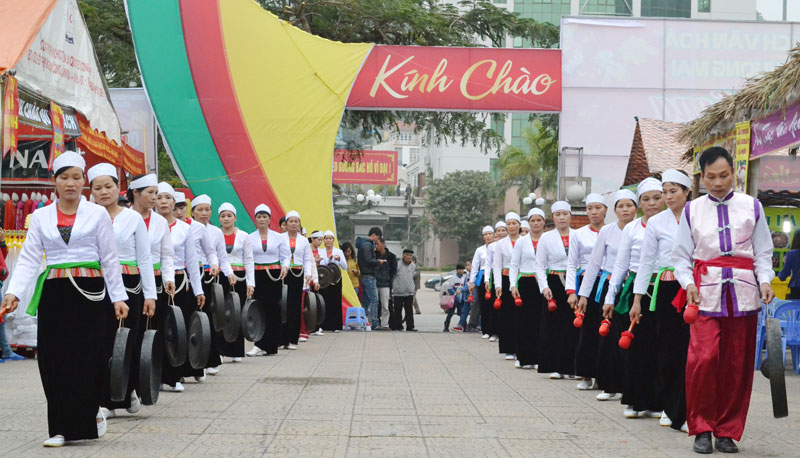 The gong team of Cham hamlet, Thai Binh ward (Hoa Binh city) is performing in Quang Ninh province on the occasion of the Fair of Trade - Culture.
The artist Nguyen Van Thuc aged 83 in Cham hamlet (belonging to group 7), is a famous enthusiast in preserving the national culture, including Muong gong. As a core nucleus, he has built a team of gongs (the gongs of colorful talismans) of which the clan, the descendants and the people in the group are the active members during the past years. Currently there are more than 30 members in the gong team. Many members such as Nguyen Thi Thoa, Bui Thi Toi are in their twenties Along with the care and the facilitation of the local government, the artist Nguyen Van Thuc has been guiding and teaching Muong gong so that it more popular among the children, and they love and spread the gongs of Muong people.
In addition to the gong team of Cham helmet, a lot of hamlet's art teams and the residential areas in the ward have also participated in preserving and promoting the value of Muong gong. The teams such as the team of Say hamlet (group 6), Trai hamlet (group 4) often take part in the team activities and performances. The art teams not only attract the elderly, the women but they also attract young people to join in practicing and performing. Thanks to this form of cultural and spiritual activities, the lives of the people in the residential areas are more closely.
The gong culture of Muong people faded away at one time. Together with the Muong community in Hoa Binh, the attempts contributed to preserving and promoting the value of Muong gong, the officials and the people of Thai Binh ward have opened the gong teaching classes in parallel with the propaganda and encouraging people, making gong performances become a special spiritual dish that attracts many people to join and cheer.
Particularly, in today's life, the tunes of gong have been awakened and strongly promoted in holidays, Tet and festivals. The gong teams of the ward are often chosen to perform at big events of the city and the province and to exchange in some provinces such as Ninh Binh and Quang Ninh. According to preliminary statistics, there are more than 100 gongs in the ward, many of which are Ho gongs (the ancient gong), dozens of tunes such as the colorful talismans, on the way to pick up visitors, bushy port Bo river, Cham Kham, white flower, yellow flower and so on are being handed down.