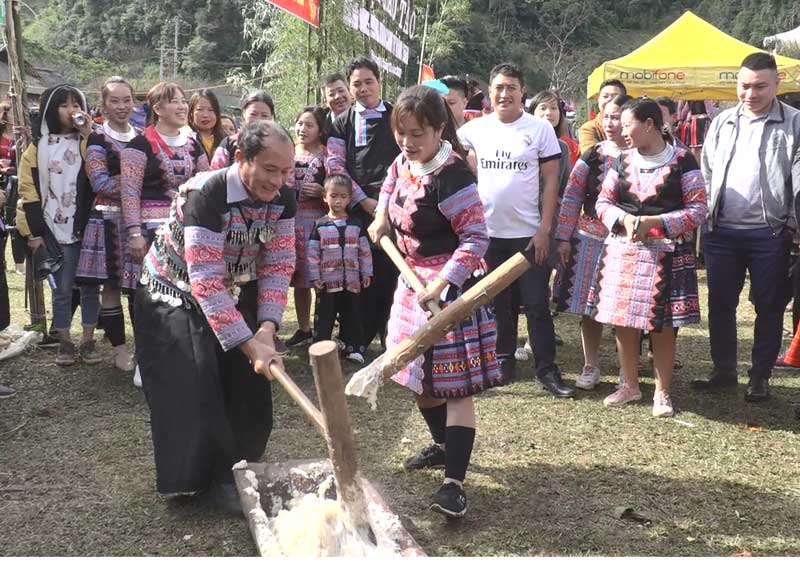 (HBO) - When Spring comes, Mong people's villages in the communes of Hang Kia and Pa Co (Mai Chau district) are bustling with the sound of pounding "banh day" (sticky rice cake). Every Lunar New Year (Tet), local people gather together to make the soft and delicious cakes from steamed sticky rice.
For the Mong people, "banh day" is not only an offering to worship ancestors on the occasions of the Lunar New Year or other festivals, but also a dish for guests, especially those from faraway.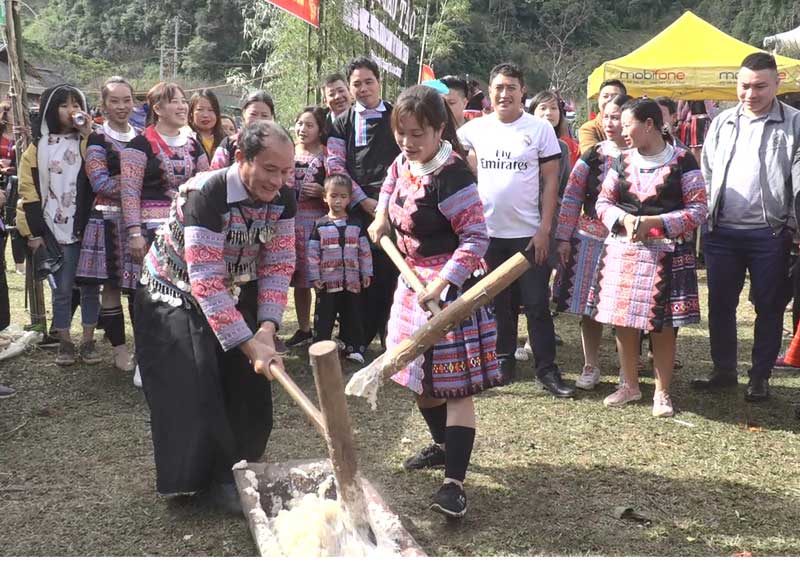 The custom of making Banh day of the Mong people in Hang Kia and Pa Co communes (Mai Chau district) is performed in festivals.
"Banh day" of the Mong people is known as "Pe" or "Dua" in the Mong language. For them, the cake has a sacred meaning like "banh chung" of the Kinh. "Banh day" represents the sun, which is the origin of all things and species. On the other hand, it also demonstrates the purity and faithfulness of the Mong people.
The pounding of "banh day" is a typical custom of the Mong, which reflects the strength and desire for a happy life, thus requiring those who pound the cake to be strong. Therefore, it is always performed by healthy and muscular young men.
The pounding must be done in rhythm until the rice becomes supple and smooth. The more you pound, the softer the cake becomes and the longer it can keep.
The pounding of cake also shows solidarity and discipline in the community.
The women are responsible for preparing leaves for wrapping "banh day" cakes. Dong or banana leaves must be cleaned and dried before they are used for wrapping. The round cakes demonstrate the skillfulness of the women.
When travelling to Mong village in Tet holidays, I always buy dozens of "banh day" to give as gifts to my friends and relatives. To enjoy the full flavour of "banh day", the cake should be baked on charcoal or cut into small pieces and fried until crispy crust, and be eaten with fish sauce or honey.
Along with traditional dishes such as corn wine, hill pork and chicken, "banh day" is always an attractive dish that everyone wants to taste in the most important festival of the Mong people./.