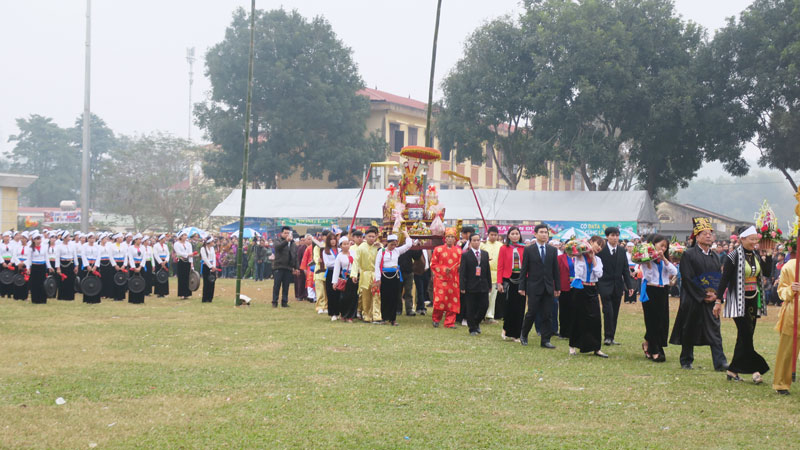 (HBO) – The 2020 Muong Bi Khai ha (going down to the field) festival took place in Tan Lac district of the northwestern province of Hoa Binh from January 30 to February 1 (from the sixth to the eighth day of the lunar new year).
On February 1, the festival held at a stadium of the district's Phong Phu commune was attended by Vice Chairman of the provincial People's Council Hoang Van Tu and representatives of departments and sectors in localities of the province.
Leaders of districts in other provinces such as Ba Thuoc in Thanh Hoa; Muong Ang and Dien Bien of Dien Bien; Son Dong and Luc Ngan of Bac Giang; Thanh Son of Phu Tho and Vu Ban of Nam Dinh, also participated in the event, along with local people and tourists.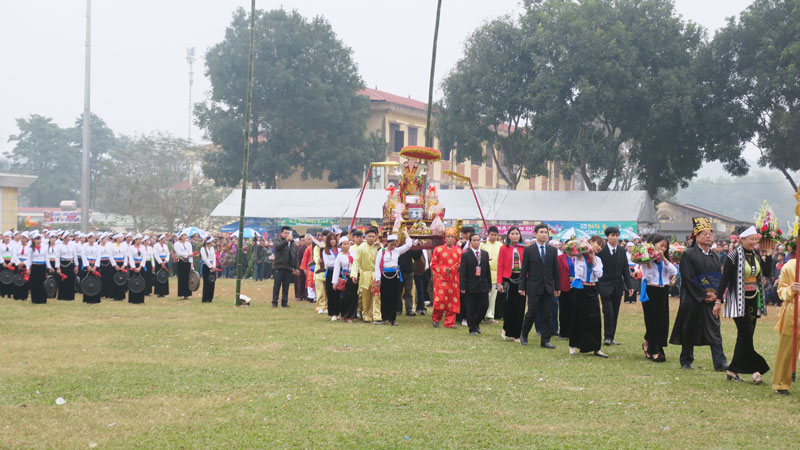 A palanquin procession dedicated to Hoang Ba at the Muong Bi Khai ha festival.
The festival, also dubbed as the ploughing or opening-the-forest festival, is a traditional one in connection with the wet rice cultivation which carries a sign of civilisation of the ancient Vietnamese. It has become an indispensible cultural activity of Muong Bi people in the new year.
Per local residents' wish, Tan Lac district held this year's festival at district level. It was part of activities to celebrate the 90th founding anniversary of the Communist Party of Vietnam (February 3).
On January 30, or the sixth day of the lunar year, competitions of traditional sports such as tug-of-war, stick-pushing, volleyball and crossbow shooting took place at the cultural house of Phong Phu commune and the stadium of Luy Ai hamlet.
A gastronomic event and the preliminary round of the contest on Muong people's traditional costumes were held the next day.
On the last day of the festival, at the stadium in Phong Phu commune, delegates, local people and visitors took part in a live-broadcast palanquin procession from a shrine dedicated to Hoang Ba Mother Goddess in Luy Ai hamlet. It was a new point of the festival this year, together with a performance featuring Muong gong with the participation of 300 artists in the district.
Art performances staged by local artists were held after the rituals. To wrap up the festival, the commune arranged a palanquin procession to a local field to perform the ploughing ritual in early spring, praying for a new year of favourable weather, bumper crops and prosperity.
The festival ran until the end of February 1. Folk games, a singing contest and sporting events were organised in the afternoon of the same day. Meanwhile, the final and award ceremony of the contest on Muong people's traditional costumes and an art programme took place in the evening, creating a joyful atmosphere for participants./.