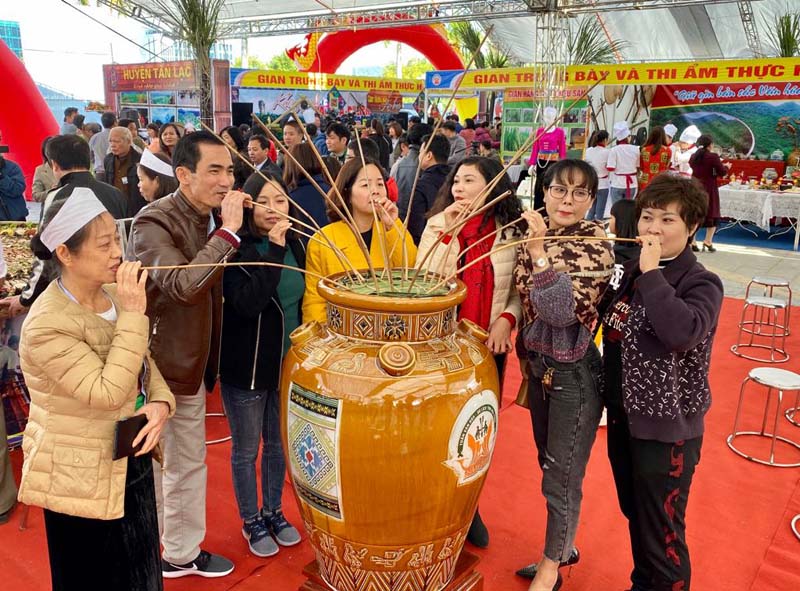 (HBO) - The special food tray on leaves, the most unique culinary flavor of Hoa Binh, the mountainous area, is considered to be a primitive culinary culture of Muong ethnic people.
The speciality of the food tray on leaves
To have a delicious special food tray on leaves, it is necessary to have the right material. The most popular material is the indigenous pig, also known as the hog badger, weighing 15 - 30 kg. This type of pig is often raised on the forest or semi-unbridled, eating vegetables, corn, cassava all year round so the meat is firm, low-fat with naturally sweet-smelling. The leaves used for food display are banana leaves taken from forests that have been exposed to fire and have a characteristic aromatic smell, symbolizing the attachment of the residents to the mountains.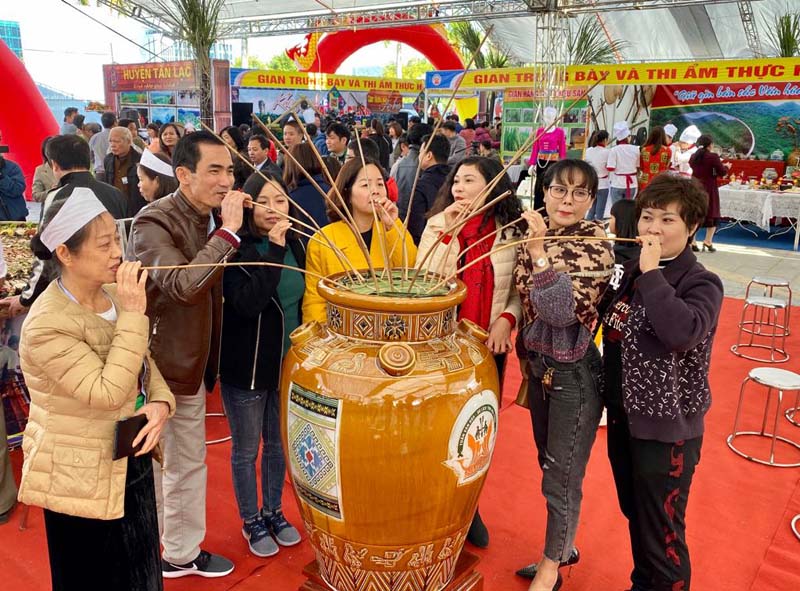 The visitors attending the Week of Culture and Tourism in Hoa Binh province in 2019 are enjoying the special Can wine made from yeast.
Now the special food trays on leaves are not only monotonous with only boiled dishes. They are very lively, sophisticated with eye-catching decoration and being added with the grilled dishes, rolls in pomelo leaves and the additional dishes such as Loong soup. The aromatic white sticky rice is wrapped square in banana leaves, symbolizing the quintessence of the land and the forest. Accompanied with the food is the salt with the seed from michelia tonkinensis. The grilled seeds from michelia tonkinensis are mixed with roasted salt have become an indispensable part of Muong special food tray, making it more charming.
The famous specialty, Can wine
It is said in the legend that Can wine of Muong ethnic people was born from the skillful hands, wisdom and virtue of Muong girls. Drinking Can wine of Muong ethnic people means drinking the natural milk from the mother and drinking the warm love of people.
Today's Can wine is widely used in the activities of the community, celebrating new houses, wedding parties, receptions or religious ceremonies. Especially, it has become a gift bringing a warm and happy feeling to every happy event. Can wine has become a brand of origin in Hoa Binh, appearing a number of establishments and villages producing Can wine to serve customers' need of enjoyment all over the country.
In addition to the special food tray on leaves, the jar of Can wine is the most unique cuisine of Muong area, other culinary flavors of Muong ethnic people in Hoa Binh are also praised by the customers, such as boiled vegetables made from the leaves of Carica papaya, Meo broccoli, wild betel leaves, broccoli or pickled bamboo shoots cooked with chicken, buffalo with persicaria chinensis ... Coming to Muong area in Hoa Binh, enjoying the special food tray of Muong, enjoying drunk in yeast of Can wine on the occasions of festivals or New Year, you can feel all the meaning, unique cuisine flavor in the life of Muong ethnic people.