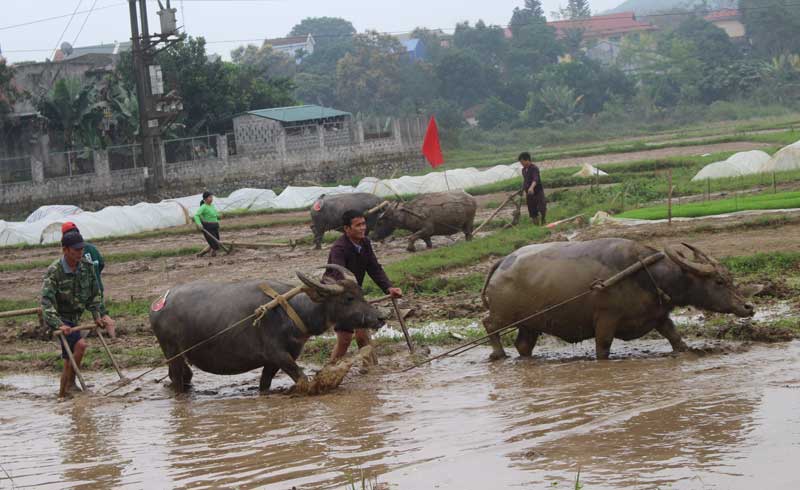 (HBO) - In Muong villages, the buffalo image is always attached to farmers. According to the farmers in Muong villages, plowing and harrowing with buffaloes helps the soil better and helps the rice less susceptible to pests and diseases. Therefore, the people in Muong Bi (Tan Lac) still maintain plowing, harrowing and preparing oil for rice cultivation with buffaloes.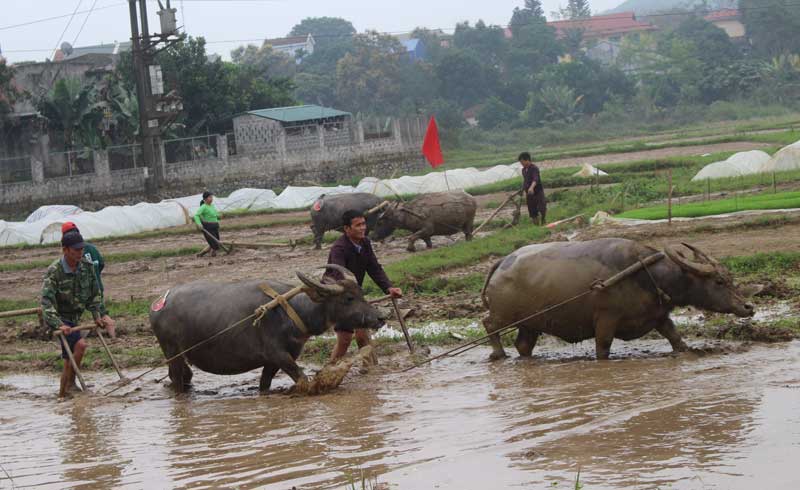 The teams performing the rituals of plowing in early spring at Khai Ha ceremony in Muong Bi in 2020.
In order to reappear the rituals of plowing in the early spring, every year at Kha Ha ceremony in Muong Bi, the Party Committee, the authorities of Tan Lac district organize the plowing ceremony at the beginning of spring with the expectation that Muong Bi fields are lush and paddy, the dunes are full of rice, the people are always full, the villages are peaceful and all things multiply throughout the new year. However, today the ritual is more innovative.
The number of buffaloes and participants taking part in the plowing ceremony has been increasing. The plowing competition in early spring has been organized in the locality... Thereby, the plowing rituals of in the early spring has become a unique cultural activity, attracting a large number of people to participate. At Khai Ha ceremony in Muong Bi the year of Rats in 2020, there were 5 plowing teams with of 2 people and 2 buffaloes taking part in the competition. Buffaloes participating in the ceremony must be big and strong, regardless of male or female buffaloes. The plow is firm, sharp and beautiful. The plowmen must be skilled.
In order for the plowing rituals to be done carefully, Phong Phu commune has selected good buffaloes in the hamlets and chosen each person to implement the plow. Through many rounds of selection, 10 good buffaloes meeting all criteria were trained and cared for to perform the rituals in the morning of the 8th of January of the year of the Rats.
Mr. Bui Trong Que, in Man hamlet, in Phong Phu commune says: Our family is very happy when our buffalo has been chosen to participate in the ceremony. I am honored to be the one to make the first plows in the new year. Before the Lunar New Year of the Rat, we had to fatten the buffalo so that he becomes fat and healthy to make fast and straight plows. The first straight plows of the New Year's promise a year of green and paddy fields of rice.