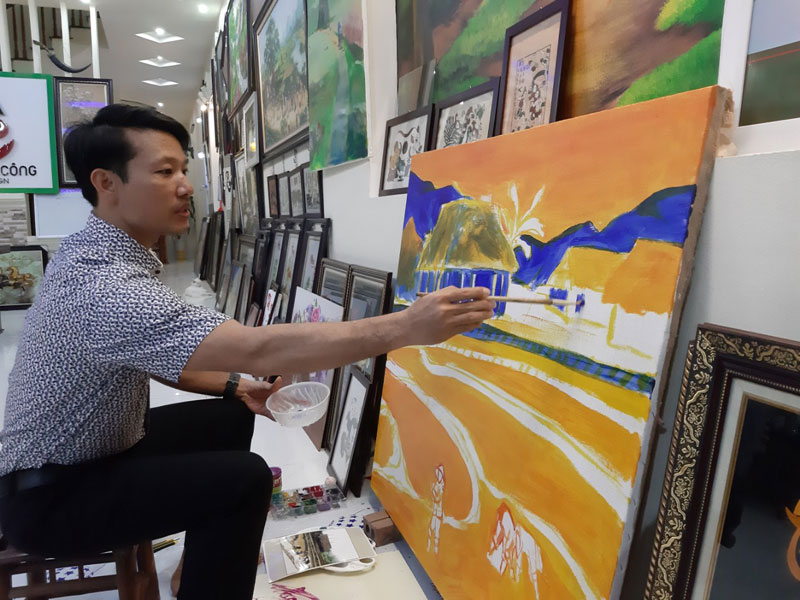 (HBO) - Overcoming nearly 300 artists who are professional and amateur ones from 46 provinces and cities across the country with 365 competition entries, Mr. Nguyen Van Cong from the Center for Culture and Cinema of Hoa Binh province has been awarded the first prize for the work "Stepping under the glorious Party's flag" – the prize for the propaganda campaign to celebrate the 90th anniversary of the establishment of the Communist Party of Vietnam (February 3rd, 1930 - February 3rd, 2020), organized by the local Culture Department (the Ministry of Culture, Sports and Tourism) coordinated with Vinh Phuc People's Committee in the middle of January.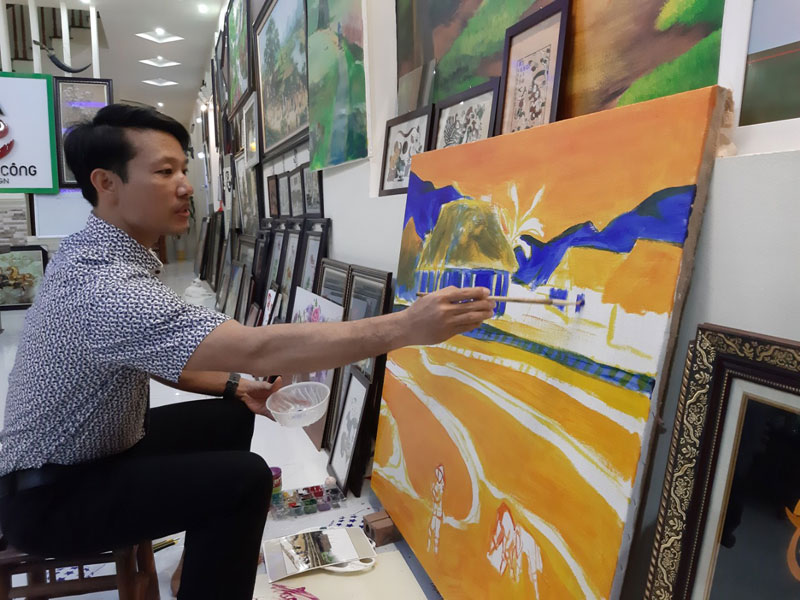 The artist Nguyen Van Cong always dedicates his passion to composing fine art works.
The work "Stepping under the glorious Party's flag" is inspired by the content of the whole Party, the entire people believing in the Party's leadership. The image of a brunch of sunflowers facing the sun is the power of the whole Party and people, the entire army stepping 90 years under the red flag with a hammer and a sickle...
We met Mr. Cong at his home on Thinh Lang Street (Hoa Binh City). The house is really scientifically arranged by a professional artist, and it is also full of colorful art. It has been all designed and built by him and his wife. One place is the outlines of the homeland, the dreaming people of Hoa Binh, the other place is for a fresh Dong Ho painting, the lake of hydroelectric plant with the immense power. Another one is for a painting of the young lady taking a bath in the springs...
All is a space full of artistic desires of the person loving beauty, dropping soul into nature, people. He is the director of a graphic design and advertising company with a lot of work to do. The company's work, the design work, the creative writing and the art activities fill his time.
He says that painting, especially composing cheerleading paintings is not so simple. To have the work of high quality bringing high communication efficiency, it is necessary to meet the requirements of fine arts, requiring artists with real ability. It is important to always learn, practice, equip themselves with a wide range of knowledge, conveying into a work with a sexy, inspirational message, creating strong attraction, excitement, optimism and so on.
Currently, Mr. Cong is implementing the propaganda plan to celebrate the great holidays, the Seventeenth Provincial Party Congress, the 13thNational Party Congress, launching to compose cheerleading paintings and organizing exhibitions and traveling exhibitions in localities in the province.