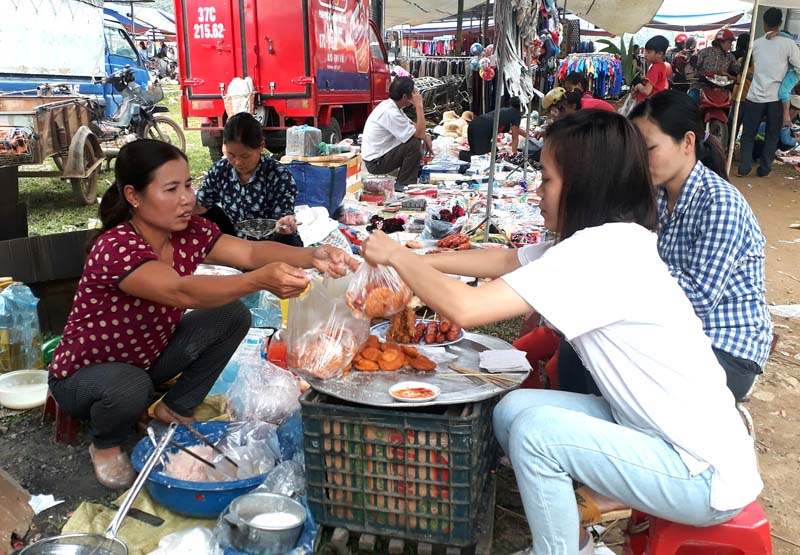 (HBO0 - The hot and yellow donuts covered with a layer of sugar on the outside have long been a fascinating gift at the rural markets. Today, there is no shortage of snacks in the countryside market, but donuts are still there with a special attraction not only for children, but also for adults.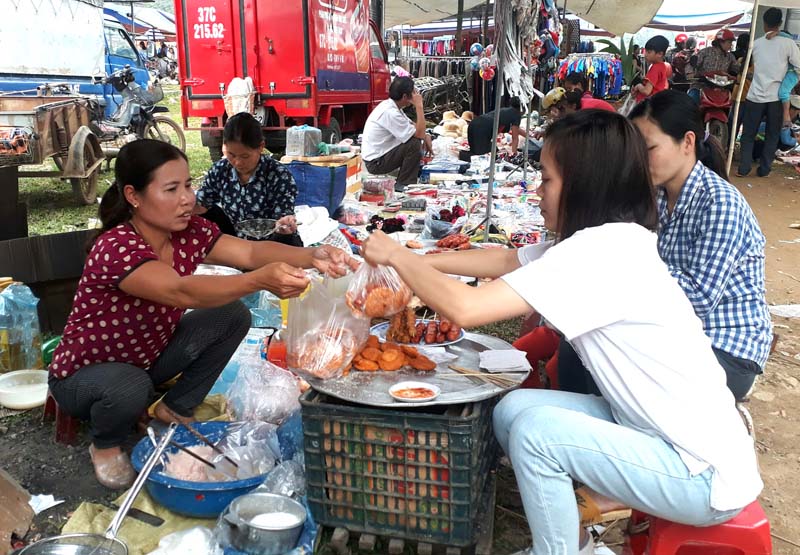 Donuts always attract customers in the countryside markets. Photos are taken at Phu Luong market, Quyet Thang commune (Lac Son).
Despite being concreted, but the fair markets in upland areas such as Van Son (Tan Lac), Ngoc Son (Lac Son), Bao La (Mai Chau) or the fair markets in Da Bac district still preserve the familiar feature of the countryside. They are the bundles of forest vegetables, the bottles of honey from forest, the different kinds of vegetables, fruits and food that people make and sell at the market. In some places, people still keep the habit of keeping chicken, pigs and puppies in bamboo cages and bring them to markets for exchange. In addition to these images, the country market has its own unique flavors created from the gifts that have been described as "delicious, nutritious, cheap", typically donuts.
Six years ago, we had the opportunity to go to the fair in Phu Luong commune, which is now merged as Quyet Thang commune (Lac Son). The market takes place on Sunday morning every week. At that time, this fair was quite simple, with the stalls built of bamboo and covered with canvas. It took place right on a rainy day, but the market was still crowded with buyers and sellers, in which, the stalls selling donuts were still full of people. This time, the market schedule is still the same, but the market has built according to the standards of new rural areas and it is relocated to a wide position with the smoothly-running provincial road 436. The stalls selling donuts and cendol are the most crowded with people in the market.
Previously, 3 pieces of donuts were bought with 500 dongs. Nowadays, a big donut costs 2 thousand dongs, a small one costs 1 thousand dongs. With the development of society, in urban areas, the fair has faded away. But in rural areas, markets are still the place of trade and commerce. There are old people who have kept the habit of going to the fair, and they are still eager to wait until the market day to go down to the market and enjoy the hot, aromatic donuts. The donuts have been attached to the countryside markets, with the typical and attractive flavors.