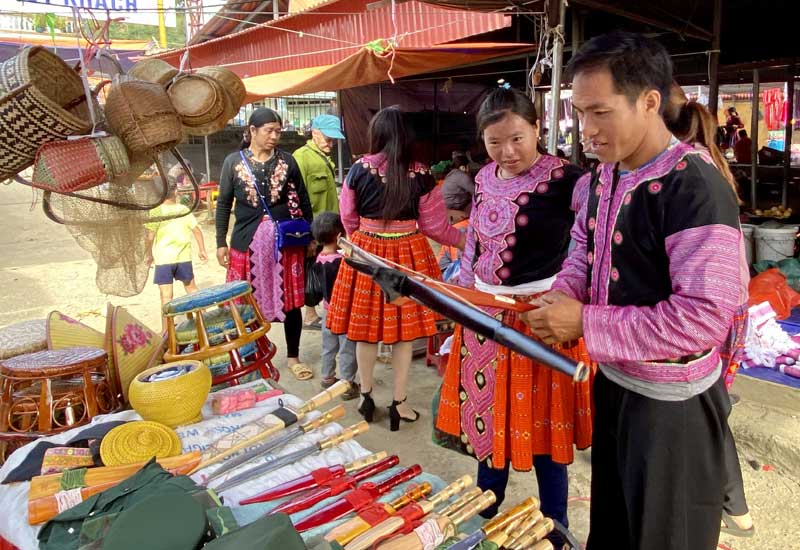 (HBO) – Traditional costumes are among typical cultural identities of ethnic groups. Now in Hang Kia and Pa Co communes (Mai Chau district), local Mong ethnic people still wear them almost every day, which impresses visitors and adds to the area's attractiveness.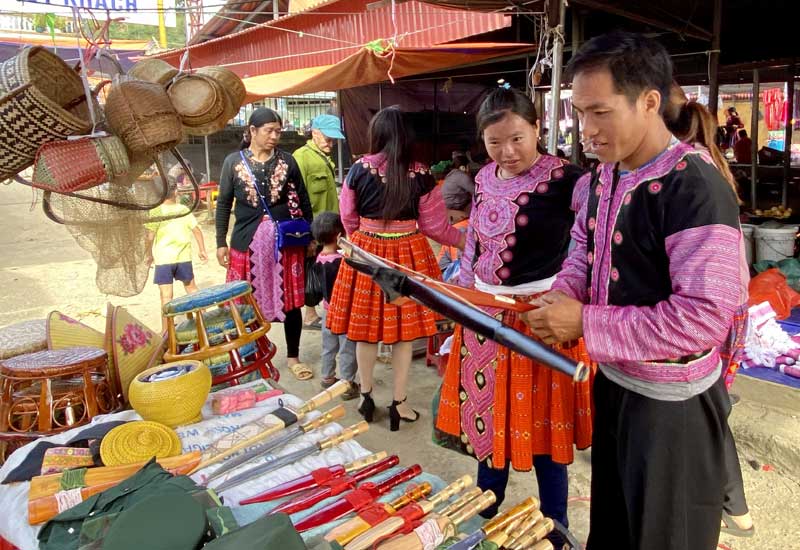 Mong ethnic people in traditional costumes of Hang Kia and Pa Co communes visit a market.
Phang Y Mai, an elderly resident in Pa Hang village of Pa Co commune, said Mong women have made clothes for their families from generation to generation.
Men's clothes are mostly black and have very loose trouser legs so that men can easily climb hills and mountains to work or practice traditional dances. Belts, called "lang dua la" in Mong language, form an indispensable part of their clothes.
Meanwhile, women's clothes consist of skirts and blouses. Skirts, known as "ta" in the Mong language, are loose and pleated and look like blooming flowers when spread out. They are also decorated with unique patterns embroidered or printed carefully. Meanwhile, blouses, called "so", have V-shaped collars and are attached with pieces of cloth with wearers' favourite colours. They also feature elegant decoration patterns and silver coins creating joyful sounds when wearers move. Particularly, sleeves are embroidered with colourful patterns, making the blouses more eye-catching.
Farming flax, weaving cloth, making clothes, embroidering, drawing in beeswax, and dying patterns have become a traditional craft of Mong women. Each costume of the ethnic minority is a result of its maker's month-long industriousness.
Nowadays, Mong people in the two communes are still preserving traditional costumes in association with developing tourism as a way to uphold their cultural identity. Besides, a traditional brocade making village in Pa Co commune was also recognised in 2019.
Via efforts to preserve traditional costumes and crafts, Hang Kia and Pa Co have been striving to introduce the local cultural quintessence to visitors, thereby helping to develop local tourism./.