(HBO) - The provincial museum has the functions of researching, collecting, preserving and displaying the cultural heritage of ethnic groups in Hoa Binh province.
It is also tasked with protecting, managing, restoring and promoting the value of historical and scenic sites in the locality.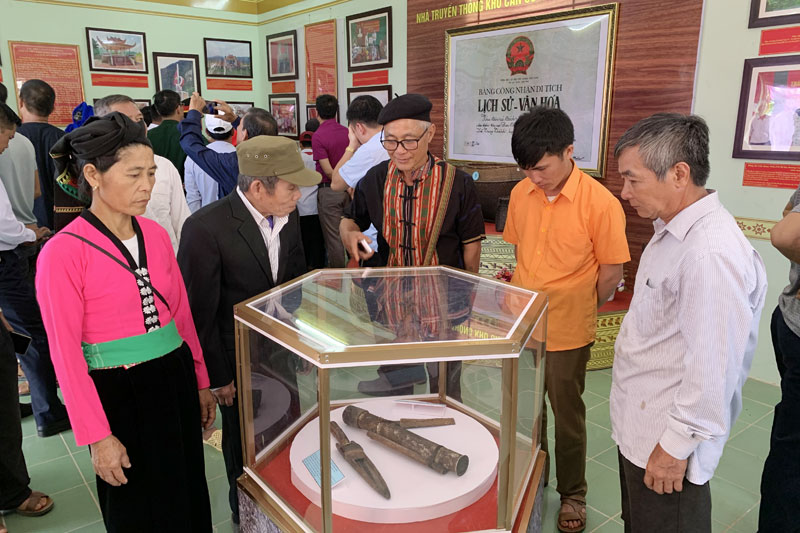 Residents in Trung Thanh commune visit the showroom on the Muong Diem revolutionary base in Trung Thanh commune (Da Bac district).
In the first six months of 2020, the provincial museum hosted successfully two exhibitions to celebrate the locality's major holidays and political events, one on the theme "Tu hao 90 nam truyen thong ve vang cua Dang Cong San Viet Nam" (The 90-year glorious tradition of the Communist Party of Vietnam) and the other on "Chu tich Ho Chi Minh – Lanh tu thien tai của Dang va Nhan dan ta" (President Ho Chi Minh - The genius leader of Vietnamese Party and people).
It also opened a showroom on the Muong Diem revolutionary base in Trung Thanh commune (Da Bac district).
The provincial museum completed records of 41 relics and artifacts handed over and donated by organisations and individuals from 2015 to 2019 and submitted to relevant authorities proposals for the recognition of public ownership of two ancient bronze drums and the establishment of a property valuation council for the artifacts.The museum also conducted the restoration of the two drums, which are coded Drum Yen Bong 1-HB 3681 and Drum No. 7 (A5-F12 - HB 3720), ensuring the technical and aesthetic properties of the artifacts to serve the preservation and exhibition work.
At the same time, the museum also completed the scientific dossier of the Dinh Bang relic site in Lac Son district's Ngoc Lau commune; and conducted studies for compiling scientific dossiers of the Hoang Cung Nuoc Ngoc Cave in Nanh Nghe commune, and the Song Cave in Vay Nua commune in Da Bac district.
It submitted dossiers to the provincial People's Committee for granting historical and cultural reliccertificationsforthe Khenh communal house in Lac Son district's Van Son commune (Lac Son); the relic of Nhan dan Newspaper's A2 office in Luong Son district's Lam Son commune, and the Ba Bi communal house in Kim Boi district's Hung Son commune./.