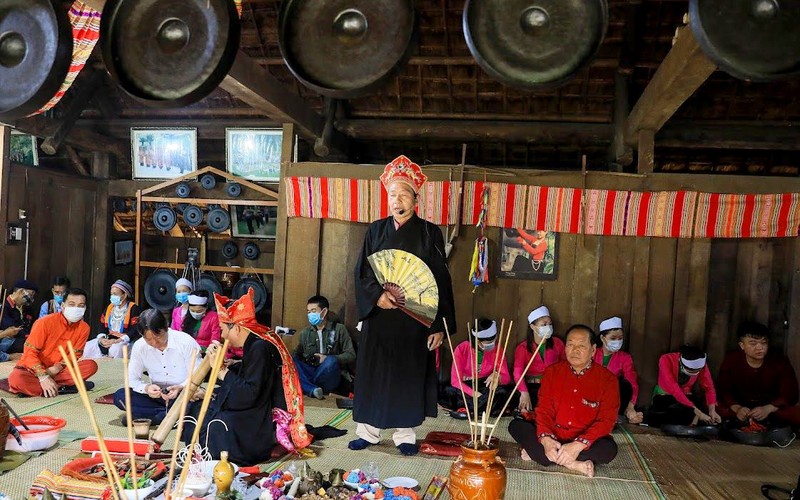 (HBO) – Mo Muong is a kind of heritage holding the special cultural essence of the Muong ethnic people. To seek the world heritage title for Mo Muong, it needs to be assessed in comparison with the Muong ethnic culture and similar heritage types in the world so as to highlight its unique values.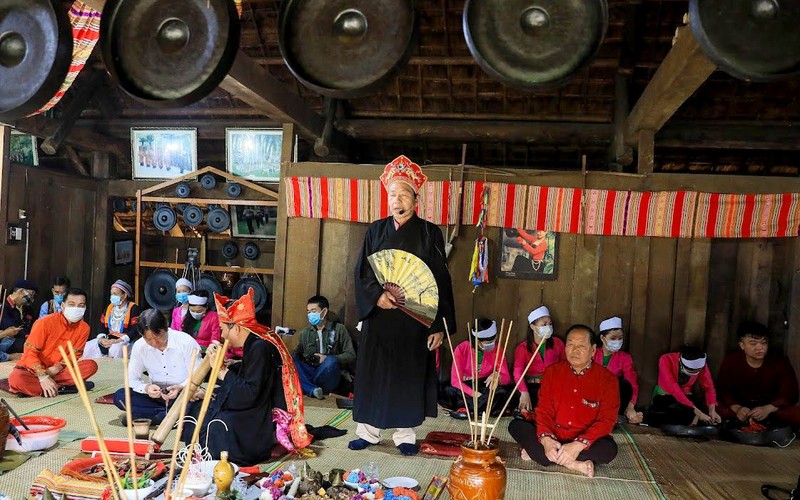 A Mo shaman practices a ritual in a house of Muong people.
Mo Muong is a form of folk belief consisting of three main factors: the environment for practices, Mo lyrics, and Mo artisans.
Recently, an international workshop on Mo Muong and similar rituals of beliefs in the world has been held in Hoa Binh province by the provincial Department of Culture, Sports and Tourism and the Musicology Institute under the Vietnam National Academy of Music. It helped supplement scientific information about Mo Muong and created a chance for the community possessing this heritage to directly take part in the compilation of a dossier seeking the UNESCO recognition of Mo Muong as part of world intangible cultural heritage in need of urgent safeguarding.
Dr Do Quang Trong, Deputy Director of the Thanh Hoa provincial Department of Culture, Sports and Tourism, and Dr Nguyen Van Hai, Director of Thanh Hoa's centre for history studies and cultural heritage preservation, said Mo Muong is sacred folk rituals of the Muong ethnic minority in funerals or ceremonies praying for good things.
It is associated with the human life cycle, they said, elaborating that a Mo shaman prays for blessing for a newborn; expels evil spirits from a sick person; performs rituals in weddings, ancestor worship ceremonies, or new house celebrations; and serves as a bridge seeing off the soul of the deceased to the afterlife.
About special values of Mo Muong, researcher and Meritorious Artisan Bui Van Noi said the first outstanding value is its epic characteristic with content related to the history of the Muong ethnic group and humankind. The heritage also bears spiritual and custom values, teaches people lessons about industriousness, along with values in terms of philosophy, performing arts, and demonstration language.
Prof. and Dr Wolfgang Mastnak from Germany's University of Music and Performing Arts Munich held that Mo Muong matches many UNESCO criteria for intangible cultural heritage such as its compatibility with human rights and mutual respect for culture; being considered an indispensable part of the cultural life by the community practicing it; and being deeply rooted in the community and continuously passed down to future generations and recreated.
Mo Muong reflects cultural diversity in the world and also the creativity of humankind, he added.
However, amid the wave of modern cultures, Mo Muong is facing the risk of disintegration, requiring all-round solutions to preserve and bring it into play.
MA Vu Thanh Lich, Deputy Director of the Ninh Binh provincial Department of Culture and Sports, and Dr Nguyen Thi Thanh Van from the Hanoi University of Culture pointed out the need for concerted and strong engagement from relevant parties, including local administrations, cultural authorities, the community possessing the heritage, researchers, and relevant organisations and individuals to uphold and promote the values of Mo Muong in the Muong ethnic community./.