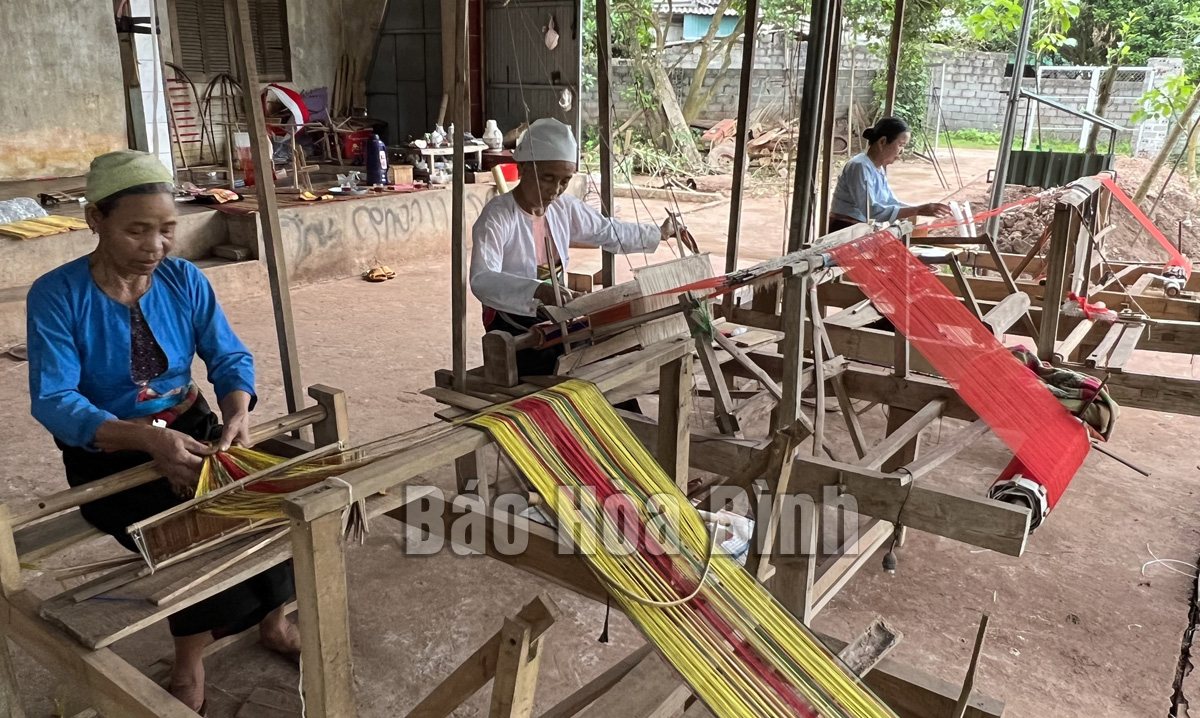 (HBO) - It not only is the cultural beauty, brocade weaving of Muong, Thai, Dao, Mong ... ethnic people in the province has also created economic value, bringing income to the people. In addition to keeping and improving the skills of the employees, it is necessary to have support in training, improving the quality of models, promoting and introducing products so that they can reach large markets inside and outside the province and it is necessary to look for the strong foothold for brocade weaving.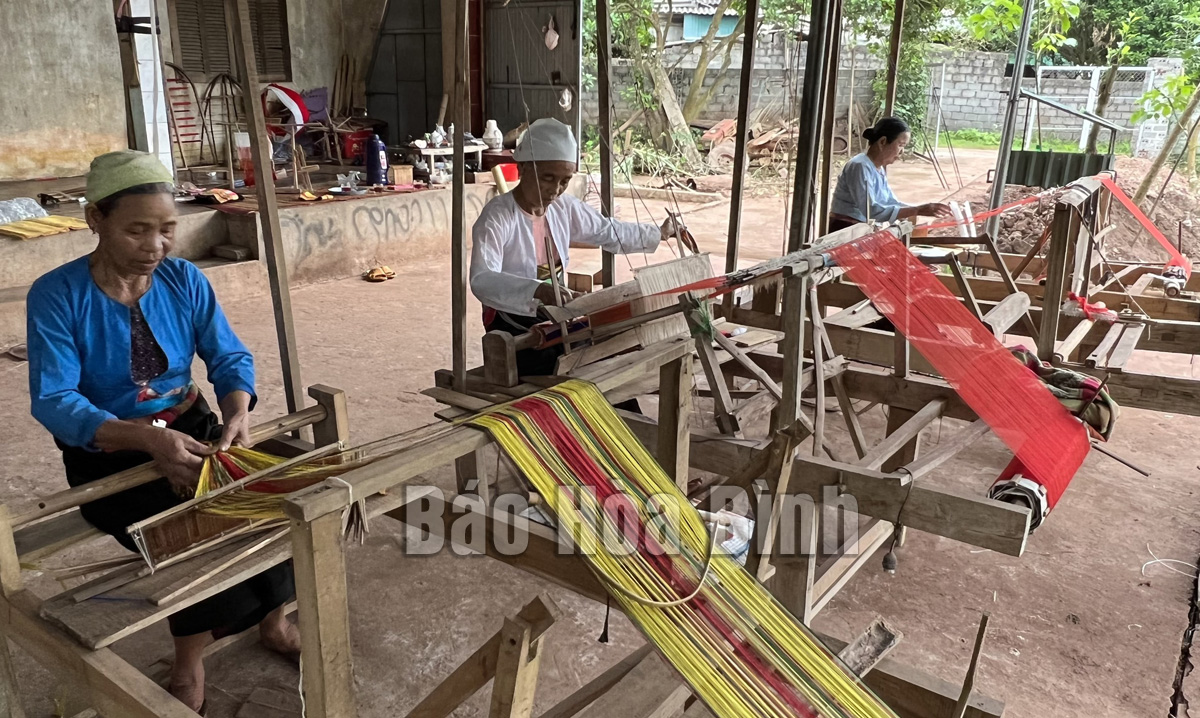 Brocade weaving in Com village, Dong Lai commune (Tan Lac) has been attracting many members.
We visited the traditional brocade weaving village of Com village, Dong Lai commune (Tan Lac). In the past, brocade weaving in the village was lost, some people removed the loom to make firewood, many people were no longer interested in it. Being supported by Vong Ngan Brocade Weaving Cooperative (Man Duc town) to be restored since 2003, there are more than 70 looms the craft village. Weaving during the leisure time has become a favorite job income for many women. The mothers and the sisters are willing to share their experiences about each pattern, thread, fabric, and regularly exchange the skills for brocade weaving.
Ms. Bui Thi Mia, the Deputy Head of the brocade weaving village in Com village, says: "Brocade weaving of Muong ethnic people has existed for hundreds of years. Although the loom is rudimentary made of bamboo and wood, it has created a complete and unique product with the time and effort of the weaver. The appearance of industrial textile products with diverse and rich designs has made difficulties for the craft of brocade weaving. The output is precarious, it takes a long time to make products, and many good weavers in the village are no longer interested in it. With a sense of preserving the national cultural identity, some enthusiastic weavers and I were determined to find a way to restore the profession, having many women back to work, gradually developing the craft village with 54 members like today. The craft village operates continuously, there are products to provide to customers at any time of the year."
In fact, creating a sheet of brocade needs going through about 20 stages: planting cotton, taking care, after being picked, cotton must go through a dozen more stages before being made into thread and it takes about half a year to weave skirt the fovourite waistband and skirt. The stages are completely handmade, so it requires workers to have meticulousness and sophistication in the weaving process to create the brilliant fabrics, sophisticated textures and beautiful patterns. Brocade cloth contains the heart and love of the weaver.
Efforts to preserve the traditional craft
Presently, the skilled weavers are old, so it is difficult to transmit the profession. Meanwhile, some young people are not enthusiastic about the profession because the output is still precarious. More young people choose modern trends, following fashion than traditional clothes. This situation is not only in Com hamlet but also in Lac Son, Mai Chau, Da Bac districts...
Ms. Duong Thi Bin from Luc Nghiep Thanh Brocade Weaving Cooperative, Luc hamlet, Yen Nghiep commune (Lac Son) says: Currently, young people like to wear modern clothes, brocade weaving is almost only used on the special occasions and festivals. The habit of wearing traditional ethnic clothes is gradually disappearing. My biggest wish is to pass the profession on to the younger generation so that they can know the traditional craft of their nation later. Therefore, when I was invited to teach at a brocade weaving training class organized by the district, I spent a lot of time passing on my knowledge and experience to others.
Currently, in the whole province there are 6 traditional brocade weaving villages with nearly 600 workers, the income is from 2-3 million VND a person every month. The Center for Industrial Promotion and Consulting for Industrial Development (Department of Industry and Trade) has coordinated with the People's Committees of the districts to organize many training courses and visits to improve women's skills. When implementing training in brocade weaving, the biggest concern is that the product has no output, causing the trainees to quit the job. Brocade products are diverse with different designs to sell tourists. They are bags, phone bags, hats... with a price of from a few tens of thousands to several hundred thousand dongs. However, they are 100% handmade products with the skilled techniques, woven fabrics are low in price.
To solve this problem, many localities have been promoting the form of community tourism associated with preserving the cultural identity, in which, the experience of brocade weaving is paid attention to by many tourists. It is necessary to strengthen promotion, connect with souvenir sales points, travel companies and distributors to create conditions for the people in craft villages to consume products. They also suggest encouraging, orienting and trying to develop textile products to become OCOP products, improving the value, which help people have a stable source of income from products, helping people become more attached to this traditional profession.