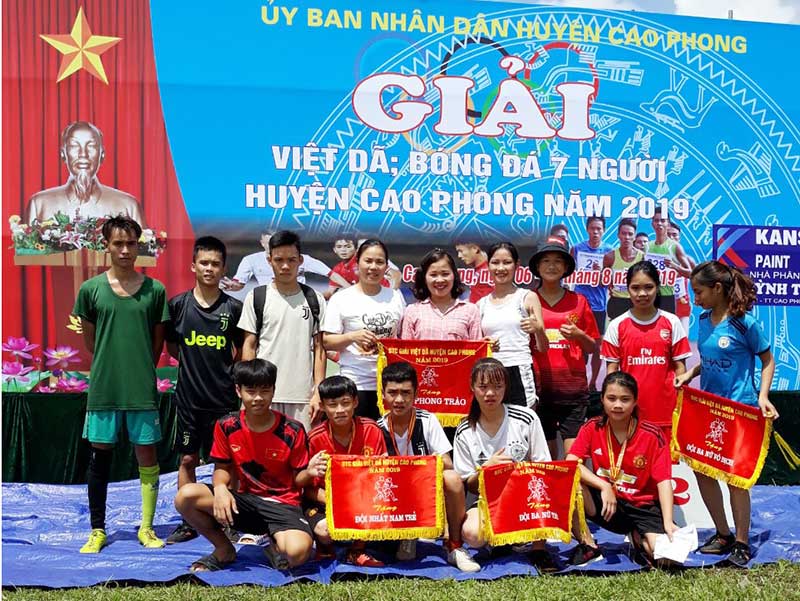 (HBO) - After stressful working hours, the officials, the party members and other people of Bac Phong commune (Cao Phong) temporarily put aside their worries and business of their work to gather on the playgrounds at the cultural houses of the villages and the hamlets for and sports physical training.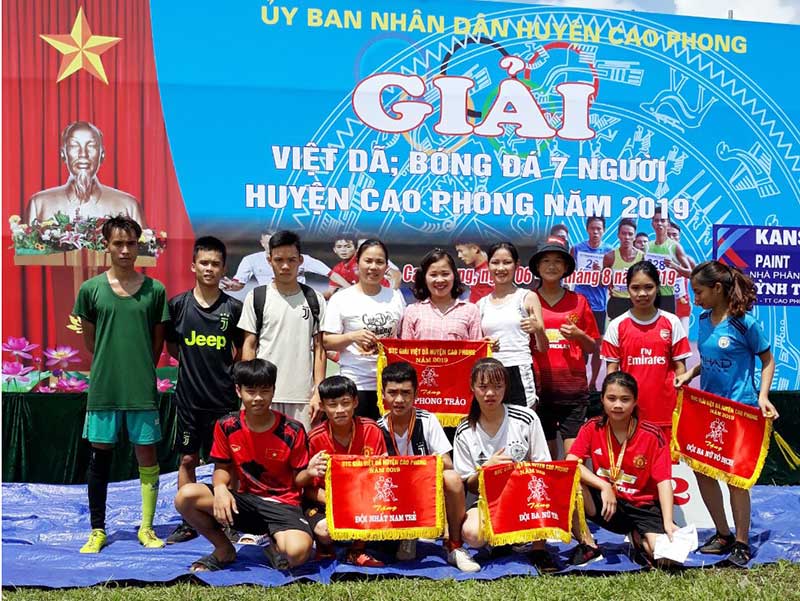 Bac Phong team has won the first prize in football content at the Vietnam Wild Football Competition for 7 members in Cao Phong district in 2019.
The percentage of people in the commune regularly playing sports is over 70%. In particular, volleyball, football, badminton ... are the most popular and attract a lot of people to participate. In addition, some ethnic sports such as stick pushing, tug of war, throwing cotton ball game they are also organized to exchange and compete.
In order to support and promote the movement of physical and sports training in the locality, the Party Committee and the communal authorities have actively propagated and mobilized the people to do exercises following the example of the great Uncle Ho.
To create conditions for people in the locality to have the playground for physical and sports training, the commune has created a fund to support the purchase of nets and balls and repairing the yard's surface at the cultural house of the hamlet and commune. Currently there are 10 volleyball courts, 1 football field in the whole commune. Besides, the commune has also actively mobilized the agencies, businesses, organizations and individuals in the locality to raise funds, responding to the movement of physical and sports training. Since the beginning of the year, over 30 million dongs has been mobilized from the agencies, businesses, organizations and individuals to organize tournaments to exchange, rub off and increase the solidarity. A useful and healthy playground has been created for all people to participate. At the same time, the outstanding members have been selected and fostered, representing the commune and the district to participate in the local and district's competitions.
Mr. Tran Van Y, the Chairman of the People's Committee of Bac Phong Commune says: "This August, the commune's male soccer team won the football championship for 7 people in Cao Phong district. In the coming time, to promote the achieved results, the commune will continue to maintain and pay attention to developing the movement of physical and sports training in the area.
It is suggested that the active self-training at the grassroots level to strengthen the clubs and provide the athletes for the commune to participate in tournaments organized by the district should be paid attention to. Investing and renovating the system of facilities for training and competition should be focused on. Thereby, developing the physical and sports training in the area has been promoting, creating an exciting emulation atmosphere and promoting the local socio-economic development.