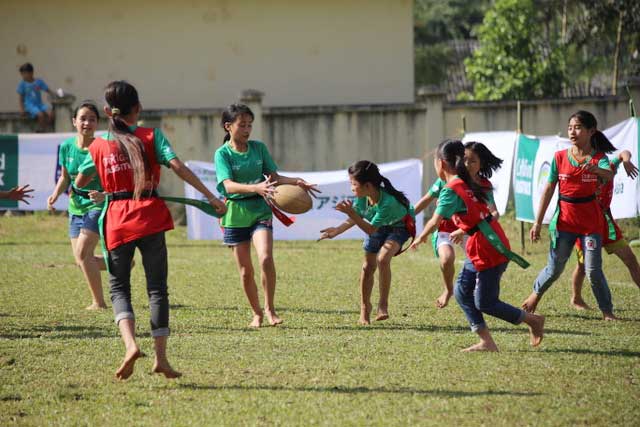 (HBO) – Arriving in some localities in Tan Lac and Kim Boi districts, many will be surprised to find that local children play rugby, a team sport that is popular in many foreign countries, including the UK, Australia and New Zealand.
Over the year, the Pass It Back project has contributed to introducing the newly-imported sport to local children and youngsters, creating a playground for them to practice a healthy sport and sharpen their life skills, helping them become more confident to overcome challenges in life, strengthening their adaptation capacity, and spreading it to the community.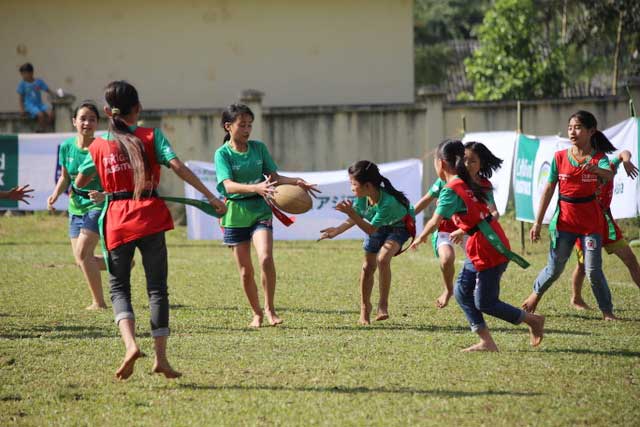 One rugby training session of children and youngsters of Phu Vinh commune (Tan Lac).
The Pass It Back project has been implemented in Kim Boi and Tan Lac districts since 2015 with encouraging results. It is one of the leading schemes to use sport to teach life skills for children and youngsters, creating positive changes in the community.
In 2020, amidst the outbreak of COVID-19 pandemic in the world, the project has promptly made adjustments in scale, format and contents of teaching to suit regulations in pandemic prevention and control while continuing to create a healthy playground and a network to support children, adolescences and youngsters who need help.
The formation of seven rugby clubs operated by local youngsters under the licencing of the communal People's Committee is a highlight showing the sustainability of the scheme in the locality.
The Pass It Back– Sport for Creativity project was launched by ChildFund Australia in collaboration with the World Rugby and Asia Rugby. Through practicing and playing rugby, the programme has equipped children and youngsters in disadvantaged communities in Asia with practical life skills.
In Hoa Binh, the project was officially launched in June 2015, and since then has been implemented in three phases, with the first phase spanning from 2015-2017 in Kim Boi, the second from 2017-2020 and the third from 2020-2024 in two districts of Kim Boi and Tan Lac. The Pass It Back project is being implemented in seven communes in Tan Lac – Ngo Luong, Quyet Chien, Van Son, Ngoc My, Suoi Hoa, Phu Vinh, Phu Cuong; and seven communes and townships of Kim Boi districts.
During the 2015-2020 period, the project has trained 195 coaches of rugby./.