(HBO) - This National Day holiday, September 2 lasts 3 days. This is an opportunity for families and friends to relax together after hard working days. Grasping this demand, the tourist spots in the whole province have prepared all facility conditions, human resources and vehicles to serve customers. There are a lot of tourist attractions from high quality services of leisure travel to exciting experiences at homestay.
Currently, a number of high-class eco-tourism and resorts in Kim Boi district has become the ideal destination for tourists such as: Serena Resort in Sao Bay commune; V'Resort Resort in Vinh Tien commune; Kim Boi mineral spring tourism; Sun waterfall eco-tourism area and so on.
Serena Resort (Sao Bay Commune) is very attractive to tourists. This is a high-class resort designed in a rustic style, using many decorative materials from bamboo, wood ... bringing the close and sticking relationship to the nature.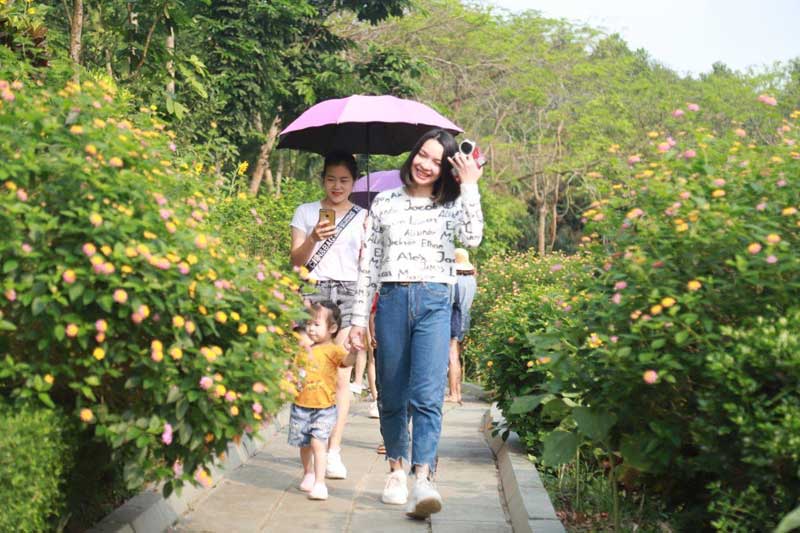 Exploring Vietnamese Scientists' Heritage Park.
Ten kilometers away from Hoa Binh City, crossing the winding slope named Cun, tourists will come to Vietnamese Scientists' Heritage Park in Tieng hamlet, Bac Phong commune (Cao Phong).
The tourists are enjoying the flower-lined roads in Vietnamese Scientists' Heritage Park in Tieng hamlet, Bac Phong commune (Cao Phong).
Vietnamese Scientists' Heritage Park is currently an attractive destination, which is suitable to organize class and family meetings. In addition, visitors can go to Cao Phong's famous tourist destinations such as Bong Lai temple (Cao Phong town), Quen Ang pagoda (Tan Phong commune), Khanh pagoda (Yen Thuong commune) or experience and visit the gardens of oranges from the park.
The attraction of community tourism
In Hoa Binh, community tourism is growing and has a great attraction for tourists.
If visitors like the experience of watching the romantic Da river and joining the trekking tours across the forest, Da Bac district is the ideal destination. Currently, Ke hamlet (Hien Luong commune), Sung hamlet (Cao Son commune) and Da Bia hamlet (Tien Phong commune) in Da Bac are the great tourist attractions for community tourism. At homestays, tourists can experience kayaking, exploring monuments on Hoa Binh lake. Tourists can go through the forest from Sung village (Cao Son commune) to Da Bia village (Tien Phong commune) ...
Mai Chau upland district has been attracting tourists by villages ò Thai ethnic people such as Lac, Pom Coong, Van, Hich ..., by the peace and the fresh air. Tourists can travel a little further to Hang Kia, Pa Co to explore the villages of Mong ethnic people, going to the market with them, making thick cakes and experiencing drawing pictures on Do paper ...