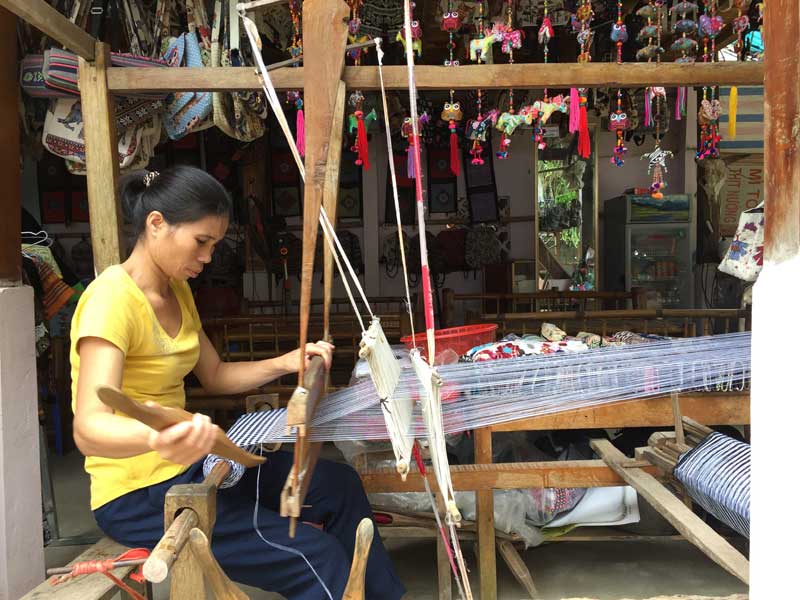 (HBO) – The People's Committee of Hoa Binh has just issued Decision 2170/QD-UBND approving a project to restore, preserve and promote the Mai Chau brocade weaving craft village in the orientation of sustainable production, which is funded by the non-governmental organization Keep It Beautiful Vietnam (KIBV).
The project has a total cost of 315,000 USD, which runs from November 2019 to November 2023.
The project has the goal of organizing vocational training in the model of sustainable production for women, helping create sustainable livelihood for locals and preserving traditional cultural values.
The project will work to introduce and promote the craft and its products to domestic and foreign markets, and develop souvenir products for tourists.
Major activities within the project include building infrastructure system, workshops, warehouses and showrooms, along with the teaching of the craft and trade promotion events.
The project will cover the craft villages in Mai Chau, including Lac, Van, Nhot, Poom Coong in Chieng Chau and Na Phon communes where tourism activities are booming with increasing number of tourists.
With an aim to preserve the traditional culture and develop the traditional weaving villages of Vietnam, the KIBV will provide poor women and the disabled in the project site with free training on traditional weaving in a sustainable manner, thus creating a positive influence on the environment and culture in the ethnic minority areas of Hoa Binh.
Once becoming operational and affirming its efficiency, the project will be expanded to other traditional villages in the province and Vietnam in general, thus helping maintain and develop the villages./.