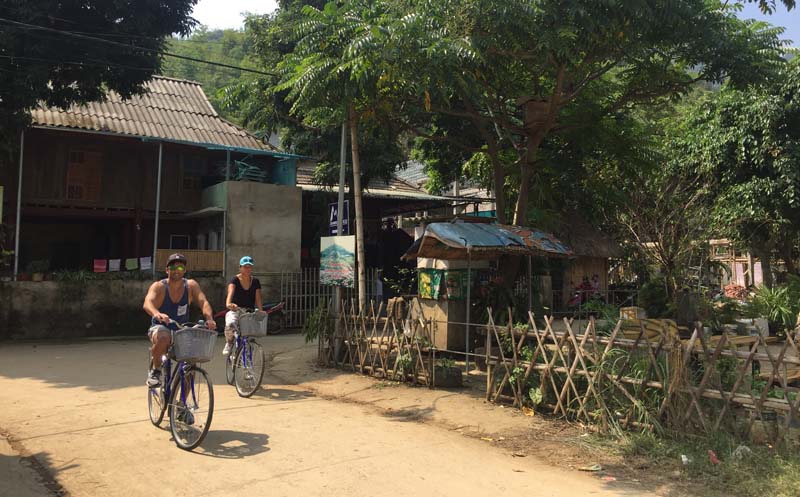 (HBO) - Lac village in Chieng Chau commune has been the first community-based tourism village of Mai Chau district. The destination has been known by foreign visitors since 1960. So far, Mai Chau has been the strongest developing community-based tourism area of Hoa Binh with seven sites covering 13 villages and engaging 103 local households.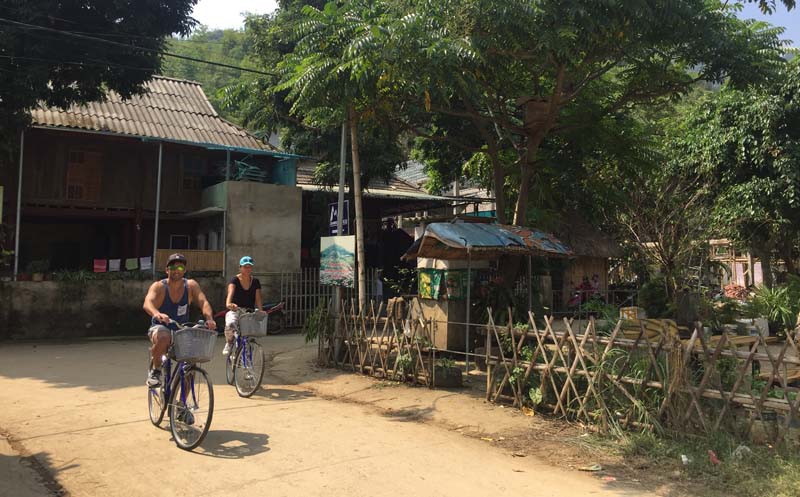 Tourists cycle to explore Lac village, Chieng Chau commune of Mai Chau.
Ha Thi Hoa, head of the Culture-Sports Office of Mai Chau said that over the years, the Party Committees and authorities at all levels have created optimal conditions for Mai Chau to develop community-based tourism.
The district has defined that community-based tourism is developed based on maintaining the cultural identities of local ethnic minority groups. All the community-based tourism villages have applied regulations on the conservation of the cultural identities of the groups, along with rules in house construction, costumes, cuisine and service prices.
Thanks to the active implementation of measures to attract tourists, Mai Chau has become an attractive destination for domestic and foreign visitors.
On July 4, 2016, the Chairman of the provincial People's Committee signed Decision 1728/QD-UBND on the approval of a planning for development of the Mai Chau national tourism site towards 2030. In July 2019, the committee held a conference to promote tourism investment in Hang Kia and Pa Ko communes. Those important milestones marked the success in tourism development of Mai Chau, and served as great chances for the district to lure more investment in the sector.
Currently, the district has taken advantages of the natural resources and cultural values of local ethnic groups to expand community-based tours and routes. Some popular sites among visitors include Mong villages of Hang Kia and Pa Ko, Na Phat village of Pu Bin commune and Suoi Lon village of Tan Mai commune.
Local households have high awareness of preserving the cultural identities of the ethnic groups. At the same time, they have been creative in decorating their houses and gardens to lure tourists.
In Lac village of Chieng Chau commune, some households have invested in planting flower gardens and making bamboo bridges. Meanwhile, in Suoi Lon village of Tan Mai commune, locals have taken advantages of the Da River to organize water games and river tours.
Mai Chau's community-based sites have satisfied tourists. Evidently, the number of visitors to the district has risen through years. In 2016, the district received 301,500 visitors, surpassing its set target by 5 percent, including 112,000 foreigners. Earnings from tourism hit over 75 billion VND. In 2019, the number of tourists to the district is estimated at 378,500, with 166,500 foreigners. Tourism revenue for the whole year is likely to reach more than 146 billion VND./.