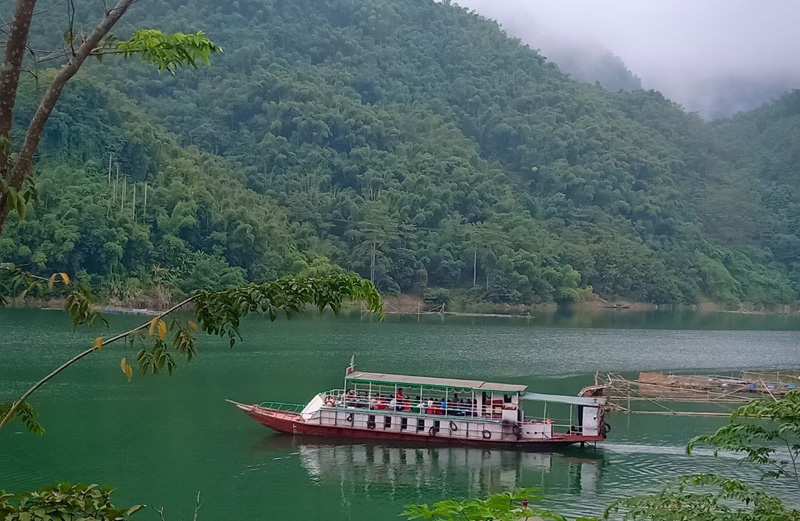 (HBO) - From Thung Nai Port, Thung Nai commune (Cao Phong district) or Bich Ha Port, Thai Thinh commune, Hoa Binh city, tourists can take boat tour to visit Hoa Binh lake.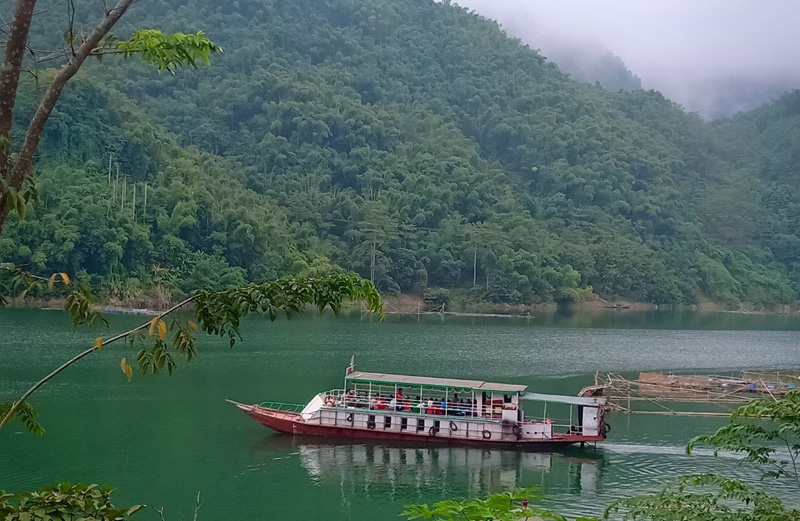 A boat takes tourists to visit Da Bia village, Tien Phong commune, Da Bac district.
There are enough boats at the two ports to meet visitors' demand. One boat can carry up to 15 people per trip.
Sitting on the boat, tourists can enjoy a broad, magnificent view of the lake and listen to the peaceful sound of the wind, the water and the surrounding forest. Marvellous karst islands rising up amidst the crystal-clear water create a breath-taking watercolour painting. Tourists can take photos and have a taste of local cuisine, such as chicken with pickled bamboo shoot and grilled fish on the boat.
Upon request, visitors can be taken to different destinations around the lake. One of the most popular destinations is Dua (Coconut) Island in Thung Nai commune, Cao Phong district. On the island, the visitors can live like a local in unique stilt houses of Muong ethnic minority people and experience various activities like fishing or campfire.
Or tourists can visit Thac Bo cave and stay for a night at villages on the bank of the lake like Da Bia village (Tien Phong commune), Ke village (Hien Luong commune), Ngoi village (Ngoi Hoa commune) to explore local culture. They can also go cycling and trekking through mountains.
Besides tourist boats, visitors can take a small local fishing boat named "thuyen tom" which only carries two people at one time but can travel at a quite high speed. It has been preferred by many visitors, especially foreigners, who love a more adventurous trip around Hoa Binh Reservoir. It is exciting to explore numerous islets that tourist boats cannot reach.
Vu Minh Tung, a tourist from Hanoi, said he was thrilled taking "thuyen tom" to discover Da River. "When I just set foot on the boat, the boatman said "Are you ready?" His question made me quite curious about what was awaiting me ahead. I was right, the boat was small but quite fast and I think it is not for the faint-hearted."
"The boatman took me around every corner of the lake," he said. "It was really interesting."/.