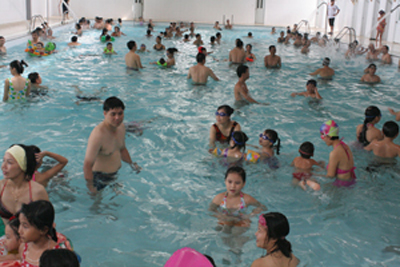 (HBO) - Perhaps few people know that, although there is no propaganda, no advertising nor the internet, there have been many people who have come to Kim Boi mineral spring for leisure travel and health recovery since 2015. Kim Boi mineral spring is a wonderful gift that nature has presented to Muong Dong. It is about 70 km from Hanoi and 30 km from Hoa Binh city, it is very convenient for tourists to travel both by car and motorbike.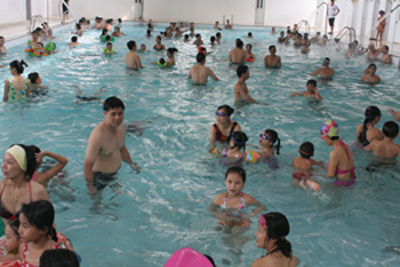 Kim Boi mineral spring is considered to be the source of "white gold" of the district and for the tourism development. According to scientists' research, Kim Boi mineral water is exposed from limestone seams with the geological age off about 250 million years and it is sprayed right away at the temperature of 36.50 degrees. When being exposed, the water has a temperature of 34 – 360 degrees. Through testing, Kim Boi mineral water is qualified as a beverage and cooling water. For bathing and soaking, it has the effect of smoothing, whitening the skin and treating skin diseases such as eczema, psoriasis, scars from rashes...
In addition, the water content contains a special factor of silicon so it has a pharmacological effect to treat a number of diseases such as arthritis, intestinal tract, stomach, blood pressure, urinary tract infection, kidney inflammation, and renal calculus... These potentials are being researched, invested and exploited by enterprises, gradually creating a new face for Kim Boi tourism.
Coming to Kim Boi district, visitors can freely choose the destinations that have been effectively exploiting the sources of "white gold" such as: Vietnam Trade Union Hotel, Kim Boi Nursing Center, Hoa Vien resort, An Lac Resort or Kim Boi Serena Resort, which is the first 4-star standard in Kim Boi hot mineral resort.
The resorts here have been built next to the largest mineral spring. At these resorts, visitors will be able to enjoy a relaxing bath, and body care. The bath services here are very diverse. You can not only bathe in hot mineral springs, you can also take a private whirlpool bath, a yin and yang bath, a jet bath, a large jacuzzi bath, a mud bath and so on. Each bath service has a different price, bringing the useful and interesting experiences.
Besides, visitors can also enjoy the specialties of Hoa Binh such as: food displayed on leaves, buffalo cooked with Lom leaves, sour bamboo with chicken soup, hill chicken with bananas, veal grilled with pineapples, Lam rice with seasame, boiled forest vegetables with fish sauce ...
Bathing in mineral spring at weekends or on holidays is ideal for each of us to recover health and dispel the fatigue.