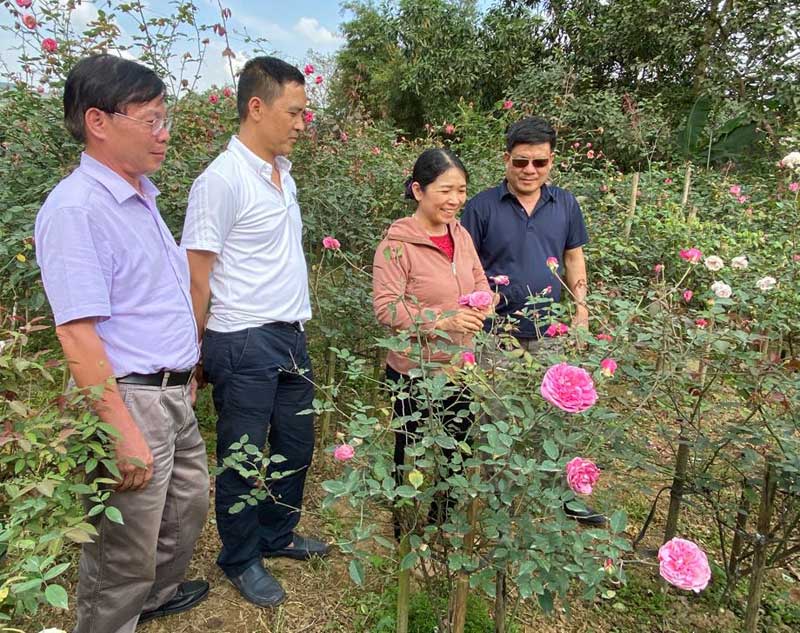 (HBO) - There is a garden of immense ancient roses in An Ninh village, Phu Nghia commune (Lac Thuy). The garden was built about 4 years ago and the owner is Ms. Nguyen Thi Thu (born in 1968).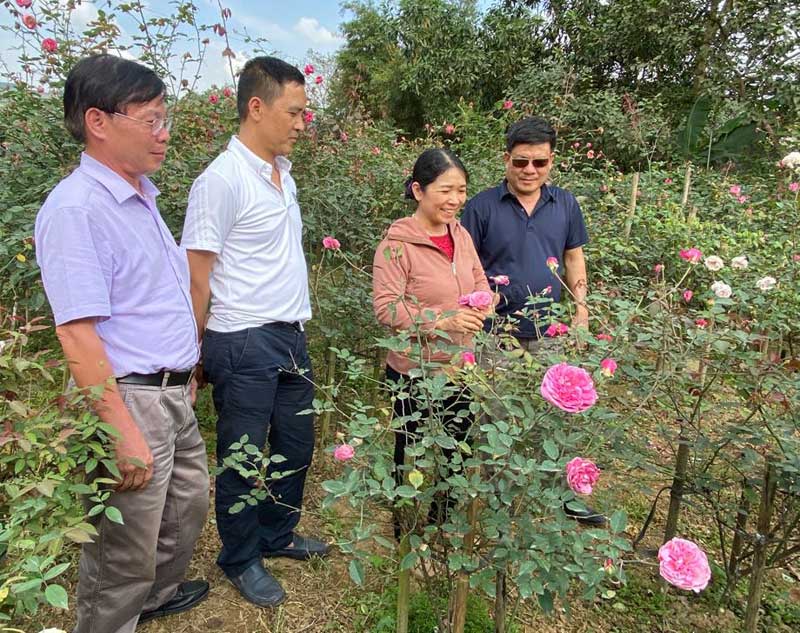 Ms. Nguyen Thi Thu in An Ninh hamlet, Phu Nghia commune (Lac Thuy) is introducing ancient roses to visitors.
The garden with the name "The ancient rose garden in Lac Thuy" has become a new and attractive destination for tourists not only to Tien Pagoda. A lot of people from provinces and cities across the country having the opportunity to go through Lac Thuy stop to take photos, visit and admire the ancient rose garden in four seasons. Here, the guests enjoy, admire the flowers and hear Ms. Thu – the owner of Lac Thuy ancient rose garden introducing the beauty, features and sharing flower growing techniques. Especially, if it is the spring-summer time when roses are in full bloom, visitors can experience the process of cutting flowers and displaying rose oil according to the traditional method done by Ms. Thu and her employees.
Lac Thuy Ancient Rose Garden is currently the place to provide seeds for restaurants, garden houses, guests who want to donate, present or families with the interest in flowers in and outside the hamlet. Visitors who go to pagodas or temples on the full moon day and the first day of the month also come here to cut flowers themselves.
In terms of scale, the area of the ancient rose cultivation accounts for about 7,000 m2 with 1,200 ancient rose trees and thousands of trees propagated by transplanting to serve the needs of customers from all over the country. In terms of economic value, Ms. Thu says that the revenue from ancient rose garden is about 200-300 million ND every year. The price of the tree also fluctuates from a few hundred thousand to several million VND. With the old ancient roses, there are customers who pay tens of millions. The biggest original rose tree she just sold recently for 65 million VND. The garden house has been creating regular jobs for 3 workers. At the time of care, the number of employees must be increased.
Since the setting up the model of the ancient rose garden, it has created beautiful ecological landscapes, meeting the tastes of many people. At the same time, it has become one of the highlights and new features for visitors to visit and experience Lac Thuy land.