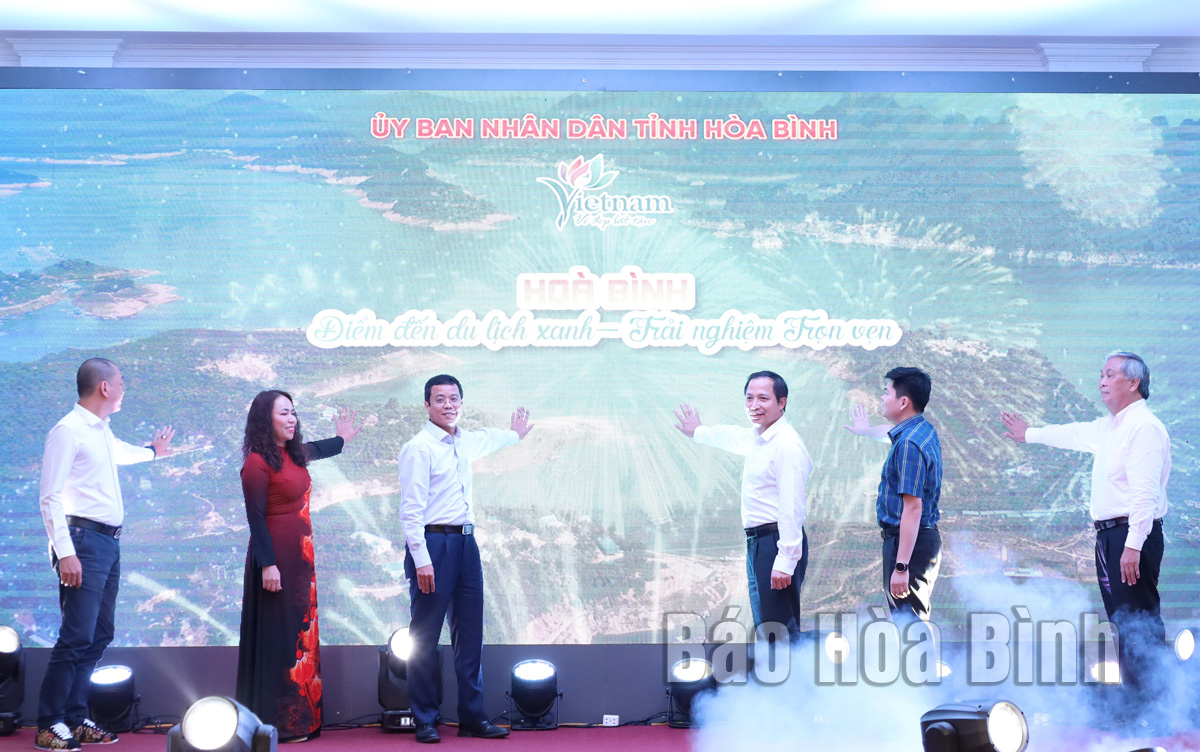 (HBO) - The People's Committee of Hoa Binh province has held an event at La Saveur Resort in Nhuan Trach commune of Luong Son district to launch a tourism stimulus programme for 2023.
Attending the event were Vice Chairman of the provincial People's Committee Nguyen Van Toan; and leading officials of the Vietnam National Administration of Tourism, and Hoa Binh's departments, sectors, and Tourism Association; and representatives of businesses that are cooperating with the province, Hanoi UNESCO Travel Club and Vietnam Airlines.
Nguyen Van Toan, Vice Chairman of the provincial People's Committee and delegates press the button to launch Hoa Binh tourism stimulus programme in 2023.
With a favourable geographical position, majestic natural landscape, and unique cultural identity, Hoa Binh has become a more and more attractive destination to visitors. Many new, high-quality tourist attractions have been put into operation, attracting a large number of domestic and foreign tourists.
By the end of the first quarter of 2023, the province served 1.45 million visitors, including 90,000 foreigners, up 64.4% year-on-year, equal to 41.4% of the yearly plan. Total revenue from tourists was about 1.2 trillion VND (51.1 million USD), equivalent to 30.8% of the yearly plan.
With the message of "Hoa Binh - Green destination - Full experiences", the 2023 programme aimed to introduce to the public and visitors new and attractive tourist destinations and products. It also provided information about outstanding cultural - sports - tourism activities to be organised in the coming time, including an expanded festival of community-based tourism villages in eight northwestern provinces; a mountainous market in Hoa Binh province; cultural, sport and tourism festivals in Hoa Binh city and Da Bac and Tan Lac districts; and the launch of "Night economy of Hoa Binh city" street.
Within the framework of the programme, local businesses introduced and promoted new and unique tourism products and are committed to ensuring service quality.
Speaking at the event, Vice Chairman of the provincial People's Committee Nguyen Van Toan asked leaders of departments and sectors, and members of the provincial Tourism Steering Committee, People's Committees of districts and Hoa Binh city to continue to effectively implement the Hoa Binh tourism development project for the 2021-2025 period, with a vision to 2030.
Tourism businesses were requested to develop new and quality products to meet the increasing demands of tourists and step up the dissemination of information about promotion programmes, incentives, and bonuses, while local press agencies were urged to convey the programme's message to domestic and foreign tourists./.