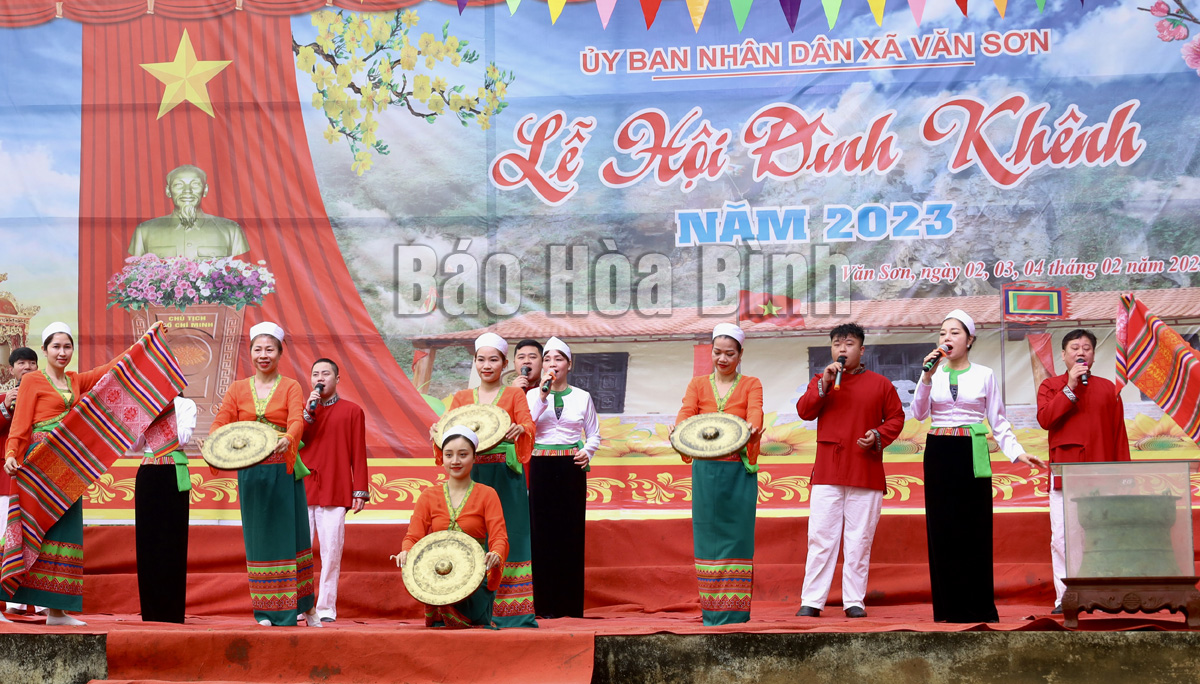 (HBO) - With a unique Muong culture, a highland terrain with the unspoiled natural landscapes and a temperate climate, Lac Son district is gradually exploiting its potential and advantages to realize the goal of Resolution No. 06-NQ. /HU, dated July 26, 2021 of the District Party Committee on tourism development, making tourism become a spearhead economic sector, creating jobs and incomes for the people and businesses, contributing to increasing the revenue of the State budget.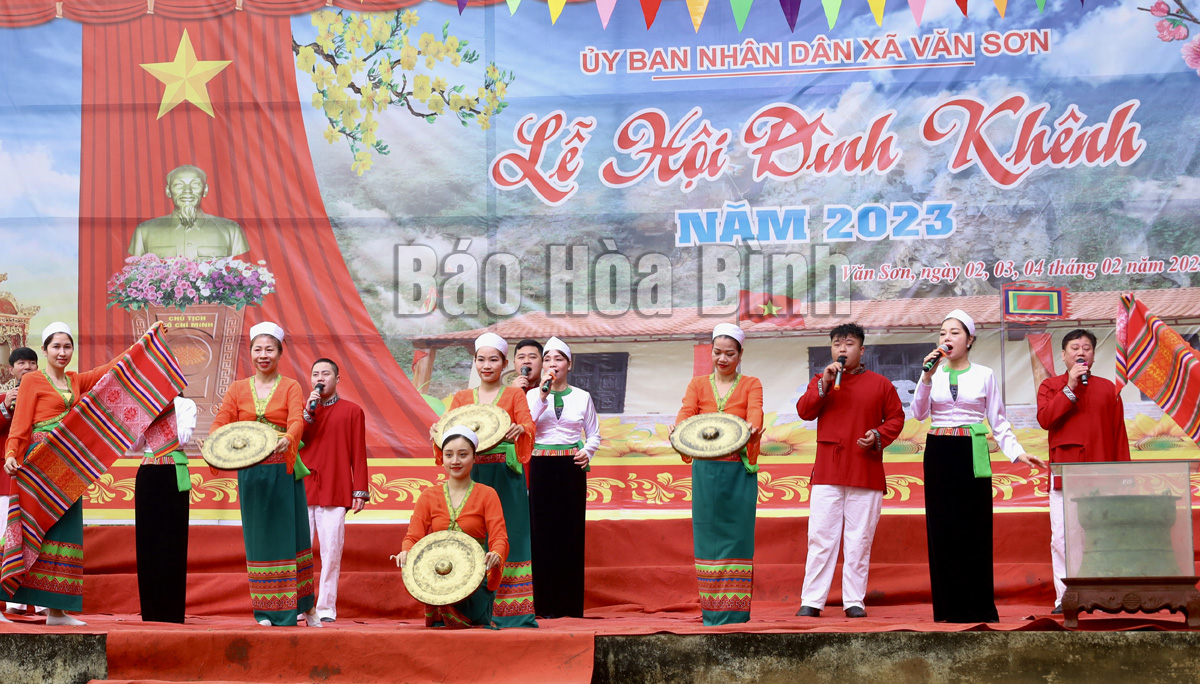 Muong cultural identity is boldly expressed at the fesstival of Khenh communal house in Van Son commune (Lac Son) in 2023.
The rare natural landscapes
Being immersed in the unspoiled nature, the breathtaking beauty and the fresh air are the feelings of many people who have visited the highland communes of Ngoc Son, Ngoc Lau, and Tu Do. These places are rich in the potential for tourism when they own the popular destinations, in which, Ngoc Son commune has Ba Nha international skydiving ground, which the General Department of Sports selected to organize the opening of Vietnam Expanded Open Paragliding Tournament in 2014 thanks to its ideal location, converging all the elements of space, weather, and poetic scenery. From the top of Ba Nha, visitors can enjoy a panoramic view of Vu Ban town and the communes in the district center.
In the area of Ngoc Lau commune, there is a large and peaceful Bai Bui site, which is likened to a "green steppe", located on Ngoc Son - Ngo Luong - Cuc Phuong trecking route, which is suitable as a stopover, sightseeing, organizing amusement activities, camping, campfire.
Tu Do commune has Mu waterfall located in Mu Khuong hamlet, which is one of the most attractive local tourism "coordinates". Located on the majestic range of Truong Son, at an altitude of more than 1,000m, Mu waterfall has a majestic and wild beauty. The three highland communes also have the special advantage of being the buffer zone of Ngoc Son - Ngo Luong Nature Reserve with the rich and diverse flora and fauna.
Another impressive destination is Thung Hill in Quy Hoa commune, which is known for its lush green forests, peaceful small villages next to the terraced fields. Along with other neighboring communes of Tan Lap, Mien Doi, Quy Hoa commune has an extensive system of terraced fields, becoming one of the addresses being researched and surveyed by the scientists towards building a heritage profile of the terraced fields, associated with the plan for tourism development. Similar to other highland spots, this place owns a cool climate all year round, hot mineral water and Cot Ca peak is considered as the roof of Muong Vang, which is at an altitude of over 1,000 m, covered with fog all year round. In addition, in the district, there is Canh Tang lake in Yen Phu commune, which is also likened to "a lake in the mountain" with a water surface area of about 800 hectares that can combine exploitation and development of eco-tourism, boating, fishing and relaxation at weekends.
The diverse terrain, from plains, valleys to craggy mountains with many waterfalls, lakes and dams, the high forest cover, many unspoiled landscapes... are the precious natural resources and suitable for Lac Son district to develop different types of discovery tourism, adventurous sports, ecotourism activities, community tourism.
Possessing a cultural "treasure"
Besides the natural resources, Lac Son district is also a historical and cultural land with over 91% of the population being Muong people, many famous places such as: Muong Khu, Muong Vo, Muong Khoi, Muong Vang… With a long history, many monuments, landscapes and cultural activities that have been existing for a long time, the district has become a unique Muong region, preserving many good traditional cultural values and humanity. In recent years, the community tourism has been gradually formed in Tu Do commune with the model of ecotourism development associated with the prevention of the cultural identity. Th people in many villages in the district such as Muong Vo and Muong Khoi still retain many cultural features, customs and habits of Muong ethnic group, especially the traditional stilt houses, costumes, speech and language, lifestyle, traditional craft, cuisine…
Muong Vang region is also one of the cradles of folk singing, Thuong Rang and Bo Meng singing, Vi and Do singing and other unique intangible cultures, including the system of traditional festivals, folk games, Muong language and script, the rituals for ancestral worshiping, Mo Muong... According to the recent statistics, the whole district currently has 24 teams of information and propaganda at the grassroots; 5 clubs of Thuong Rang and Bo Mang singing, 1 Mo Muong club, 3 poetry clubs, 252 neighborhood and street art clubs; 10 traditional festivals have been restored; There are 16 recognized relics, 3 intangible cultural heritages are included in the national conservation project of intangible cultural heritage. In addition, the district keeps more than 3,000 Muong gongs and over 12,000 Muong stilt houses, contributing to preserving and promoting the cultural values of Muong ethnic group.
Not only that, in the district, there are rich cultural - historical and religious tourism destinations such as: Muong Khoi War Zone in An Nghia commune, Tay Tien Martyrs' Monument in Thuong Coc commune, the site of the office establishment of the Provincial Party Committee of Hoa Binh in Nhan Nghia commune; the special festivals such as: Khenh communal house in Van Son commune, Coi communal house in Vu Binh commune, Du Voi, Truong Kha temple in Vu Ban town, Khu Dung in Nhan Nghia commune, Bang communal house in Ngoc Lau commune; system of monuments such as Cay Da temple in Vu Ban town, the cave of Trai hamlet in Tan Lap commune, the national archaeological site - Vanh village stone roof in Yen Phu commune... In the area, there is a traditional village of brocade weaving in Yen Nghiep commune, handicraft village in Nhan Nghia commune. Regarding the specialties and cuisine, the locality has abundant agricultural and forestry land, many typical products such as Lac Son curry chicken, blue-neck duck, Phu Luong chili, sour bamboo shoots in Quy Hoa commune, Doi seeds in Chi Dao commune... and the typical culinary culture of Muong attract tourists.
According to Mr. Bui Van Duong, the Vice Chairman of the District's People's Committee, Lac Son has the potential to become a branded area of tourism development. However, the locality is still not a destination that attracts many tourists, tourism has not become a spearhead economic sector, mainly the tourism in Mu waterfall area, however, the management and exploitation are not good. The district still has a lot of work to do in the future so that tourism resources will continue to be researched and discovered, and some tourist attractions will be put into operation by 2025. The resources are exploited and developed into complete tourism routes and spots; the cultural tourism, ecological tourism, tourism associate with high-tech agriculture that strongly develops.