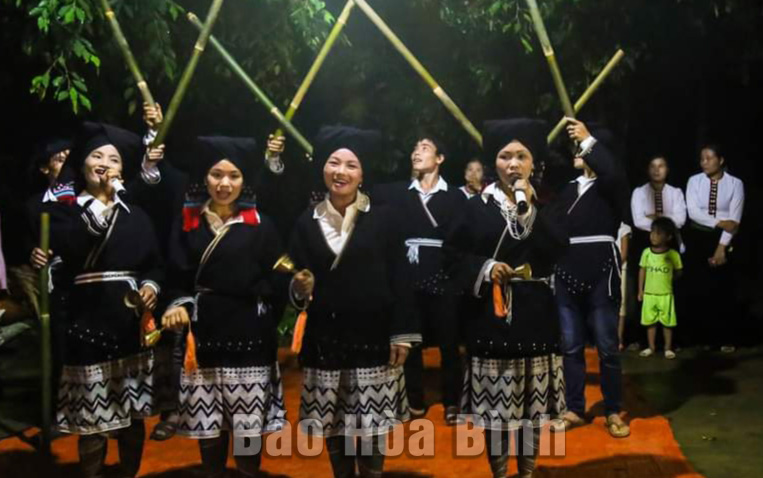 (HBO) - Sung is a highland hamlet in Cao Son commune, Da Bac district, with a natural area of over 780ha. It is endowed with beautiful landscapes, streams and clouds and terraced fields.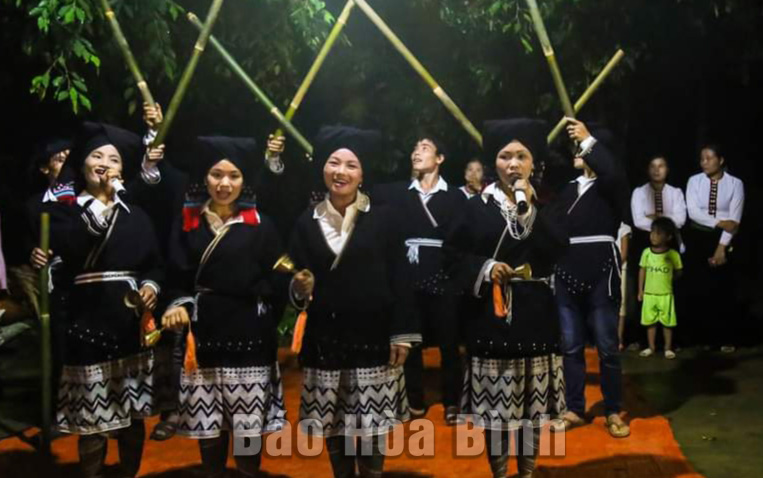 A performance of an art troupe of Sung hamlet in Da Bac district's Cao Son commune.
According to local residents, Sung hamlet has existed for 500 years. It is home to 75 Dao Tien ethnic households, whose lives depend on agricultural production with rice, maize, and potatoes are main crops.
Since 2017, with the support of Action on Poverty (AOP) in Vietnam, some households have participated in tourism activities. They obtained loans and received training relating to cooking and other necessary skills to welcome tourists.
With the advantage of unspoiled natural beauty, folk dances and the traditional craft of brocade printing and embroidery which create many valuable products, Sung hamlet has attracted many domestic and foreign tourists.
Currently, there are three households that offer homestay services, namely Thanh Chung, Xuan Lan and Nhat Quy homestays, and 50 others who engage in providing tourism services in the locality. The community guesthouses here are highly appreciated by visitors for retaining the original architecture of the traditional houses of the Dao ethnic people.
Households offering homestay services have gradually met the demand of tourists by serving traditional cuisine, performing traditional music and organising activities for visitors to experience the lifestyle of Dao ethnic people such as cooking, fishing and learning how to dye fabric and make brocade embroidery of the Dao people.
The number of visitors to Sung hamlet was on the rise. In 2017, the village welcomed 600 tourists, including 450 foreign travelers, and earned 350 million VND (15,040 USD) from tourism-related activities. The figure topped 1,850 in 2019, including 1,590 foreign visitors, with a revenue of 817 million VND. Between 2020 and 2022, tourism activities will be affected by the COVID-19 pandemic.
Ly Sao Mai, a Da Bac community-based tourism coordinator in Sung hamlet, said community-based tourism model has created more jobs and increased income for local people. This is a sustainable business model that exploits the strengths of locals, while preserving and promoting the natural environment landscape and national identity.
It does not only have a positive effect on the development of the tourism sector but also has a profound impact on society, culture, and the environment. However, the model requires close coordination between local residents, tour operators and administrations at all levels to maintain its sustainability. It has initially caught the attention of leaders at all levels and attracted domestic and foreign tourists./.