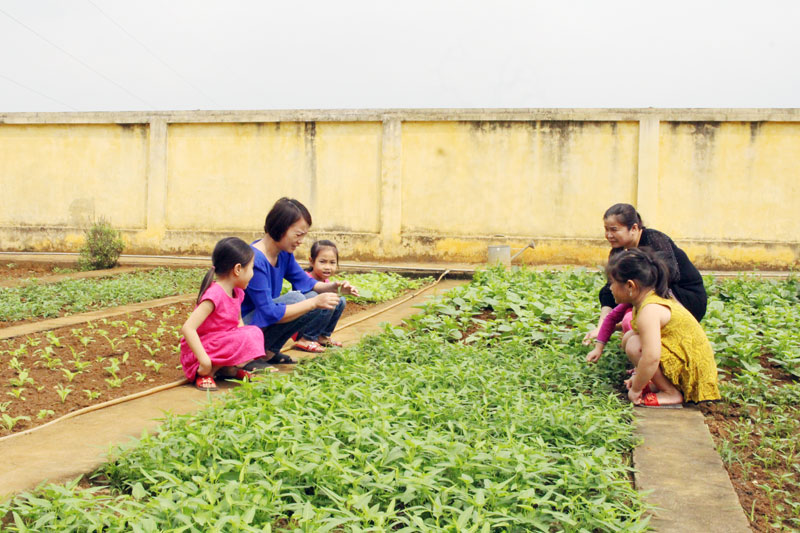 (HBO) - According to statistics of the sector of education and training, by the end of the school year 2018 -2019 the percentage of children with the underweight malnutrition at the age of kindergarten has been accounted for 3.3%, 3.5% of the preschool age; children with the stunting malnutrition at age of kindergarten has been accounted for 4.3%, and that of preschool age has been 3.9%. The results have showed that the sector of education and training has had the drastic and positive solutions to reduce the rate of malnourished children, improving their health and physical condition.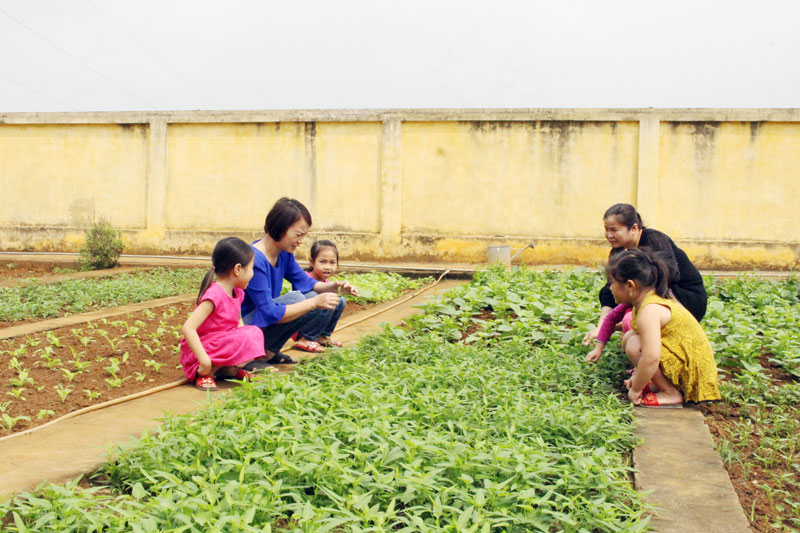 The kindergarten of Man Duc commune (Tan Lac) has been maintaining the model of "The Baby's Vegetable Garden" to provide green vegetables to ensure the safety of the children's meals.
Improving the quality of the child care is one of the important tasks that has been paid attention to in pre-schools over the past time. Mr. Nguyen Minh Thang, the Deputy Head of the Department of Nursery Education (DET) says the results of the child care and nurturing have been improved, 97.4% of the children have been fed at schools (maintaining the equal rate to the previous year). It is necessary to ensure that 100% of the children in kindergartens and preschools to be weighed, measured and monitored by the growth charts and to have the regular health examination. The rate of malnourished children has decreased compared to the same period last year. 100% of the preschool educational institutions ensure the food hygiene and safety, the physical and mental safety, no poisoning, no injuries in preschool institutions.
In the school year of 2018 - 2019, there were 18 newly-recognized preschools meeting the new national standards, bringing the total number of schools meeting the national standards to 99/222, accounting for 44.6%, of which 14 schools have reached the national standard at level 2, accounting for 6.3%. Improving the nutritional status of children has been being paid attention to and a lot of schools have built and maintained the green vegetable gardens for children's meals.
Currently, in addition to reducing the rate of malnourished children, the sector of education and training is paying attention to reducing the micronutrient deficiency in children, vitamin A deficiency in children under 5 years of age is no longer in existence.At the same time, the quantity and quality of meals for children has been improving, the overweight, the obesity and the risk of some non-communicable chronic diseases related to nutrition have been step by step controlled. Accordingly, the schools have focused on propagating the care for the child nutrition completely by the mother's milk in the first 6 months, more proper eating for children under the age of 2; monitoring the children's growth and development; ensuring clean water and environmental sanitation through effective use of children's health monitoring books.