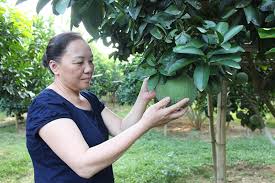 (HBO) - Members of the elderly association of the north-western province of Hoa Binh over the recent time have greatly contributed to their families and the community by taking part in activities of agro-forestry, animal husbandry and services, along with the national target programme of new-style rural area building.
From the start of 2019, the associations of all levels in the province arranged training courses on the implementation of the programme on building new-style rural and civilised urban areas for 13,332 members.
Notably, members of the associations voluntary donated a total of 54,469 sq.m. of land, contributed 13,513 working days and nearly 200 million VND (nearly 8,590 USD) to build, repair and upgrade constructions in all localities.
Hoa Binh is currently home to more than 40,000 elderly people who directly participate in the province's economic development, hunger eradication and poverty reduction. Of the number, 837 senior citizens are farm owners and leading business figures, and 2,032 people are recognised as outstanding entrepreneurs./.