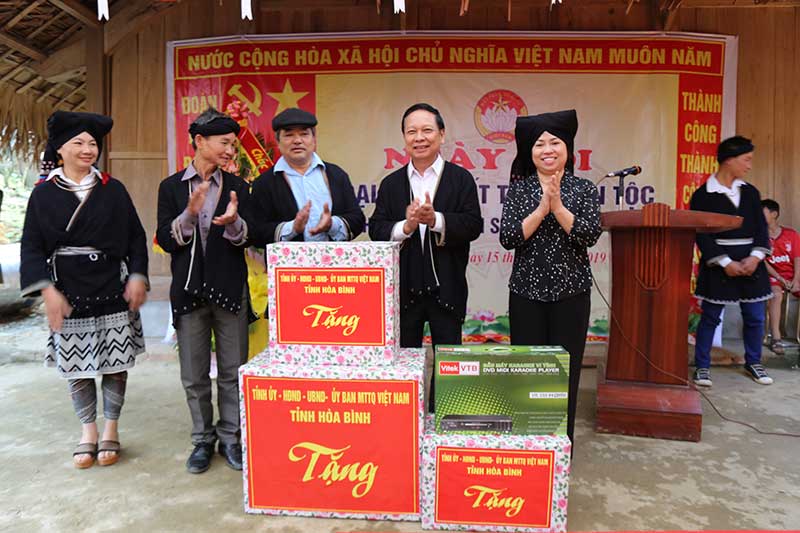 (HBO) – Bui Van Tinh, Secretary of the Party Committee of Hoa Binh province, has joined locals of Sung hamlet, Cao Son commune, Da Bac district, at the great national unity festival and the celebration of the 89th anniversary of the Vietnam Fatherland Front (VFF) (November 18).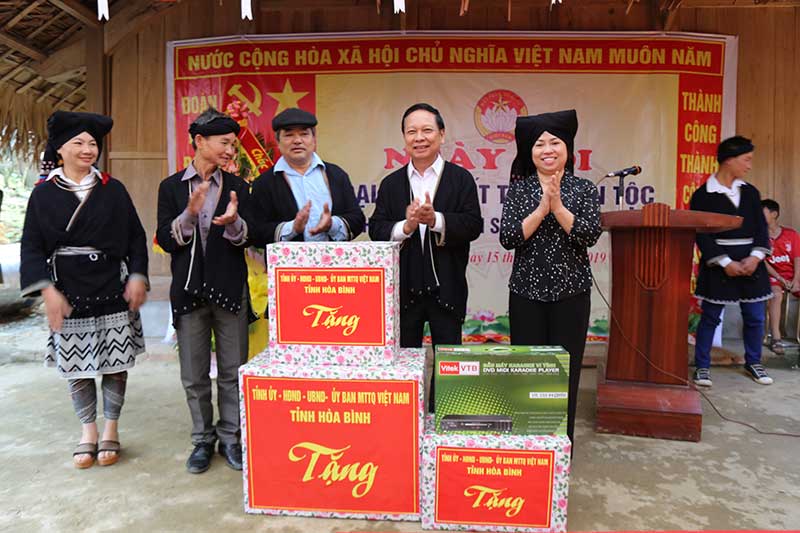 Bui Van Tinh, Secretary of the provincial Party Committee, and Nguyen Thi Oanh, head of the committee's mass mobilisation board and the VFF's chapter in Hoa Binh, present gifts to locals in Sung hamlet.
Sung hamlet has 74 households with 387 members, all belonging to the Dao ethnic group. The hamlet's per capita income reaches 22 million VND each year. The number of poor household in the locality stands at 22, accounting for 29.7 percent of its total population. In 2019, 75.6 percent of the total households have received the "family of culture" title, of which 19 have won the recognition for three consecutive years and three others have been recognised as outstanding eminent families.
In his remarks, Tinh lauded the hamlet for its achievements in implementing the campaign "All people stay united to build new-style rural and civilised urban areas," and building families of culture.
Over the past years, locals have actively developed homestay services in tandem with preserving and promoting their traditional culture. Since 2017, the hamlet has welcomed over 5,000 tourists.
Tinh urged local people to carry forwards their solidarity in economic development, duplicate the homestay model, preserve ancient shan tuyet tea trees, protect upstream forests and ensure national defence and security.
On this occasion, he presented gifts to residents in Sung hamlet. Representatives of the VFF's chapter in Hoa Binh, the provincial red cross society and Da Bac district also granted gifts to outstanding and poor households in the hamlet./.