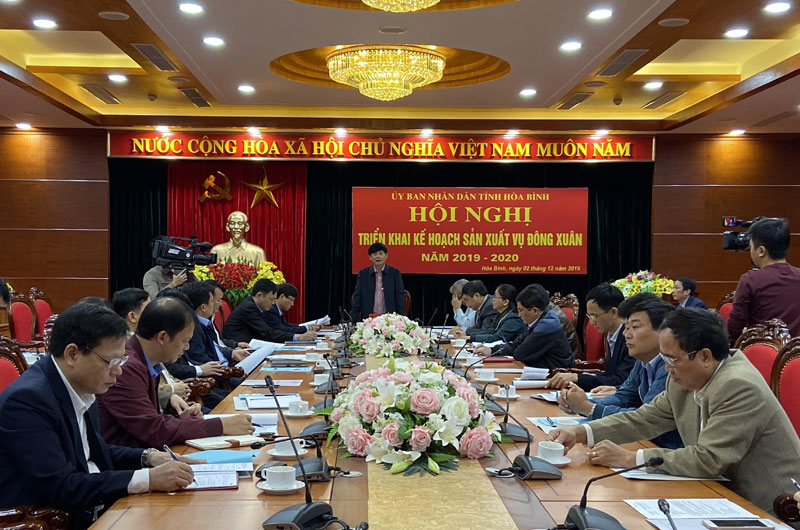 (HBO) - The People's Committee of Hoa Binh province on December 2 held a teleconference to launch the 2019-2020 winter-spring crop production plan. Its Vice Chairman Nguyen Van Dung hosted the event.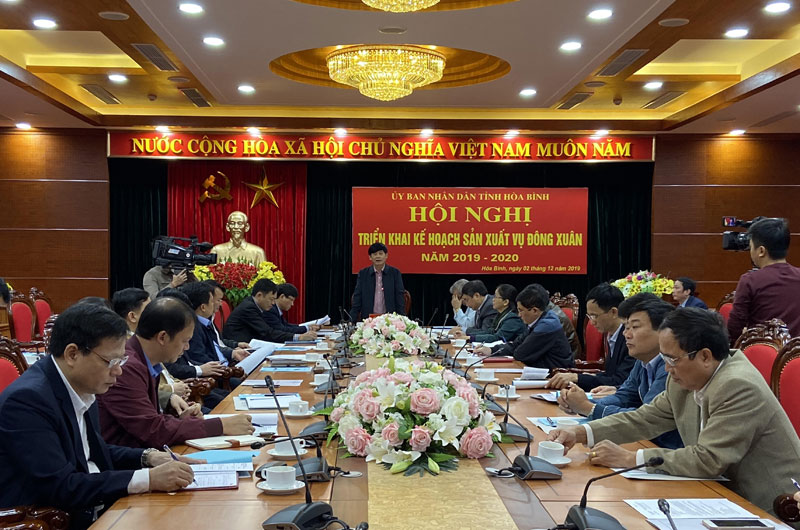 Vice Chairman of the provincial People's Committee Nguyen Van Dung concludes the event .
During the summer-autumn crop 2019, the total cultivation area neared 45,000ha, surpassing the target by 0.2 percent and up 4.6 percent year-on-year. The total area of food plants reached 34,300ha with a combined output of 170,000 tonnes, up 2 percent annually. Thanks to disease prevention and control measures and inspection at slaughter houses, the epidemics have been under control while the number of herds maintained. The province planted 6,014ha of forests, surpassing the plan by 3.8 percent and forest coverage reached 51.5 percent. There are 4,670 fish farming cages of various kinds and 2,700 ha of aquaculture area across the province. The yearly target is estimated at 9,300 tonnes, up 1,000 tonnes from the same period last year.
The cultivation area for this year's winter crop is estimated at 9,000ha, exceeding the plan by 12 percent and equivalent to the same period last year. Production progress remains slow compared to the requirements, so the efficiency is not high.
After discussing many important issues, the conference agreed to launch the production plan for winter-spring crop 2019-2020 with specific objectives such as striving to have an annual cultivation area of over 65,600 ha. Of which, seedy food plants will cover 33,700 ha, industrial plants 3,300 ha, sugar cane over 8,000ha; vegetablesand bean plants of all kinds more than 5,000ha. The province will also actively fight epidemics on cattle and poultry, promote pig breeding that meets biosafety conditions, continue to tap water surface of hydroelectric reservoirs and promote intensive farming of cage fish. It prepares to plant seeds under the 2020 forestation plan and ensure forest coverage ofover 51 percent and water sources of over 80 percent of the reservoir capacity to serve local production and daily activities.
Concluding the event,Vice Chairman of the provincial People's Committee Nguyen Van Dung highlighted the importance of the winter-spring crop 2019-2020 and asked agriculture sector and localities to realise the production plan. Localities were also asked to continuestepping up the restructuring of agriculture in a smart, adaptive and sustainable manner to develop rural economy in combination with building new rural areas. For farming areas lacking water, it is necessary to restructure crops to ensure winter crop yield.
At the same time, the province will also focus on implementing the One Commune, One Product programme, boost investment in high-tech agriculture and animal husbandry, develop collective economy, expand safe farm produce value chain, enhance agricultural materials and ensure food safety and hygiene for agro-forestry-fisheries./.