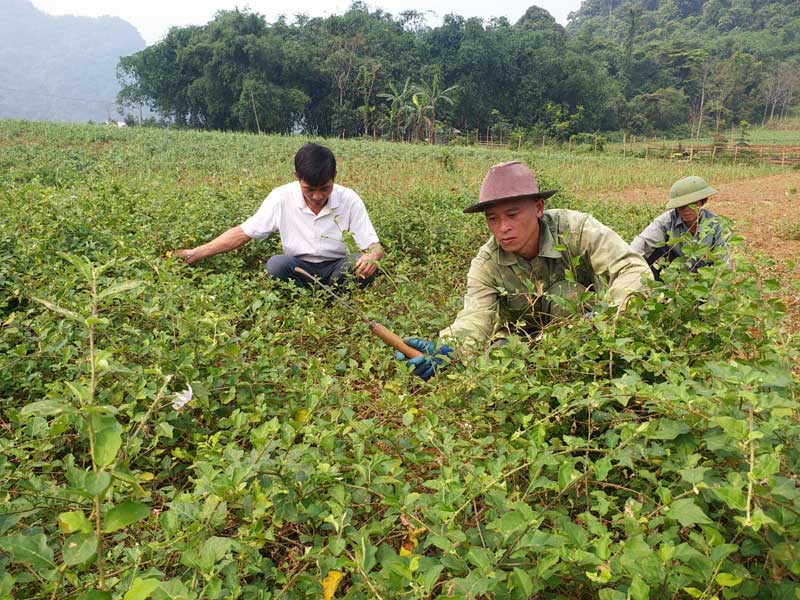 (HBO) – Solanum jelly and solanum tea infuser bags developed by Bao Hieu agro-forestry cooperative in Yen Thuy district and its partners have won the taste of many consumers inside and outside the province.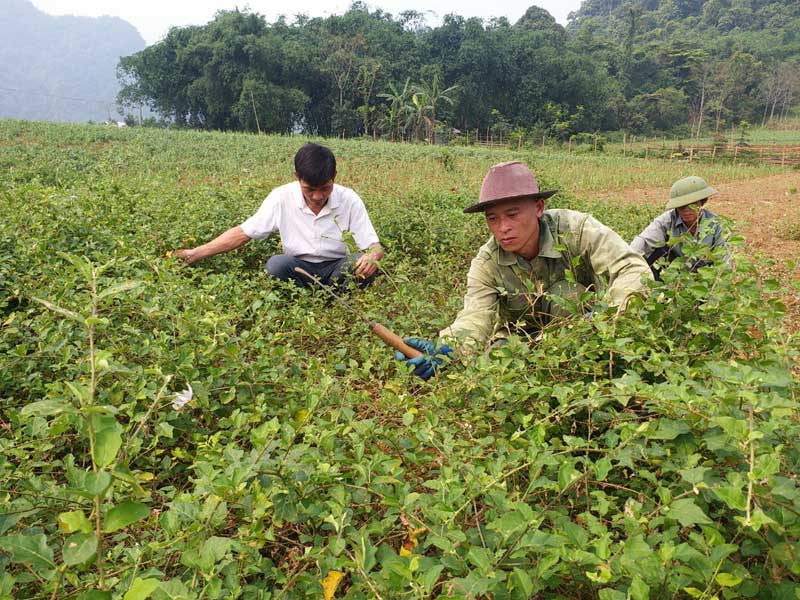 Member of the Bao Hieu agro-forestry cooperative harvest solanum in Nhuoi hamlet, Da Phuc commune.
Plantation of solanum trilobatum (also solanum) was piloted in Da Phuc commune, Yen Thuy district under the poverty alleviation programme in 2015. Thanks to fertile soil and favourable conditions, the plant has been well developed in the locality, with pharmacological properties four times higher than when it is grown in other areas.
The Bao Hieu agro-forestry cooperative was established to mobilise local farmers to cultivate solanum.
In 2018, it produced more than 200,000 solanum saplings, and worked to find markets for the herb. Farmers in Dam hamlet are growing the herb in an area of 40 hectares as compared to 10 hectares in 2016. The herb is sold at stable price of 35,000 VND per kilogramme, bringing about 400 million VND in revenue for local farmers.
As an important medicinal plant, solanum is said to be among the best solutions to detoxifying liver; lowering liver enzyme levels; supporting to treat Hepatitis B, fatty liver, hyperlipidemia and cirrhosis; easing gout pain; treating rashes caused by liver failure; treating rheumatism, backache and cough due to sore throat.
With support from scientists and competent agencies in the district and province, Bao Hieu cooperative has applied the Good Agricultural and Collection Practices (GACP) standards into cultivation, harvest, transport, processing, packaging and preservation.
It has teamed up with OPC Bac Giang Pharmaceutical joint Stock Company to create solanum jelly, and Thuong Hao One Member Limited Company and Sao Mai Pharmaceutical joint Stock Company to make solanum tea.
Around 25,000 – 30,000 solanum jelly products are sold in the market each year. It has received copyright certification, and been favoured by many customers.
Besides being distributed in a network of 200 agents in the country, the product has been well sold in Russia, Thailand and China.
Particularly, solanum jelly, an OCOP item of Yen Thuy district, was certified with three-star standard in 2019, helping the locality reach out to new markets while ensuring sustainable livelihoods for local people./.