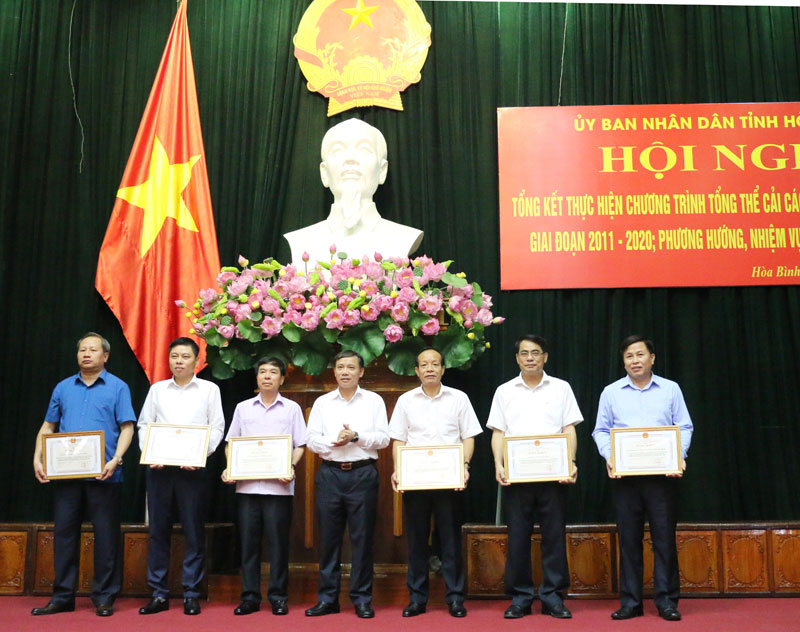 (HBO) – The People's Committee of Hoa Binh has held a meeting to review the implementation of the master programme on State administrative reform in the 2011-2020 period and define the orientations and tasks for the next 10 years.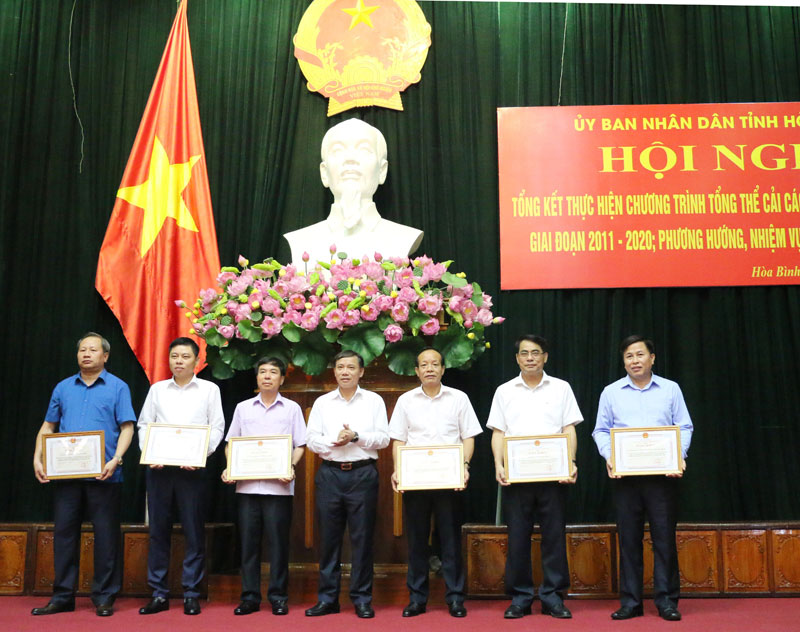 Bui Van Khanh, Vice Secretary of the Hoa Binh Party Committee and Chairman of the provincial People's Committee presents certificates of merit to collectives with outstanding achievements in the emulation campaign of "promoting administrative reform and enhancing the quality of public services in the 2011-2020 period".
Defining the reform of administrative procedures as a key task, over the past 10 years, Hoa Binh has paid great attention to the work. A number of administrative reforms have produced high effectiveness, drawing the support of organizations and individuals. For example, a provincial public service centre has been set up, along with one-stop-shop offices in districts and communes, and a provincial online portal to provide services at level three and four. The delay in the processing of administrative dossiers has been eliminated.
Meanwhile, the organisation of administrative bodies and units at district, commune, village and residential area levels has been scrutinised to reduce management links, personnel and regular spending from the State budget. A description of jobs and capacity requirements has been produced for all administrative agencies and State non-production units.
A system of quality management under TCVN ISO standard has been built for 100 percent of communal People's Committees. By the end of 2019, the majority of tasks in the province's administrative reform plan for the 2016-2020 period were completed and exceeded the set targets.
In the time ahead, leaders of the provincial Party Committee and People's Committee will focus on building administrative reform plans and projects for the next 10 years in association with the socio-economic development goals and tasks.
Hoa Binh will prioritise resources for the implementation of administrative reform tasks, while increasing dialogues with businesses to remove obstacles facing them in administrative procedures to create best conditions for investors.
The province will continue scrutinising the organisational structure of its apparatus, strengthening the responsibility of leaders in realising administrative reform tasks. Hoa Binh will also increase inspection and tighten administrative principles and order, along with strengthening the application of technology in administrative reform.
The locality is striving to improve its provincial competitiveness index and administrative reform index in 2020./.