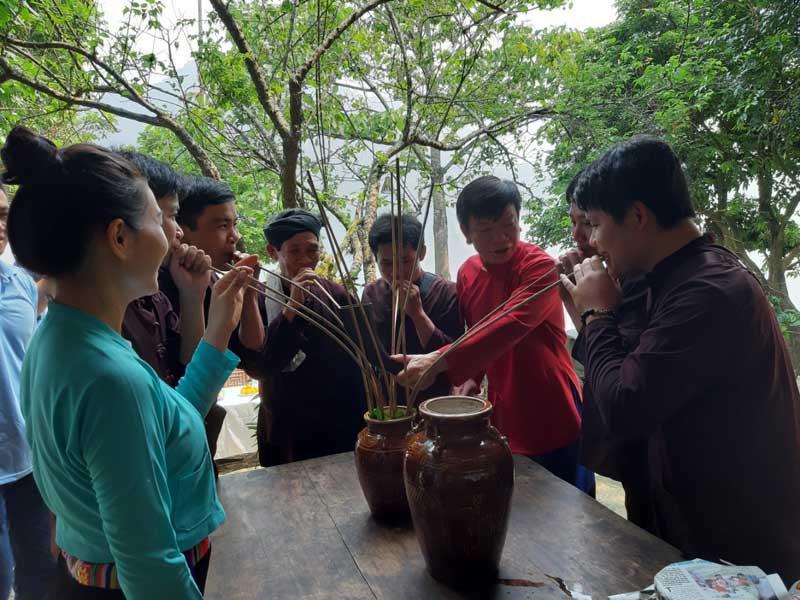 (HBO) - With a peaceful beauty, the ancient land of Muong Bi, Tan Lac district today is also a picture with the hillsides of red and green-skinned pomelos, concrete streets with colourful flower taking visitors to community tourist sites.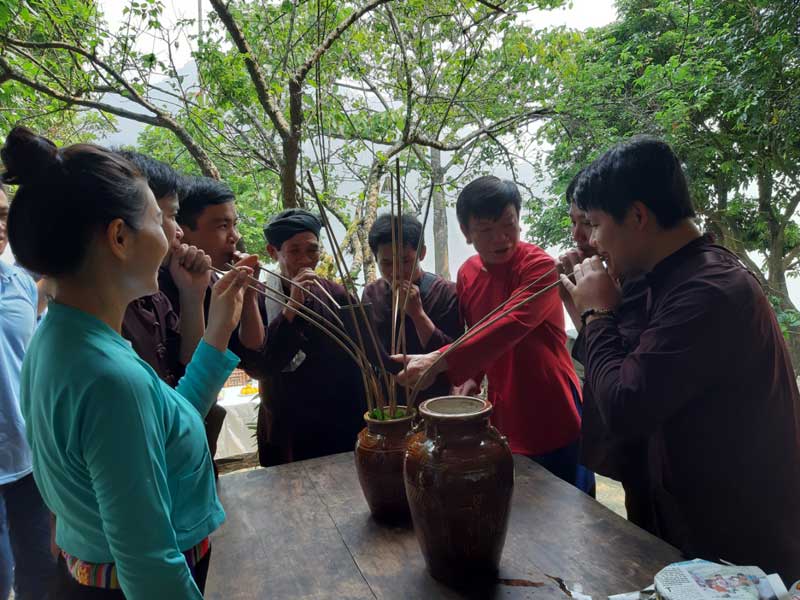 Tourists experience Muong cuisine culture in Ngoi village, Ngoi Hoa commune, Tan Lac district.
As agriculture is a key economic sector with existing potential and advantages, the district has issued a number of resolutions on agricultural economy, thereby gradually creating an intensive farming area using technological advances to produce quality products.
Up to now, the district has converted 2,500 ha of ineffective rice cultivation area into crops with high economic efficiency, renovated over 670 ha of orchards. At the same time, it is developing crops that suit advantages of each region such as red-flesh grapefruit and green-skinned grapefruit with a total area of 1,100 ha, up 220 percent compared to the resolution's target, while growing watermelon, squash, peanut and bean in a 440ha lowland area, sugarcane in a remote area of about 1,450ha, tangerine, chayote, and purple garlic on a highland area of around 195ha. The locality is now home to about 300ha of plants meeting VietGAP standards and three products registering collective trademarks. Each hectare brings an average revenue of over 200 million VND. Grapefruit cultivation alone rakes in 400-700 million VND per ha on average.
Together with enhancing agricultural production value, the district considers trade, services and tourism as a breakthrough in economic development. It is now home to more than 200 enterprises, cooperatives, production and trade facilities working in industry and handicraft. The total value of industry-handicrafts-construction products neared 4 trillion VND while production value grew by 22.6 percent, up 7.6 percent compared to the resolution.
Muong Bi ancient land is also endowed with fresh climate, beautiful and majestic scenery. Over the past years, the district has adopted a number of measures to uphold the potential and strengths to develop tourism. It directed the comprehensive planning of cultural and spiritual site But - Muong Chieng cave in Man Duc town, upgrade of Nam Son cave in Van Son commune, building of Muong village in Luy Ai hamlet, Phong Phu commune, and development of community-based tourism at Ngoi village in Suoi Hoa commune, Chien village in Van Son commune and Buoi Cai village in Phu Cuong commune.
Looking back on local socio-economic development over the past years, Chairman of the district People's Committee Bui Van Nho said local socio-economic development has seen positive changes with improving material and spiritual lives. The new-style rural development is also progressing with each commune meeting 14 criteria on average. Local economic targets met or surpassed the resolution's. The agro-forestry-fisheries sector accounted for 31.3 percent, industry-handicraft-construction 31.5 percent, trade-service-tourism 37.2 percent. In particular, revenue to the local State budget rises by 24.9 percent each year.
In the near future, the district will continue improving leadership and fighting capacity of its Party Organisation, building a strong and comprehensive political system, upholding the power of great national unity, pooling every resource to step up breakthroughs for socio-economic development. It will strive to reduce the rate of poor households to 4 percent per year and raise the average income per capita to 50 million VND by 2025./.