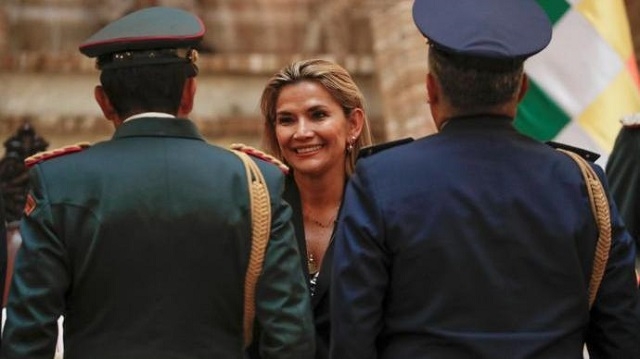 Bolivia's interim President Jeanine Anez asked Congress on November 20 to approve a law on organizing new elections, replacing the October presidential election won by former President Evo Morales, reported Reuters and Vietnam News Agency.
Bolivian interim President Jeanine Anez at the Presidential Palace in La Paz, November 2019.
If the bill is passed, a committee will be set up to set a time to hold the new presidential election. Anez expressed her hope that the bill would provide the basis for the consensus of the Bolivian people.
On the same day, former President Morales announced that he would continue to hold his post until the end of his term, in case Congress rejected his resignation. The Bolivian Congress has not yet considered Morales's resignation. Morales also called on the international community to prevent control of demonstrations by excessive force in Bolivia.
* Meanwhile, protests by both supporters of former President Morales and the opposition continue throughout Bolivia, forcing police and military forces to take deterrent measures. Thirty people have died and more than 700 have been injured in street riots.
* Many countries and international organisations have expressed concern about President Anez's approval of an ordinance that allows the military to participate in controlling and restoring public order, without incurring any criminal liability. According to the Russian Foreign Ministry, the situation in Bolivia is still "alarming".