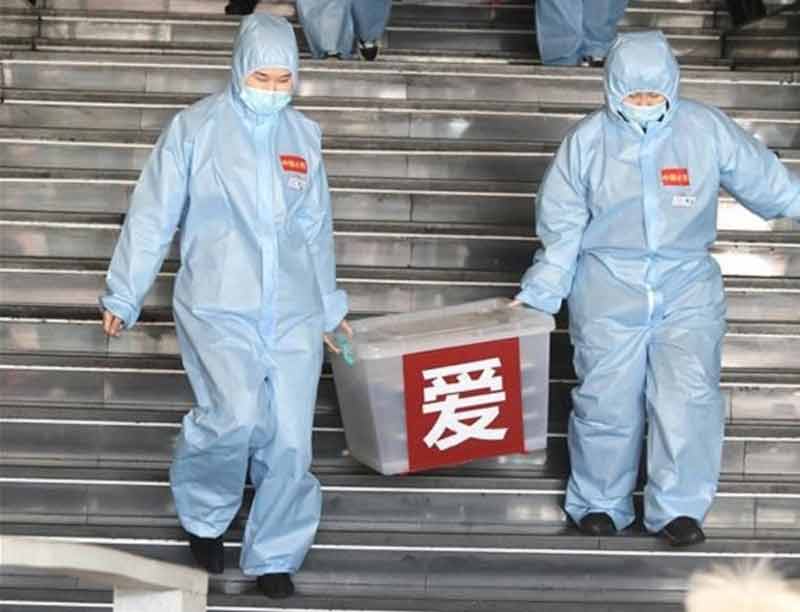 Chinese health authority Monday (February 17) said it received reports of 2,048 new confirmed cases of novel coronavirus infection and 105 deaths on Sunday (February 16) from 31 provincial-level regions and the Xinjiang Production and Construction Corps.
Staff of a catering company transport meals for frontline medical workers in Shijiazhuang, capital of north China's Hebei Province, Feb. 16, 2020. (Photo: Xinhua)
Also on Sunday, 1,425 people were discharged from hospital after recovery, while the number of severe cases decreased by 628 to 10,644.
The overall confirmed cases on the Chinese mainland had reached 70,548 by the end of Sunday, and 1,770 people had died of the disease.
The commission added that 7,264 people were still suspected of being infected with the virus.
A total of 10,844 people had been discharged from hospital after recovery.
The commission said 546,016 close contacts had been traced, adding that among them, 28,179 were discharged from medical observation Sunday, with 150,539 others still under medical observation.
By the end of Sunday, 57 confirmed cases including one death had been reported in the Hong Kong Special Administrative Region (SAR), ten confirmed cases in the Macao SAR, and 20 in Taiwan including one death.
Two patients in Hong Kong, five in Macao and two in Taiwan have been discharged from hospital after recovery.
* China's top economic planner announced that it would invest CNY230 million (about US$32.92 million) from the central budget to shore up the battle against the novel coronavirus.
The investment was allocated for improving conditions of makeshift hospitals converted from public facilities such as gymnasium, increasing their medical equipment and raising their admission capacity, according to the National Development and Reform Commission.
* A new rapid testing kit for COVID-19 was developed by China's State Key Laboratory of Respiratory Disease.
Authorities in charge of the laboratory claimed the test results can be shown within 15 minutes after collecting a drop of blood.