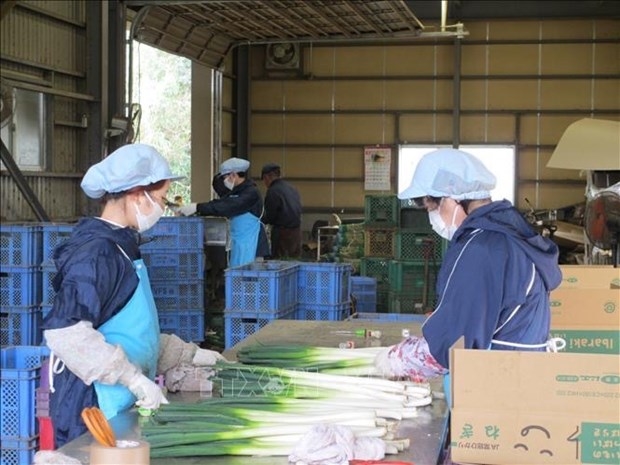 Vietnamese nationals account for 25.4% of the total 1.82 million foreign workers who were working in Japan as of the end of October last year, according to the Japanese Ministry of Health, Labour and Welfare (MHLW).
Vietnamese workers work at Carry System joint stock company in Japan's Ibaraki prefecture. (Photo: VNA)
The ministry's data released on January 27 showed that a record 1,822,725 million foreign workers were working in Japan as of the end of October 2022, a rise of 5.5% from the same period of 2021.

Of the total foreign worker population, there were 462,384 Vietnamese nationals, 385,848 Chinese nationals, and 206,050 Filipinos, which made them the top three biggest communities.

Data also showed a new high of 298,790 workplaces employed foreign workers, an increase of 4.8%. Businesses with fewer than 30 workers, which make up more than 90% of firms in Japan, accounted for 61.4% of the employers with foreign workers.

By residency status, holders of specialist and engineer visas were up 21.7% to 479,949 people. Working holders of visas such as permanent residents and spouses of Japanese nationals were up 2.6% to 595,207 people.

Meanwhile, the number of technical interns fell 2.4% to 343,254 people, marking the second consecutive year of lower numbers, partly because of border control measures that the Government of Japan applied during the COVID-19 pandemic.

Geographically, Tokyo was home to the most foreign workers with 500,089 people, followed by Aichi prefecture with 188,691 individuals, and Osaka prefecture with 124,570 people./.
Source: VNA