(HBO) – With the strong determination of the whole political system and the high consensus of the people, the building of new-style rural areas in Lac Thuy district, Hoa Binh province, has seen significant changes. The majority of officials and locals have become more aware of the matter and contributed to developing rural areas in many creative ways. So far, eight communes in the district have been recognised as new rural areas, including three particularly disadvantaged ones - Lien Hoa, Phu Thanh and Yen Bong. Lac Thuy is striving to become new-style rural area by 2020.
The district's People's Committee has approved a project restructuring the agricultural sector towards increasing added value and sustainable development between 2016 and 2020, focusing on cultivation.
The district has established concentrated farm produce production areas and large-scale fields. It is now home to 1,146 hectares of citrus fruits and 200 hectares of mixed plants.
Besides implementing the three value chains, including two growing chilli for export and safe vegetable on 40 hectares and one raising 10,000 chickens, the district has maintained the operation of farm produce and safe food cooperatives, and attracted businesses to invest in growing safe vegetable and medicinal plants according to value chain links such as Lac Thuy Clean Agriculture Company, Vietnam Chilli Co., Ltd., Northern Green Land Real Estate and Services JSC, and Sinh Loc Humanity Vocational Training JSC.
As of 2018, the per capita income in the district reached 38.9 million VND (1,659 USD), up 2.5 times against 2011. The rate of poor households was brought down to 10.98 percent, or 10.42 percent lower than the figure in 2011.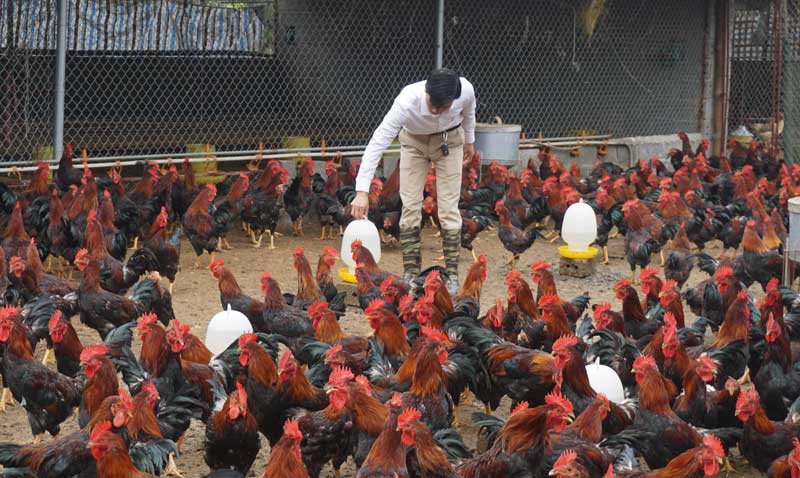 Lac Thuy district develops chains for raising chickens and builds brand for Lac Thuy chicken.
Lac Thuy has built a roadmap to meet all the criteria of the new-style rural building programme by 2020. The district strives to continuously improve the eight recognised new rural communes as well as build An Binh and Khoan Du into new rural areas in 2019 and An Lac, Dong Mon, and Hung Thi in 2020./.