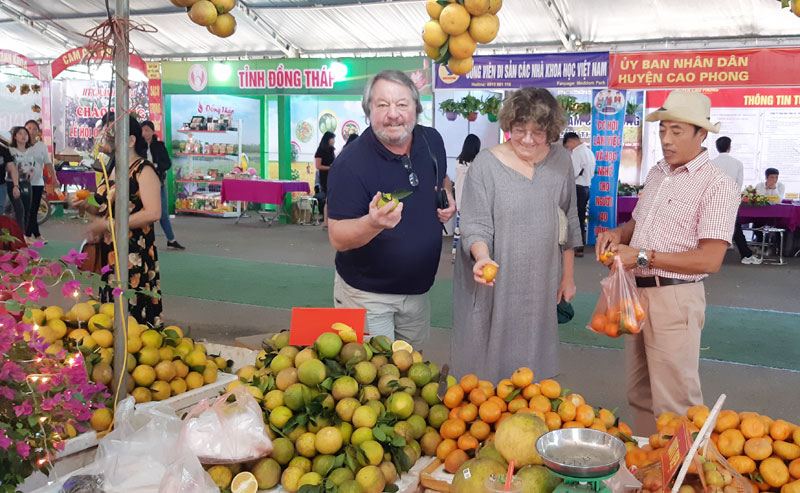 (HBO) - Muong Thang - Cao Phong has entered the early stage of the spring full of vitality. As the Lunar New Year (Tet) comes, oranges become ripe on hills. It is hard to find any street with kilometer-long lines of orange trees like Cao Phong town. Behind orange stalls along the National Highway 6 is a vast area of orange orchards. It is not wrong to state that Cao Phong is the capital of oranges in the north.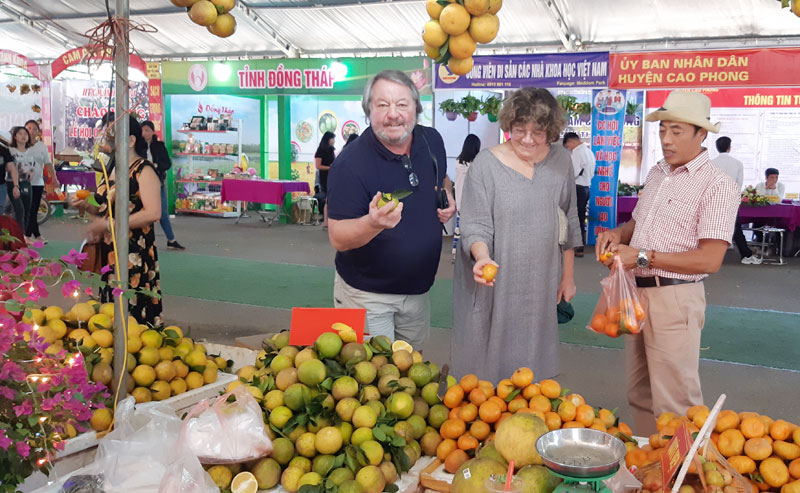 French visitors visit an orange stall at the fifth Cao Phong orange festival 2019.
Cao Phong oranges are now available at major supermarkets such as BigC, Vinmart, Metro, and have become popular among customers. They were even served on flights of national flag carrier Vietnam Airlines.
In order to sustainably develop Cao Phong orange brand, product quality is a core factor apart from marketing activities.
Amid fierce competition in the market, several local units made breakthroughs with models to promote Cao Phong orange brand, notably the union of Cao Phong orange cooperatives with four member cooperatives. Each cooperative with own strengths partnered together to gain power. The digital agriculture cooperative is in charge of producing and marketing smart stamps to prevent counterfeits. Customers are also able to trace the origin of the products via barcodes.
Ha Phong Cooperative made breakthroughs when launching the model "Organic oranges in production chain and processing products derived from fresh oranges".
Impressive stories about Cao Phong oranges prove that it is a valued brand. With the involvement of the provincial Party Committee and authorities and creativity of local residents, it is hoped that Cao Phong oranges will be shipped abroad in the near future./.