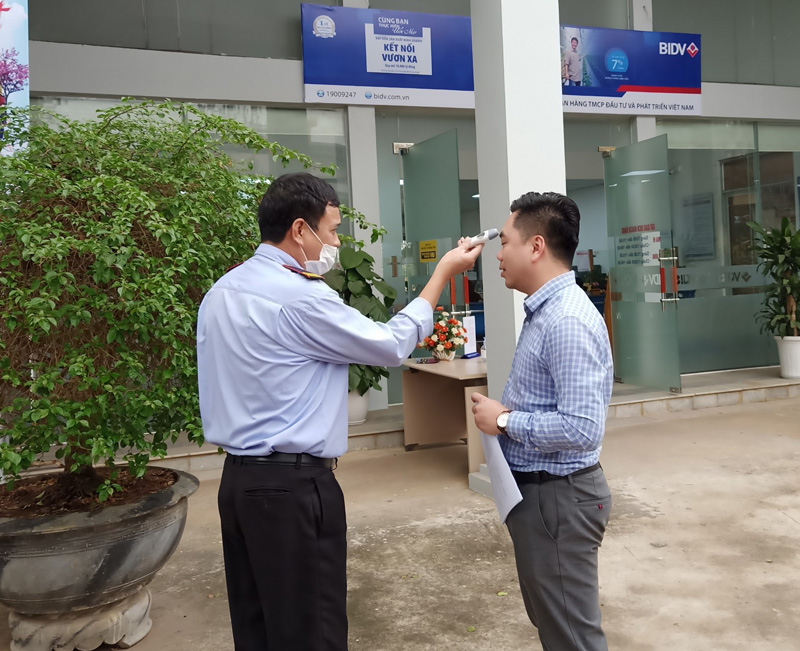 (HBO) – The State Bank of Vietnam (SBV)'s branch in Hoa Binh province (SBV Hoa Binh) has proactively implemented measures to remove difficulties facing its individual and corporate clients who are affected by the COVID-19 pandemic.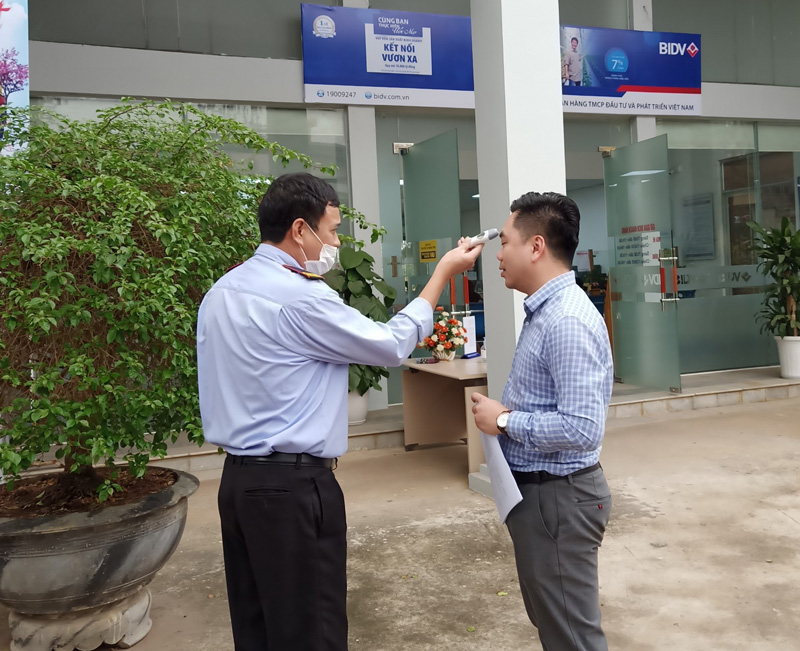 Customers have body temperature checked at the transaction office of the Bank for Investment and Development of Vietnam (BIDV) in Tran Hung Dao street (Hoa Binh city)
According to reports from credit institutions operating in the locality, as of March 15, as many as 166 borrowers in Hoa Binh were impacted by the COVID-19 outbreak, with a total debt of over 552 billion VND. Of which, short-term outstanding loans, medium and long-term outstanding loans, and overdue accumulated interest valued at over 190.5 billion VND, nearly 362 billion VND and over 4.76 billion VND, respectively.
Under the direction by the central bank's provincial branch, credit institutions have taken many measures to support their clients, including cutting interest rates, providing new loans to clients and rescheduling debt repayment to suit the actual condition and ability of each borrower.
Accordingly, a total interest of 26.52 million VND for combined loans of 9.38 billion VND will be reduced for four borrowers. Meanwhile, six new borrowers will be given new loans worth 34.4 billion VND, and three others will be allowed to postpone repayment of their existing loans totaling3.3 billion VND.
Vice Director of SBV Hoa Binh Ngo Quang Loi said the entire banking system in the locality needs to coordinate with the local authorities to implement the work well, thus helping enterprises and individuals overcome difficulties, and contributing to promoting economic growth and controlling inflation.
According to Loi, credit institutions should actively monitor business and production of enterprises operating in the province, timely make reports on impacts caused by the Covid-19 outbreak on borrowers, and implement measures to support and remove difficulties facing those affected by the pandemic, such as rescheduling repayment, lowering interest rates and fees, and keeping debt groups unchanged in line with the sector's regulations.
He stressed the necessary for credit institutions to work with communication agencies to popularize support measures of the banking sector, and actively coordinate with the local authorities, and relevant departments and sectors to swiftly give support to those impacted by the pandemic.
Attention should be also paid to addressing issues arising in implementing solutions to support enterprises and people, and preventing the abuse of the disease to avoid the repayment for credits that are not subject to assistance, he added./.