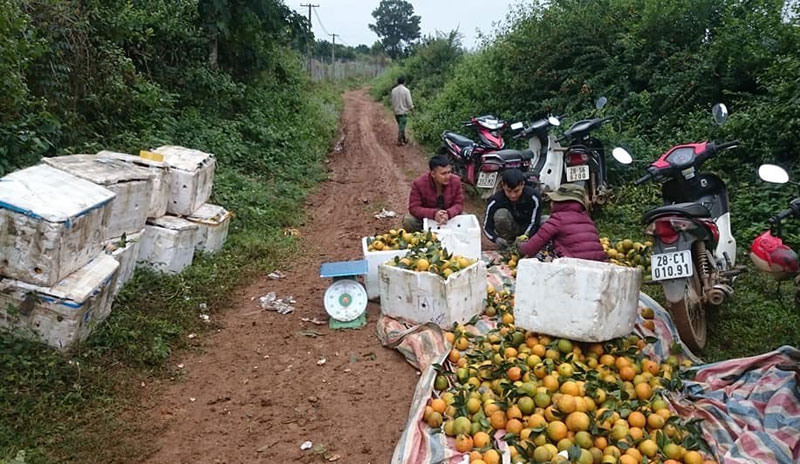 (HBO) – The spread of the COVID-19 outbreak has boosted consumption of foods high in vitamin C, which is believed to bolster immunity. Therefore, since the start of March, V2 orange - a late-season variety which is commonly grown in Hoa Binh's Cao Phong, has been favoured by consumers in the northern region, prompting the increase of its prices.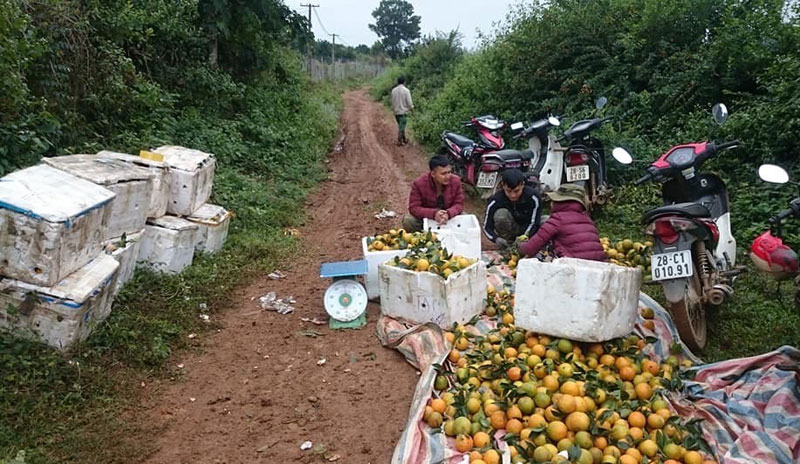 Traders flock to orange orchards in Cao Phong township (Cao Phong district) to buy V2 orange.
At present, consumers could choose various fruits to boost their immune system, among which, Cao Phong orange has affirmed its popularity. Cao Phong orange in general and V2 variety in particular boast high quality while meeting food safety standards, with nice fragrance and juiciness.
It is noteworthy that V2 orange has no seed while boasting crunchy and sweet vesicles. Hence it is dubbed the best orange variety in Cao Phong district.
One week earlier, prices of V2 variety at orchards stood at 25,000-30,000 VND per kg, and rose to 35,000-40,000 VND per kg recently. At kiosks along National Road 6 in Cao Phong district, the orange is sold at between 45,000-50,000 VND per kg.
Its prices increased by 5,000-10,000 VND per kg compared to the previous year, to the delight of orange growers in Cao Phong.
From the start of March, they did not have to be anxious waiting for traders to come as many trucks have lined up in front of the orchards. Kiosks selling oranges at Bop market and along National Road 6 were also crowded with customers. Both farm owners and sellers were happy thanks to increasing orange prices and sales.
Statistics of the Agriculture and Rural Development Office of Cao Phong district showed that the district has 269.9 ha of V2 orange, of which 120 ha are in growing period and 142.9 ha have already produced fruit for selling, with total output estimated at about 2,858 tonnes.
Total areas of V2 variety grown under VietGap standard currently reach 142.9 ha. As of mid-March, 72 ha of the variety in the 2019-2020 crop are pending to go on sale, with an estimated output of about 1,440 tonnes.
Head of the office Bui Dang Khoa said that V2 variety is mostly grown under VietGap standard, thus ensuring food safety.
Farmers and traders are asked to bolster measures to guard against the COVID-19 epidemic in the locality, especially not to gather in large number in one orchard. Farm owners also need to avoid arranging fruit pickers in one place.
Meanwhile, traders selling oranges along National Road 6 are requested to take preventive measures such as wearing face masks and washing hands regularly during serving customers./.